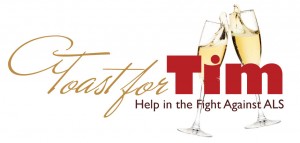 Connecticut is a small state and our local industry is really a community, especially when it needs to be. "Toast for Tim" is a fundraising effort to start a family trust for industry colleague Tim Considine, an employee of CDI, who publicly disclosed his diagnosis of ALS, also known as Lou Gehrig's disease.
The family is facing a series of challenges as the disease progresses. Purchase and support the sales efforts of the "Toast for Tim" wristbands through participating retailers or here, at The Beverage Journal. Funds will go to trust, which was set up by his family for the benefit of Tim's two children.
Wrist bands are $10 each, please stop by the Beverage Journal office today and support this great cause. It could be any one of us. You can visit atoastfortim.com to see other ways to help.
Consider also attending "Tim Considine Appreciation Day" on Saturday, July 28, 2012 at 3:00pm at Action Wildlife Foundation Inc.
337 Torrington Rd, Goshen, Connecticut 06756-2031
Buffet Dinner: Menu Includes: Pasta, Meatballs, Chicken, Salad, Ice Cream, Desserts and Beverages
Adult – $20, Child (age 6-12) – $5, Child 5 and under – FREE
Ticket includes access to:
Action Wildlife Museum 3-8 pm, Park 3-6 pm, Petting Zoo 3-6 pm, Hay Rides 3:30-5:30 pm
Tickets can be purchased at: Jimmy's Store, Alfredo's Deli, Carbone's Market, Hairspray Salon, Carvel, Churches, Summer League Games and Torrington Titans. Come show your appreciation for a man who has given so selflessly to the Torrington community in so many ways.