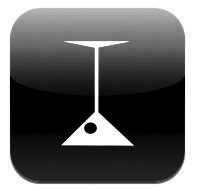 It's 10pm… Do You Know Where Your Bartender is?
BY ALIA AKKAM
Every bartender wants to develop a devoted following. With onthebar, a new free app created by a Boston-based entrepreneur Ian Stanczyk, now barkeeps can let their fans know when they are on the stick—and if they are whipping up any special libations for the evening. Here, Stanczyk and partner Corey Bunnewith, a 2009 Beverage Network Mixologist to Watch, give us the scoop.
THE BEVERAGE NETWORK: So,  how was onthebar dreamed up?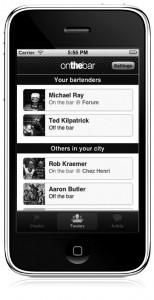 IAN STANCZYK: One of my closest friends and old college roommate is a bartender. When we finished school, I went into the nine-to-five working world and he into the business of being a pro bartender. Which meant the only time I could see my friend was when I visited  him at his bar. Trouble was, I had no good way of knowing when he was working. I thought to myself: Wouldn't it be nice if his phone had a button he could press that would create, basically, a bat signal that told me and anyone else who cared that he was… on the bar? So, the original idea was a selfish one but, talking with people like TJ [fellow partner TJ Connelly] and Corey and dozens of others, I realized: OK, I'm not the only person who cares about these things. There's a whole community of people who make decisions based upon who is where and what relationships they have. It occurred to me that the patron experience is so heavily shaped by the interactions with the staff, rather than, say, the decor, location or Yelp rating of the venue, that we could provide real value by facilitating those relationships.
 TBN: Can you guide us through how the app works?
 STANCZYK: A bartender opens the app and is presented with a single button, labeled 'on the bar,' that they press during their shift to tell the world where they are. Patrons can follow individual bartenders and they'll receive push notifications to let them know when and where their bartenders are working. Once 'onthebar,' bartenders can 'shout' updates to their network, to tell people what's happening at the bar and why they should come in. These updates can also be pushed out to the bartender's Twitter or Facebook pages, if they'd like. Patrons can also see all the bartenders who are 'onthebar' nearby, based on GPS, as well as a list of 'en fuego' bartenders who, for whatever reason, are receiving increased attention within the app. Finally, patrons can log 'visits' and build a record of where they've been and what drinks they've had.
 TBN: Tell us a little about the perks for bartenders.
 COREY BUNNEWITH: This is the first time a bartender really gets to engage his or her guest with a new level of technology. The ability to build one's personal brand in the modern market is a huge win for bartenders. I also like to make the point that onthebar is for every bartender in every bar; we don't have qualifiers for who can use the app. It's meant to raise awareness of the community and industry and give guests a more interactive power of choice.
 TBN: Technology is changing the bar landscape. What are some of the ways you've seen the industry change as a result?
 BUNNEWITH: Being behind the bar is a job where your smile, handshake and ability to create a dialogue and a good drink are paramount. These aren't going away; these are defining aspects of being a bartender. What technology and what my partners and I are doing is enhancing the landscape. We are empowering bartenders and guests to be able to do more with what they have.
 TBN: Onthebar launched in Boston, a city which has quickly garnered a reputation for serious cocktails. How has this revolution happened?
 BUNNEWITH: Boston is a steadfast and generally stubborn city, and let me be clear that while finding a good drink is becoming more of a standard, we are not a cocktail city. We are a bar city. When Ian first came to me with the idea of onthebar, the cocktail—a good cocktail—was a very central idea. As we expanded the concept and looked at
Boston as a whole, the bartender is as important, if not more important, than the drink is. ■