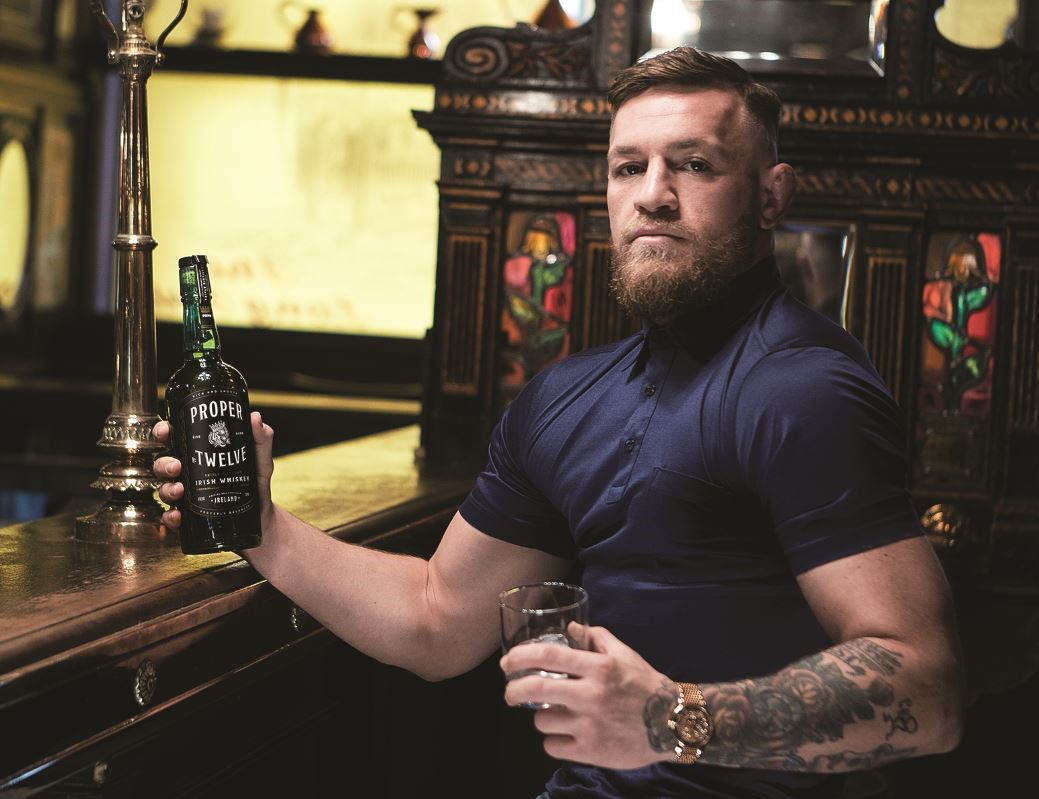 Conor McGregor Debuts Proper No. Twelve
By Kristen Bieler
The Irish whiskey category and mixed martial artist (MMA) champion fighter Conor McGregor have a lot in common—beyond both hailing from the Emerald Isle. Both can claim the coveted 21- to 35-year old young male demographic as their fan base. And both are red hot. Irish Whiskey exports have grown 300% over the past decade. And McGregor became the biggest pay-per-view draw in UFC (Ultimate Fighting Championship) history, and was the first UFC fighter to hold belts in two weight divisions (featherweight and lightweight champion).
No mystery, then, that McGregor has been approached by many Irish distillers to endorse their brands. But McGregor, not shy of a challenge (as his 2017 professional boxing debut against Floyd Mayweather Jr. proved), decided to create his own.
Proper No. Twelve is a triple-distilled blended Irish whiskey that made its U.S. debut around the same time as McGregor's much-hyped October fight against current lightweight champion Khabib Nurmagomedov. McGregor tapped David Elder as Master Distiller and the two worked to craft the blend.
We heard from the Irishman himself about what makes Proper No. Twelve truly one-of-a-kind.
Beverage Media Group: Describe your journey as a whiskey drinker.
Conor McGregor: Well, I'm an Irishman, a true born and bred Irishman. Whiskey is in my blood. I spent a lifetime studying this craft under the tutelage of my late grandfather on my mother's side, Christopher "Jakes" Moore. He was also one of the main campaigners for "early house pubs" before they were made legal across the country. He loved his whiskey more than he loved his breakfast and I know that he would
love this!
BMG: Why create your own?
CM: Several years ago, numerous Irish whiskey makers started contacting me to endorse them. I guess you could say that I checked all of their boxes: the right age, an Irishman and known to drink whiskey with family and friends as well as toast with it after each fight.
I love Ireland, its land, its people and I wanted to create my own whiskey. This was something I wanted to do start to finish. I set very high standards for myself both inside and outside the ring, and this was no exception. I wanted to make an Irish whiskey emblematic of Irish culture as a whole, and something that would showcase the great talent we possess of distilling the best whiskey in the entire world. It's one of the many amazing skills we possess on this great island.
BMG: How did Proper No. Twelve get its unusual name?
CM: I named it after the postal district in Dublin where I grew up. I'm proud to add that for every case of whiskey we sell, as part of the brand's "One For All" initiative, we will donate $5, up to $1 million per year, to the first responders in each district where the cases are sold. These are the men and women who run into buildings while everyone else is running out. They are our real life heroes—Proper Heroes!
BMG: What the process of creating Proper No. Twelve like?
CM: I spent years looking for the right distillery and the right people, and found both in the world's oldest licensed whiskey distillery, located in Ireland, and master distiller, David Elder. From there we began crafting! We developed close to 100 blends before selecting the final blend.
BMG: How will you be supporting the brand in the market?
CM: This is my brand. I am the Founder, Chairman and majority owner. I'm involved with every aspect of this business and you will see that in my actions every day and night. You can be sure wherever I go, Proper No. Twelve will be there.
BMG: The Irish whiskey category is increasingly crowded. How does Proper No. Twelve differentiate itself?
CM: With due respect to all others, I am a true Irishman. Proper No. Twelve speaks to people and is fun and approachable and is a "one for all" brand; a brand of the people and for the people. I respect other Irish whiskeys, but I am coming in strong, with passion and with purpose. The category has been dominated by one player and it is time for there to be fresh blood which will lift all of the boats in this rising tide of whiskey.
Proper No. Twelve is liquid gold: it's perfectly balanced and quite smooth. For my first expression, I wanted to create a unique blend of the finest gold grain spirit and single malt. The single malt gives added complexity and sophistication yet the whiskey is incredibly approachable so all can drink it.
BMG: Who is your target consumer?
CM: Absolutely everyone. The issue right now is we ran out of six months worth of product within 10 days of our launch! We are getting thousands of messages a day from consumers looking for it. The team had bottled what they estimated to be enough for six months of strong sales, but I told them it wasn't enough and it wasn't. They are working as quickly as possible to get more product to the USA, and we should be back in stock mid-December in time for the holidays. The incredible demand clearly shows Americans want an accessible, great Irish Whiskey at an affordable price—around $25 at retail. It's Ireland's whiskey.