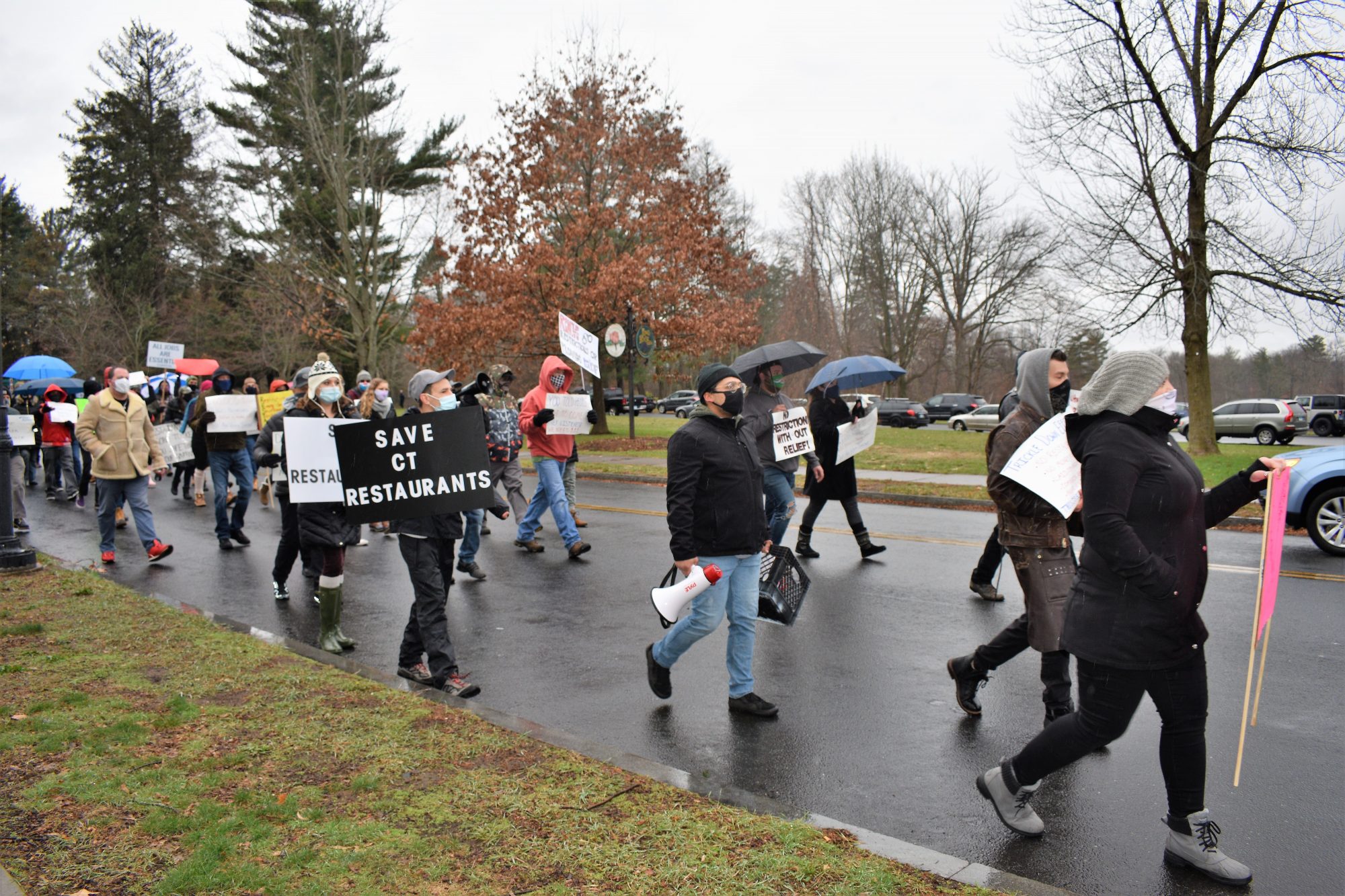 By Sara Capozzi
Dozens of restaurant workers assembled in Harford on Dec. 14 for a rally to bring attention to the hospitality industry's urgent need for financial relief. Since the COVID-19 pandemic began, restaurants have been faced with shutdowns, stricter rules and a wary customer base, all of which have deeply cut profits and caused the closure of more than 600 Connecticut venues since March.
Participants assembled in Elizabeth Park and then marched to the Governor's Mansion chanting "No restrictions without relief," "Empty seats, empty pockets," and "Restaurants matter." Later, the demonstration moved to the capitol building, where industry members laid 600 cloth napkins on the lawn to signify the number of businesses which have closed in the state due to financial hardship since the pandemic began. Gov. Lamont briefly spoke with demonstrators, who were seeking answers on how he and the state would help restore consumer confidence and offer relief.
A Dec. 9 report stated that some form of state aid would be offered but no specifics were mentioned. Among aid options to date excluding grants and funds from non-profits, restaurants have been able to apply for CARES Act funding grants of $5,000, along with support from the federal Paycheck Protection Program, but the industry continues to appeal to the government for more funding, including moratoriums on rent and tax relief programs. A federal relief package remains stalled in the Senate as of press time.
Local organizers of the Dec. 14 "Call to Action" rally, Al Greenwood, Owner of New Haven's Oak Haven Table & Bar, Dustin Amore, Head Bartender at Middletown's Conspiracy; and Carlos Perez, Executive Chef, At the Corner in Litchfield, said they felt they were able to get their message across.
"While we didn't get the full attendance we expected, we are confident that we made a statement today," Amore said. "A lot of people showed up to respectfully and safely rally for restaurant relief. We're thankful for the governor coming out to speak to us at the capital, but we require action. Financial relief for restaurants is the goal. This was a great first step forward."
"We need action now or we're not going to make it to the spring. We have no resources, we have no help, it's not acceptable." Greenwood said, "We're trying to survive as the powers that be are trying to discourage our guests. We're sanitation experts and we keep our customers safe." Highlighting continued hardships, participants hope to share the widespread impacts from local business losses.
Next steps for the coalition of state hospitality workers include advocacy through the new social media campaign, #EmptySeatsEmptyPockets, a campaign which seeks to show the real impact of decreased foot traffic in restaurants, and another demonstration in the near future, according to Amore.