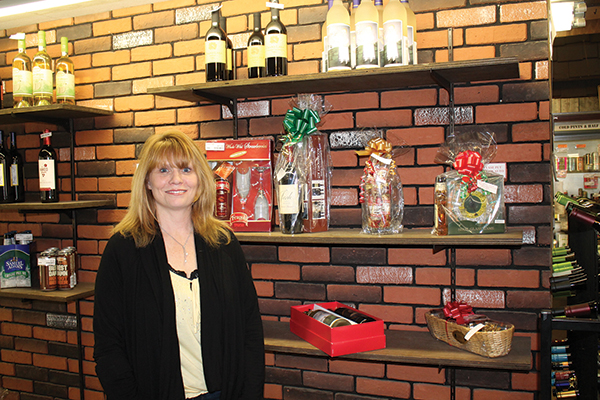 Franklin Wine and Spirits
70 Rt. 32
Franklin, CT
Square footage: 1,900
Years in operation: 46
By Savannah Mul
Franklin Wine and Spirits is known as a staple in the town of Franklin, having been in business for almost 50 years. Over time, the brick building on Route 32 has become a familiar and friendly stop for locals, golfers, boaters and people camping at the many surrounding grounds.
"I don't know who drinks more … the golfers, boaters or the campers," laughed Bettyann Thornton, owner of Franklin Wine and Spirits, and daughter to William Thornton, who bought the liquor store in 1970. When Thornton's father passed away, she took over ownership and has been managing it for the past 36 years. "We base our success on personal service and personal relationships," said Thornton, who grew up in the business.
Since Thornton can't be at the store every day, Gloria Moroch, who has been with the wine and spirit shop for 20 years, is the store manager handling daily operations. Thornton has taught Moroch about the business over the years, which has showed strong, continued success. In total, the store staffs five employees.
Moroch said to boost product sales and to educate customers, she places shelf talkers around the store. "I always try to use them because I don't try everything and I don't like everything," Moroch explained. "They're very helpful." Moroch said she attends distributor-hosted tastings and uses those events to gain more knowledge about the industry and learn about new products for possible sale in the store.
A majority of Franklin Wine and Spirits sales are from beer. Moroch said Connecticut's own Black Hog Brewing has been a popular craft beer seller, along with many of the Connecticut wines they carry. Franzia and other boxed wine brands have increased in popularity with the customer base and have hit a steady growth in the store's sales.
Moroch said the store gets a lot of business from gift basket arrangements. When given a price point, Moroch will arrange a basket for any occasion. She said she tries to have some premade for convenience and ease for customers to grab and go. "I like doing them," Moroch said. "They're fun and a neat thing to offer."
"You make a lot of friends along the way and you learn," said Moroch. To help get an idea of how products are doing in the market, she said, "I ask sales reps about how it is selling … [and] we'll bring in random products sometimes and if it goes well, we'll get more. The sales reps are there to help and being here for so long, I've gotten to know them as friends."