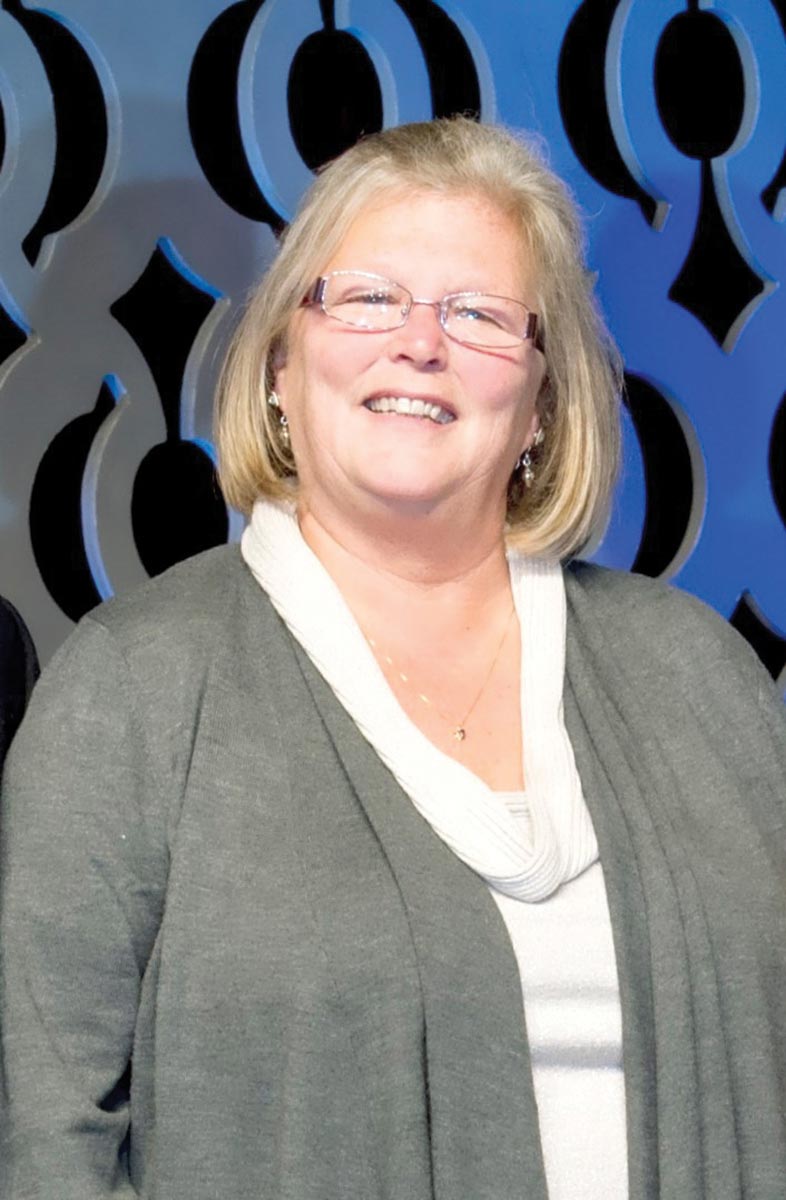 Recognizing Laurie Buick for longstanding industry contributions
The Beverage Journal's Laurie Buick celebrated 31 years of working with the Connecticut and Rhode Island beverage trade on September 2, 2020. Beginning in 1989, Buick joined the Beverage Journal team at its Hamden, Connecticut, office on Whitney Avenue. Working among three generations of the Slone family-run business, Buick has served as the backbone of administrative functions in support of the publishing company, and its customers, across operations.
Coming from outside the alcohol beverage business, Buick began in a multifunctional role in graphics and advertising in production, later evolving to front-office functions. Buick said, "I was stunned when I first saw a Beverage Journal. I had no idea there were so many wines." Buick, whose work also grew into managing wholesaler customer implementations, said she enjoyed gaining her extensive knowledge about state regulations, filing deadlines in the case of Connecticut and guiding both states' customers through deadlines to get the prices out, saying the industry "is much more complicated and deeper" than from when she first started.
"Everyone knows Laurie. For more than three decades, she quietly, effortlessly and good-naturedly became the three-in-one oil to keep the machinery running that is The Beverage Journal," said President and CEO Gerry Slone. "By that I mean, she has served through so many functions, from within our company as we are small, working with the state commissions, the DCP, suppliers, advertisers, the post office, and for so long, she's part of the infrastructure of the entire state's liquor industry and our holistic role in support of it."
Buick has served in office management including, critically, accounting, as well as managing customer, vendor and partner relationships, proofreading, page checking, and engaging in photography and reporting at industry events and state hearings and just about any other role one can think of over her 30-plus-year tenure.
"Her historical knowledge of the people and the industry could fill volumes equal to that of our archives," said Slone. "Everyone talks to Laurie and everyone trusts her, myself included. For all the different things that go on in the office, the day-to-day work, she's functioned effortlessly with her steady, dedicated presence and her personality. So many of our longtime wholesaler reps who came by to pick up their magazines also pulled up a chair to talk to her. It isn't just a [book] pickup, but a sit-down, when Laurie is around."
A core takeaway from her experiences is, she said, "how hardworking people in the industry are," from wholesalers and truck drivers to restaurateurs and retailers. "It's not easy work," Buick said. "Seeing how the restaurant industry helps one another, especially now, the wholesalers with helping people who have been sick and raising money, the golf tournaments … there are a lot of people who are generous and they work hard. And permittees are very hard workers with their long hours and state laws changing. I give them oodles of credit."
Always ready to take a call, she said, "A lot of the time, people just want you to listen to them … especially with changes to the laws over the years." Noting the lighter side, she said, "The products [our customers sell] are for enjoyment, it's about eating out, having a good time, it's all a fun thing to be able to be a part of, going to events and talking to producers, meeting people. I guess another thought is how easy they make it look."
Buick, whose foremost emphasis has always been on her family, was able to maintain the balance she sought in her career while raising her two daughters with her husband, Tom, and now she is enjoying that flexibility with her grandchildren.
For her next chapter after 31 years with The Beverage Journal, Buick is retiring from her work with us and is set to move into a consultant role, with plans to spend time with her family full time. We wish her much love, health and heartfelt thanks. #
Words of Thanks
"In the 31 years that I've known her, and not too many people can say that, she has always been accommodating, upbeat and always helpful in any way possible, especially when kicking off a new item, taking pictures or write-ups, always getting back to me immediately. For somebody like myself who has been in the business for 53 years and knowing her for 31 of those 53, she has been nothing but a joy to work with. Always free to sit and have a coffee and, in the old days, a pastry at times. I can't ever remember her not having a smile and a good word. In this business, the longer you are in it, the more it is like family. Not only do I like her, I love her; she is that good of a person … she's just that kind of a person." – Paul Angelico, General Sales Manager, Hartley & Parker, Limited, Inc.
"Laurie has been a great asset to Horizon Beverage Co. of Rhode Island over the years. She has been my go-to person to answer my questions, explain the online programs and oblige my requests … very knowledgeable, efficient and always pleasant. Wishing the best of health and happiness in your retirement, Laurie." – Joan Williams, Horizon Beverage Co. of Rhode Island
"Although Laurie and I work for different companies, we have worked with each other for about 30 years and it has been a true pleasure. Laurie has a great sense of fairness and is a very loyal person. She has always been there to back me up even when I messed up. I really appreciated that. Most of my contact with Laurie has been over the phone and work related, but I really enjoyed the limited times we actually got together. The things that I will miss and enjoy the most about Laurie is her laugh, sense of humor and her humanity. I am a lucky person to have worked with Laurie all these years."–   Jeff Martin, Wholesaler Production, Beverage Media Group
"I've known Laurie for more than 20 years. She always has a smile in her voice and always found the answer to my questions. She will be missed. It is always hard to say goodbye to a work associate, especially one you built a friendship with over the years. I will miss her sense of humor the most. Congratulations Laurie on your well-earned retirement. Be safe. Be healthy. Be happy." – Lou Mastroni, Pricing Analyst, Eder Bros., Inc.
"Every time I spoke to Laurie, which was every month, she consistently was the most pleasant person you ever wanted to speak to. Over the years, I remember sharing many laughs, especially when they were needed, and I think that helped us get through our workday a little bit easier, and for that, Laurie, I thank you. I wish you well on your retirement and hope that it turns out to be everything you expected and more. When you count the ones who will miss you, count me in." – Roger Mako, Accounts Payable, Connecticut Distributors, Inc.
"I first met Laurie when Gerry Slone brought me on board to manage the network printing in 1995. We were in close contact back in those days, consolidating manufacturing plants and bringing in some consistency with cost and scheduling. Laurie has had the unique position to be close to the manufacturing side of the business as well as a publishing to help manage the day to day issues of publishing two monthly trade publications. Laurie knows the local and national beverage alcohol industry very well. She has also become very knowledgeable with print and postal issues. My best and fun time memories are those of the old annual holiday parties we use to have every year: always lots of laughs and love. Those were special times." – Lee Stringham, Print Services Manager, Beverage Media Group
Wishing you all the best, Laurie!