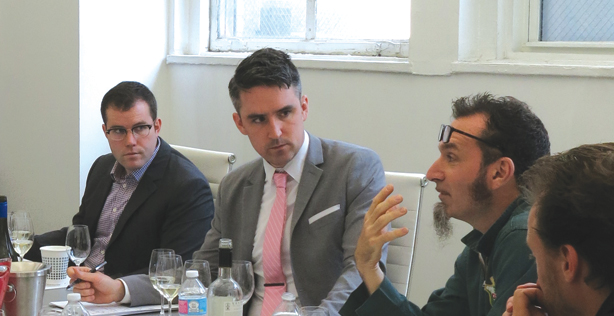 Increasing quality and diversity are emerging in Chilean Sauvignon Blanc and pinot noir, driven by key regions close to the coast.
By W.R. Tish
Someday, the oft-told tale of Carmenere being identified in Chile may be remembered for an unforeseen plot twist. "Sauvignon Blanc was rediscovered along with Carmenere," noted Fred Dexheimer, well-traveled Master Sommelier and longtime ambassador for Chilean wines.
What holds these wines together? "All of the Sauvignon Blancs we are trying today are from three different regions, all 15 miles from the coast," he explained. In essence, the past two decades of viticultural exploration in Chile have brought broad benefits, in the form of "great winemakers and great geologists, figuring out the what where how and why of what to plant."
Perhaps the greatest benefit of all has been seeing the direct link between Chile's cool, mostly coastal regions and rising quality across multiple varieties. "The wines of Chile are more energetic than ever," he offered at the start of the tasting at Beverage Media's office along with three NYC sommeliers, focusing on Sauvignon Blanc, Pinot Noir and Cabernet Sauvignon.
The somms were: Paul Greico of Terroir wine bars; Luke Boland of La Sirena; and Chris Raftery of Corkbuzz Studios. Following are some of their impressions and tasting notes from the cool-climate Sauvignon Blanc and Pinot Noir flights, as well as thoughts on Chile overall. (Cabernet will be featured in an upcoming issue.)
Sauvignon Blanc
The consensus here was in the diversity of styles. Luke Boland explained, "You had some of the more typical, expected Sauvignon Blanc that was really big and blousy and citrusy and aromatic, and some a bit more restrained, more mineral driven, almost more of what you would associate with an old-world style."
"If you lined all three up and said 'guess what they are,' I would be stunned if someone said they're all Sauvignon Blanc," said Paul Greico. "What is consistent is a good line of acidity for all of them."
While the Leyda struck tasters as the most typical, the Casa Silva "Cool Coast" was tagged for its distinction. Chris Raftery said, "It almost drank like something Ligurian. It had that really flinty, sea-breezy, kind of thing.
Pinot Noir
As a flight, the Pinots were perhaps more surprising, showing a purity of fruit and with each wine punching above its price class. "With the Sauvignon Blancs, you always have the common theme of really vibrant, zesty, fresh acidity that was beautiful. It was kind of the same with the reds," noted Boland, adding, "Nothing here was one-dimensional."
The Leyda ($15) and Morandé ($15), both held their own, showing personality as well as varietal correctness. Raftery was smitten with the Leyda: "It's a little darker, a little juicier, lot of cranberries—it's a Thanksgiving wine for me." A savory, earthy edge proved key for the very drinkable Morandé.
The Valdivieso and Clos des Fous, priced higher, more than lived up to expectations. The former displaying exotic herbs and dried citrus; a "polished but wild feel" for Boland. Though just a few vintages old, the "Subsollum" proved it has the terroir chops to get a table of sommeliers excitedly talking soil, and clones and cool breezes.
In their words…
Chris Raftery:  "For me, the new Chile is going to be about exploring terroir and exploring microclimates and sub-zones and expressing variety above all else while maintaining freshness."
Luke Boland: "In terms of the potential for making really fresh, vibrant white wines, lighter bodied red wines, from what we tasted today, the Chileans can be hugely successful. To me, I think that focusing on some of those misconstrued grape varieties, polishing that up and really honing in on and taking a full hold of that coastal feel—that lighter style—would be really good."
Paul Greico: "When you read about Chile, we all focus on the central valley and closer to the Andes and super hot days and producing a certain style of wine. But now, with movement toward the water, the cooler growing climate throughout the course of the day, but still great luminosity provides an energy into these wines. When you taste them, there's vibrancy there. Whether that's reflected through Sauvignon Blanc or Pinot Noir or other so-called cool-climate varietals, it really is exciting."