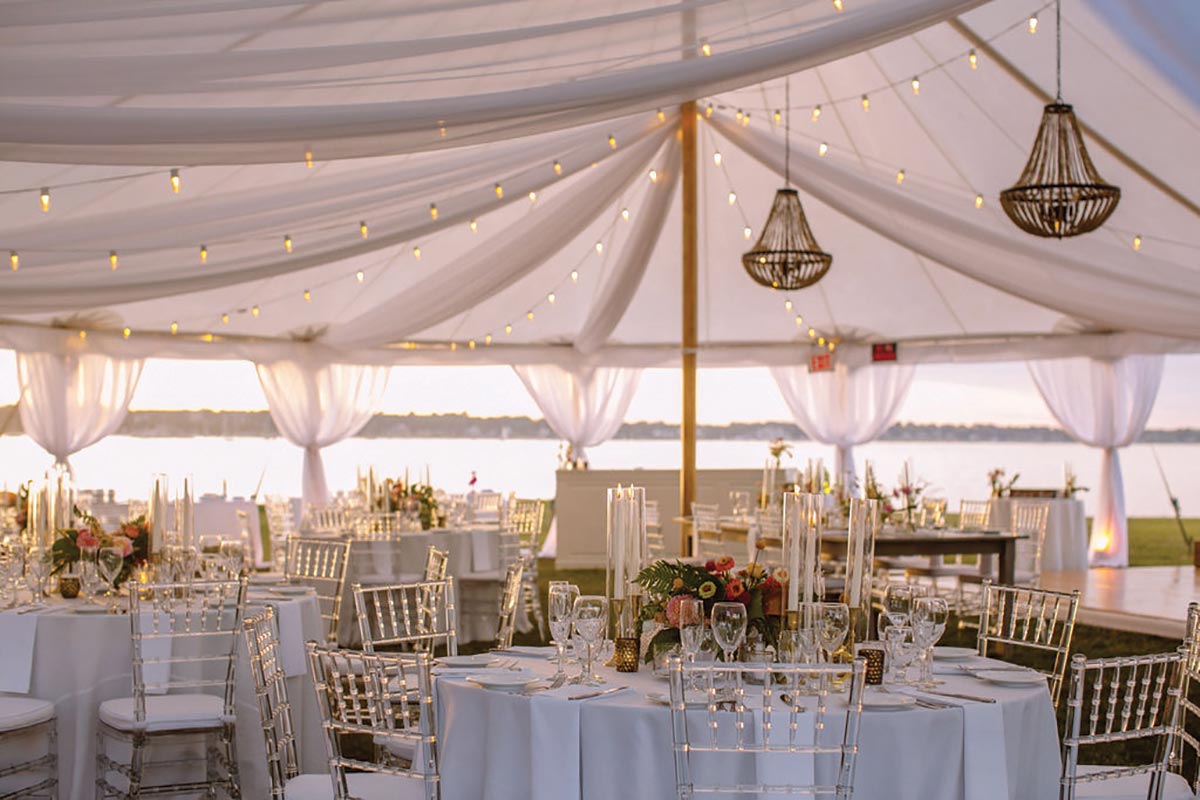 The economic outlook brightens with vaccinations underway
By Sara Capozzi
With spring arriving, the Rhode Island hospitality industry received a much-needed boost as COVID-19 case numbers continued to trend low, more people received vaccines, virus-related restrictions were lightening up and additional relief funds were on the way. The daily test positive rate remained in fluctuation the first weeks of March, between 2% and 4%. Still, more than 111,000 Rhode Island residents, 10.5% of the state's population, had been fully vaccinated at press time, with more doses coming online for availability and broadening population eligibility.
Rhode Island Commerce Secretary Stefan Pryor announced the loosening of COVID-related restrictions on restaurants and gyms during Rhode Island's weekly coronavirus briefing on March 4. Beginning on March 5, restaurants in the state were allowed to accommodate guests indoors at 66% capacity, with the limit set to increase to 75% capacity beginning March 19. Gyms and fitness centers are allowed to accommodate one person per 100 square feet indoors, up from one person per 150 square feet, among newer guidelines.
More changes came on the political front, as Gina Raimondo was confirmed as U.S. Commerce Secretary on March 2 and Lt. Governor Dan McKee was officially sworn in as Rhode Island Governor on March 7. McKee will carry out the remainder of Raimondo's term and is expected to run for governor in the 2022 election.
McKee dropped the curfew imposed on restaurants and bars that began on Jan. 29. Bars and bar seating were also allowed to reopen with some restrictions through a Feb. 11 executive order.
Event capacity limits for catered functions were increased to 100 people indoors and 200 people outdoors, effective March 19. As of that date, private gatherings are allowed to have up to 15 guests indoors and 50 guests outdoors.
Advocacy advances agenda
The Rhode Island Hospitality Association (RIHA) continued to advocate for the industry. In March, RIHA began to petition for relaxed restrictions on catered events in the state. In a letter dated March 2, RIHA asked Commerce RI to drop its requirement for a COVID safety officer to attend all events in the state.
Currently, Rhode Island is the only state requiring an individual at both public and private events who will make sure guests and vendors comply with event guidelines, and who will collect COVID-19 test results and contact tracing information of guests, vendors and employees. But as events pick up in the spring and summer months, this requirement could cost Rhode Island establishments lost business to neighboring states who don't have this rule in place.
"Our event industry is currently in free-fall, with numerous caterers and hotels losing upcoming events to Connecticut and Massachusetts," RIHA's CEO and President Dale J. Venturini and Chairman Faruk Rajab said in the jointly-signed letter. "This is due to the overly burdensome rules and restrictions governing events in Rhode Island. No other state requires a COVID Safety Officer at events – regardless of the size of the event."
RIHA argued that in order to have a COVID safety officer covered by insurance at events, the venue would need some type of professional liability coverage such as medical malpractice, which the majority of establishments do not have. A COVID safety officer would not be covered under a standard business insurance policy.
More federal aid awaits
President Joseph Biden signed the long awaited $1.9 trillion American Rescue Plan into law on March 12, addressing multiple areas of COVID-19 relief, by providing direct cash payments to eligible Americans, extending unemployment benefits, emergency rental assistance and funding of more vaccine development and distribution. Within the American Rescue Plan, $28.6 billion has been set aside for restaurants under the Restaurant Revitalization Fund (RRF).
The RRF provides for grants equal to the amount of restaurants' revenue losses and up to $10 million per company and $5 million per location, setting aside $5 billion for the smallest restaurants, those whose annual revenue is $500,000 or less. The RRF federal grants, geared toward restaurants with 20 or fewer locations, will be administered by the U.S. Small Business Administration.
The bill's Raise the Wage Act, which would have required states to increase their minimum wage incrementally until reaching $15 per hour while eliminating the tip credit, was dropped on its way to the Senate.
Aid for many affected businesses remained available through the Consolidated Appropriations Act, which was signed into law on Dec. 27. Through the pandemic relief portion of the bill, qualifying businesses were able to receive both Paycheck Protection Program loan funding and enhanced benefits through the Employee Retention Tax Credit (ERTC), a refundable tax credit against employment taxes, including Social Security and Medicare, of qualified wages an employer pays to its employees. In 2021, the ERTC covers up to 70% of eligible wages paid by the employer, with a total credit of up to $14,000 per employee. These benefits are extended until June 30.
Industry looks forward
Hospitality professionals appear hopeful that business will rebound in 2021 as consumer confidence returns. "I am very optimistic about the upcoming season," said Michelle Violette, Director of Operations, Harbor Lights. "I think the beginning of the season will still be a little lighter than usual, but I anticipate as restrictions ease a little, and more and more people are vaccinated, we will start to see our new normal happening."
Located on the Greenwich Bay in Warwick, Harbor Lights is a scenic, popular venue for weddings, galas and upscale corporate affairs. Last summer, due to its large outdoor space, the facility was able to adapt its operations to accommodate guests amid COVID-related restrictions. While Harbor Light's restaurants, which include Front 9 Restaurant & Bar and Par & Tackle, remained temporarily closed for the season as of press time, Violette said she expected the restaurants to reopen for indoor dining by the beginning of April.
Pranzi Catering & Events, a full-service catering, event and rental company serving the greater New England area, has seen a huge uptick in bookings for 2021. According to Nicole Mattiello, Vice President of Marketing, in early March the company had 175 weddings on the books, with more reservations coming in daily. "I feel like people are not afraid to have events right now within the restrictions," she said. "I'm fairly confident that we will have a great events season and I think a lot of that has to do with the outdoor events."
Mattiello said that events outdoors offer both better ventilation and reduced restrictions versus having an indoor event. "I think people are more inclined to have the outdoor events because of the capacity," she said. "People can have more of a number doing the outdoor events versus the indoor events. I think that's why a lot of people are gravitating toward that kind of guarantee."
Walk-up bar service, passed hors d'oeuvres and buffets remain off-limits for both indoor and outdoor events in Rhode Island and all staff are still required to wear masks and follow safety protocols. Still, guests don't have to sacrifice aesthetics or ambiance when planning their special day outdoors, she said.
"People are transforming their backyards into beautiful event spaces and a lot of people are calling Pranzi because we have brand-new tents … we can decorate them with special lighting or chandeliers and planters. A tent can be just as beautiful, if not more beautiful, than a four-wall event venue."
Bob Burke, Founder and Co-owner of Pot au Feu and the Independence Trail Education Foundation, is hopeful that another key driver of local economic activity will start up again once more people are vaccinated in the late spring and early summer: graduation ceremonies.
"College graduations are especially important because they support hotels, restaurants and airlines," he said. "Every college president should consider it their civic duty to host a graduation at their institution this spring as part of a national vaccination celebration. The graduations can be held in outdoor facilities, with cap, gown and mask required to emphasize that as we go forward, we must not fall back."
"If every college and university hosts a graduation, it will jump-start the travel industry with families flying, staying in hotels and celebrating at restaurants. Since we will have achieved a safe level of vaccination, it will be safe to ease restrictions, while keeping masking and social distancing as a precaution."
Burke also hopes to celebrate further at Pot au Feu's annual Bastille Day Bash in July, with plans to saber the largest bottle of Moët & Chandon Champagne in the world, a 15-liter Nebuchadnezzar. Once more people are vaccinated, Burke also predicts a social climate much like what was seen in the 1920s.
"I firmly believe that one of the reasons that the 'Roaring '20s' roared was because of the [Spanish flu] pandemic of 1918. It's like a Champagne bottle: Pressure had built up during the pandemic, and when it was uncorked, the Roaring '20s was a giant release, relief and celebration. So, here's to the Roaring 2020s!" he said.