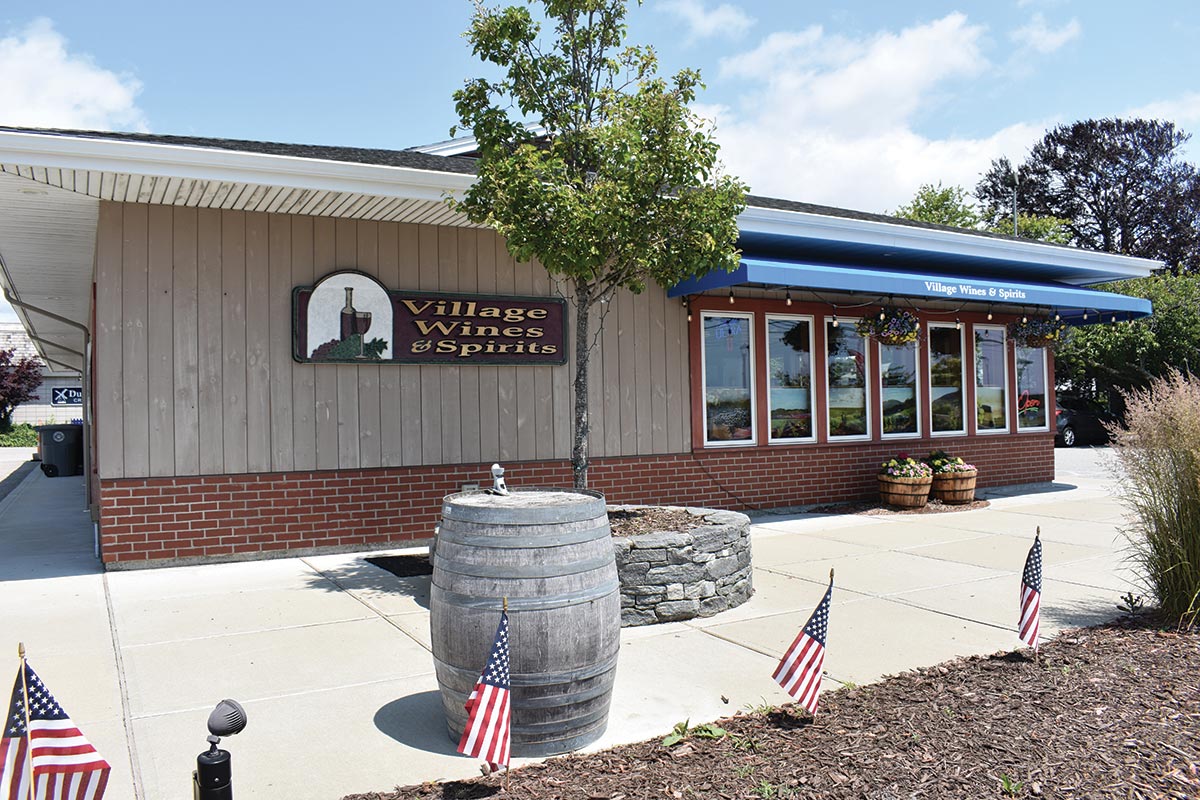 Village Wine & Spirits
245 Main Street
Niantic, CT
Square footage: 2,700
Years in operation: 1 year
By Sara Capozzi
Situated in the picturesque seaside community of Niantic, Village Wine & Spirits celebrated its first anniversary in business in May under new Owner Ben Suhr. A former New York City attorney, Suhr is originally from Southeastern Connecticut and decided to return to the area to pursue a career in the industry about 10 years ago.
Suhr gained experience working in other stores during the past decade and, in the spring of 2022, a great opportunity arose. "I live in town within walking distance to [Village Wine & Spirits] and I've always enjoyed it," Suhr said. "The couple who owned it were looking to retire and sell to someone that was local, to keep what they've built and build on it, so it was a fantastic situation."
Village Wine & Spirits has operated for 40 or 50 years, he said, but relocated to its newer, current building about five years ago. When Suhr prepared to take over the business, he devised a plan for improvements. "I wanted to put my own personal touch on it," he said. "We've revamped the entire wine selection in the store. We try and focus on unique and interesting wines. I found that there are a lot of customers who, they may have their everyday wine, but they like to try something new as long as they have someone who they trust, guide them to something they wouldn't normally pick out on their own. So that's where we focus here … that boutique wine store selection without the intimidation factor."
Suhr and his team of seven employees prioritize friendly service, spending time with customers to help them find a bottle that will appeal to their tastes. "Customer service is the most important part of the business because in Connecticut, there's another liquor store just down the road in almost every town. We try and make sure that all of our staff members are able to help any customer that comes in."
The team regularly attends staff trainings in preparation to do just that. "Any of our staff members is perfectly capable of helping anyone find anything, whether it's a Japanese whisky or a Sauvignon Blanc from someplace other than New Zealand," said Suhr. "And I think that's what keeps a lot of people coming back … the customer relationship is the most important thing you have in a business."
Wine and craft beer are the store's top-selling categories. "For wines, rosé is huge this time of year, but people are looking for something besides just France and Provence, so we've got a great selection of Greek rosés and Italian rosés and that's something that's really grown a lot this year versus last year," Suhr said. In craft beer, he said he's noticed that "the growth of the double IPAs and the triple IPAs have leveled off and slowed down a little bit, people are looking for something a little bit lighter. Sours are really big around here." Canned cocktails continue to grow in popularity and nonalcoholic beer, wine and spirits sales have grown in the past six months. In spirits, tequila continues to do well and mezcal sales have picked up over the last year.
Suhr credits the help of his team with his success, including Violet Ray, Wine Manager, and Jordan Miele, Beer Manager, who have worked at the store for years and are very knowledgeable about products and great at getting to know the customer base, who are 70% locals and 30% seasonal and out-of-towners.
"I definitely feel lucky with the staff that I have here," Suhr said. "The customers know them and trust them … they've built up the relationships. A lot of people like to shop at small, locally owned businesses and a huge part of that is the interaction with the staff that's there and, as long as that's a positive one, that makes a huge difference for the business."