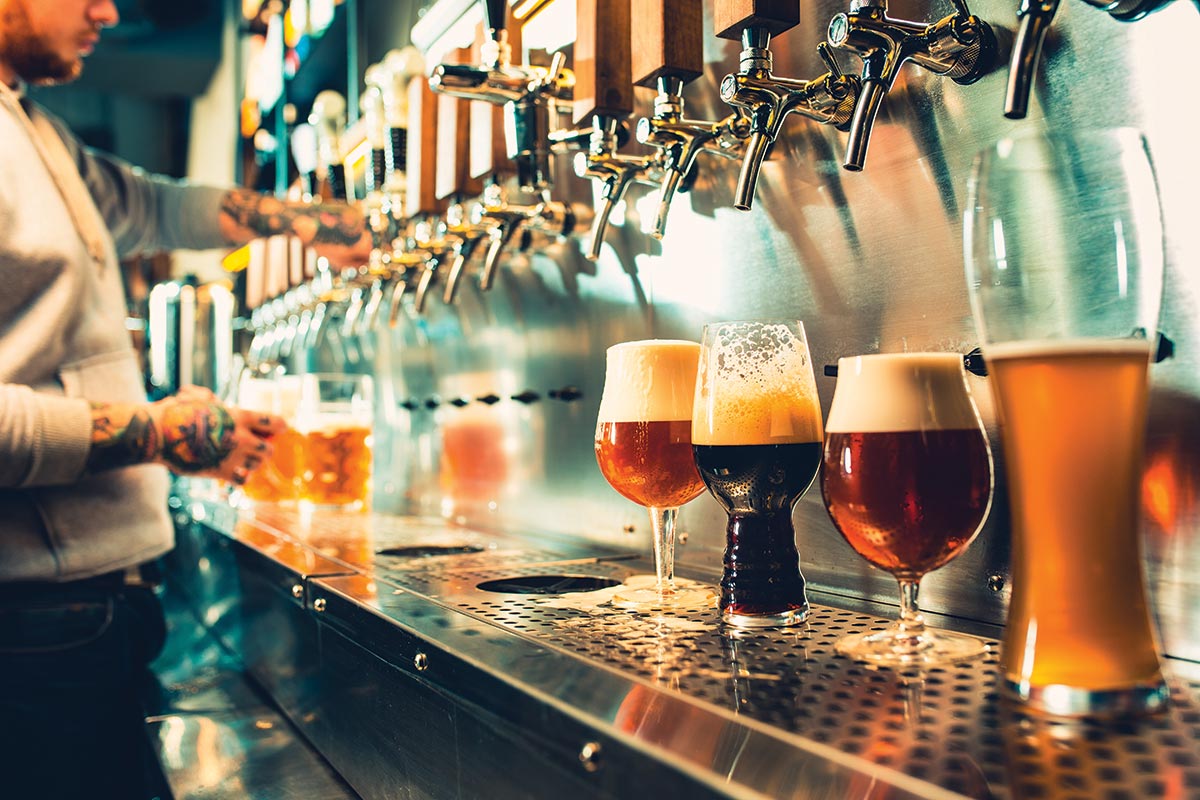 By Jack Kenny
Predictions in the beer business have become rather, um, predictable. A brewer does something noteworthy and it gets noted. Soon they're all doing it. In a year or two a variation is born, then another and another. Nothing wrong with this. It's good beer, and that's what brewers are supposed to do.
Consider sour beers. Once the coveted products of Belgium, they are almost everywhere today, and they are puckery and delicious. They'll stick around, no doubt. Probably not as wildly popular as time goes on, but they'll have longevity.
The new thing for sours (and other brews) is solera, a method of blending and aging that started with sherry in the 1800s. Same story: one brewer, two brewers, 50 brewers, world without end. It might not be a household word yet, but give it five minutes.
Predictions for 2019 among beer industry captains are somewhat amorphous. Craftbeer.com presented 2019 resolutions from a collection of brewery heads, and a couple of them mention envelopes: "We do resolve to keep pushing the experimental envelope while continuing to make amazing world-class beer." "Keep pushing the envelope in making innovative and quality beers." "Strive to produce the best beer in the Midwest." "Strengthen our commitment to customers." Others set as their personal business goals the desire to age beer in barrels, add tasting rooms and add cans to the lineup. Nothing new there.
The United States now has more than 7,000 breweries. I know some guys for whom that statistic stimulates dopamine production. But for those in the beer business it engenders foreboding. Vinepair.com has a piece about 2019 beverage trends with this fraught subhead: "If the economy turns, craft breweries will be in trouble."
The Federal Reserve forecasts less economic growth and more uncertainty in America in 2019, and predicts higher rates of unemployment come 2020 and 2021. In addition to wreaking havoc on financial markets in the short term, this could devastate the already perilous state of craft breweries in the year to come.
The majority of America's 7,000-plus breweries have existed only in a booming economy, the report says. "Now, however, craft growth is slowing. If met with the predicted economic downturn, it could devastate a still-maturing industry."
Brewbound's Chris Furnari, in a year-end analysis, identified three significant challenges that face brewers this year and likely beyond: accelerated brewery closures and bankruptcies, layoffs, and the invasion of cannabis.
Good numbers aren't yet available, but the industry is looking at the addition of about 1,000 new breweries in 2018. That number will be offset by the closing of up to 300 breweries. In 2017, 997 breweries opened, but 165 closed, an increase of 70% over 2016. That's according to the Brewers Association (BA), the national trade organization for craft brewers.
Brewers Association Chief Economist Bart Watson says the pace of brewery closures is on the rise, and the gap between openings and closings is beginning to shrink. Some of the latter have voluntarily closed their doors, says Furnari, or have been forced to declare bankruptcy in the face of crippling debt and slowing sales. New Hampshire's Smuttynose was sold to a venture capital firm after the brewer missed growth projections and amassed debt, which led to a public sale.
One of the biggest to go under was Green Flash, a respected San Diego craft brewer whose beers were available in most states. A year ago, it announced it was ceasing distribution in 32 states and cutting 15% of its workforce. Brewbound then reported that the company's debt prompted it to seek a buyer. It shut down its Virginia plant and was soon sold to an investor group.
On the labor front, high competition and a drop from double- to single-digit growth forced many craft brewers to lighten their payrolls. Many of these are among the larger players, such as Lagunitas and New Belgium. What's more, labor reductions were also made by Anheuser-Busch, MillerCoors, Pabst and Constellation.
Legal cannabis is a force to be reckoned with. Brewing companies that are able to invest large sums are putting their money on – and in – the growing international marijuana business. Look at Constellation Brands: it invested $4 billion in Canopy Growth Corporation, a Canadian cannabis company, and now owns 104 million shares. Why? It's a sure bet. Stay tuned.
Jack Kenny has been writing The Beer Column for The Connecticut Beverage Journal since 1995. Write to him: thebeercolumn@gmail.com.