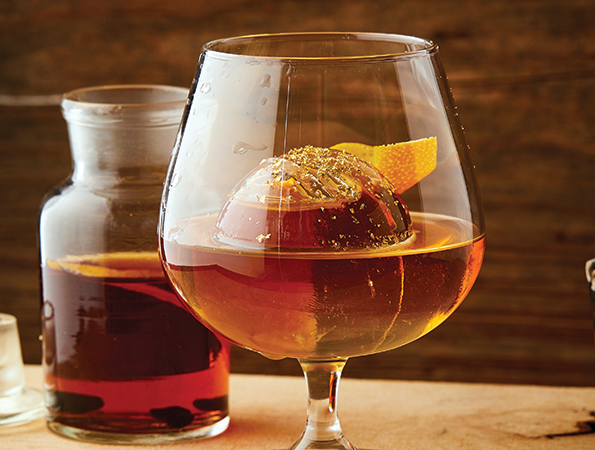 Knee-deep in the 21st century, where does the cocktail scene stand?
By Jack Robertiello
---
Much of the beverage alcohol industry is dwelling on the impact of tariffs and the explosion in hard seltzer, but as we approach 2020 it may be a good time to look back at what the 21st century has wrought in the way of cocktails.
After all, at the turn of the century, Martini bars serving iridescent concoctions were wildly popular, mezcal was considered Mexican firewater, and a spritz was something you sprayed on after a shower. Today, nearly every barstool habitué knows her rye from her bitters and his Sazerac from his Cognac. In other words, it's a whole new drinking world, and much of that is down to how the cocktail revolution changed what we drink and how.
What that has left behind is a host of drinks that are now essential for on-premise operators to present or at least consider. Herewith, then, our instagrammable snapshot of the 21st Century Cocktail.
The Revival Tent 
A couple decades ago, ordering a Negroni often started with asking if the bar carried Campari, because by the turn of the century sales of the iconic Italian aperitivo had plummeted. Now, Negronis and their variations (including barreled versions pioneered in the U.S. by Jeffery Morganthaler of Clyde Common and Pépé Le Moko in Portland) are firmly rooted in cocktail menus.
So, too, drinks like the Clover Club (helped on by Julie Reiner's eponymous bar) and the Last Word, rescued as ingredients such as Chartreuse and maraschino liqueur returned to back bars.
Sour type drinks like the New York Sour (Whiskey Sour with a red wine float and perhaps an egg white for a frothy lift), the Sidecar (a Sour with brandy or Cognac) and other variations have brought what had become a white spirit formula­—as in the Daiquiri and the Margarita—back to brown.
Then there are whole categories like Swizzles, prominent these days at Tony Abou-Ganim's Las Vegas outpost, Libertine Social at Mandalay Bay. He currently offers a trio of twists on the Bermudian rum and juice classic in single servings or pitchers, with the required swizzle stick.
And of course there's the return of Tiki, like at Martin Cate's Smuggler's Cove in San Francisco, where customers still form lines nightly to sample revived and new tropical potencies from the '40s and '50s.
The most impactful recent revival must be the Spritz and its many family members, led by the predominant Aperol Spritz, which gets the draft treatment at places like NYC's Dante. It's impossible to overstate how the style has exploded, especially at weekend brunches where entire Spritz menus are offered.
New Kids
Audrey Saunders is widely credited for launching the careers of dozens of skilled bartenders through her Pegu Club in New York, but she also created the Gin-Gin Mule, a junipered-up version of a Moscow Mule that arguably helped launch the Mule comeback as well. (More on Mules later.)
Then there's the Penicillin, bartender Sam Ross's Sour-like creation from Milk & Honey in NYC in 2005, using two types of Scotch whisky, lemon, honey and ginger, which has traveled around the globe. The Kentucky Buck, another Sour, whipped up by Erick Castro, co-owner of San Diego's Polite Provisions—of bourbon, lemon, simple, strawberry, bitters and ginger—has also become a new standard. Versions of London Bar legend Salvatore Calabrese's Breakfast Martini (gin, Cointreau, lemon, orange marmalade) can be found anywhere morning drinking is encouraged.
But not all newly popular beverages are so crafty—we also must give a nod to Frosé, a catch-all term for any drink based on rosé with whatever fruit and spirit combination gives the frozen drink heft and catches the eye. Some new classics work because of their instant mass appeal, and the Frosé certainly has that.
Riffing around
Consider the Oaxaca Old-Fashioned, the Negroni Sbagliato, and the Ultima Palabra—three drinks now found in many cocktail-conscious bars that represent how widely contemporary bartenders reach to turn an old idea into a tasty new concept.
The first, credited to bartender Phil Ward in 2007 at NYC's Death & Co., surged at a time when the Old-Fashioned itself once more became a reliable order at most bars.
As for that Negroni Sbagliato, "sbagliato" is Italian for ruined, and originally it came from a bartender mistakenly adding Prosecco rather than gin to an order. But today, drink makers have turned it into a multitude of riffs on the original, like White Negronis, White Sbagliatos and others.
The Ultima Palabra—a Last Word with the agave spirit replacing gin—is a symbol of how important mezcal, still small in volume, has become to cutting-edge bartenders. Mezcal as a classic recipe substitute is rampant these days and shows no signs of abating.
Mass Extension 
Operations of all sorts have upped their cocktail reputations by adding menu sections devoted to a single cocktail and its variants—from Margaritas, Mules and Old-Fashioneds, to Spritzes and Sangria. Among Margaritas, spicy is the word lately—Buffalo Wild Wings features a Margarita made with Ancho Reyes chili liqueur and passion fruit purée; and Quaker Steak & Lube two tingly versions—pineapple-jalapeño and ginger-lime.
Mules get a similar treatment now. For example, Barcar in Denver lists seven, made with whiskey, vodka, gin and tequila, and similar treatments can be found at dozens of other operators, especially chains.
Spurred by the popularity of Japanese whiskey, Highballs have roared back, with some taking on pre-mixed and carbonated machines to serve them, with many variants. Cocktail consultant Kathy Casey who creates menus for hotels, cruise lines and other operators, features recipes with seasonal changes, like the Summertime Toki Highball with housemade sparkling fruit waters.
Styles and sources
Punches may not be as popular as ten years ago but many operators still feature them. Kevin Diedrich's Pacific Cocktail Heaven in San Francisco offers several, like the $80 service-for-four Chester Copperpot (Elyx Vodka, Banks Rum, kaffir lime cordial, pineapple, passion fruit, yellow Chartreuse, sparkling water).
Bottled and barreled cocktails are ubiquitous now, but other styles of preparation, service and ingredients are still clamoring for universal respect. The Spanish-style G&T—made with lots of tonic, added botanicals and served in a goblet—is a favorite at Kimpton Hotel's Sable Kitchen & Bar in Chicago, as well as at Ortzi at the Luma Hotel in New York.
Ingredients like coconut water feature heavily now in many outlets looking for the flavor without the heft of coconut cream or milk, like NYC's The NoMad Bar with their Santo (agave spirit, coconut water, rum, falernum and orange bitters) and Detox-Retox (blended Scotch, rum, pineapple rum, cachaça, coconut water and bitters).
Bar-side or otherwise, smoked ingredients, house-infused spirits and flavor-washing have permeated contemporary craft cocktail culture, and lately, so have non-traditional "ethnic" sources of flavor and color, like turmeric and curry leaf in NYC's Junoon Indian restaurant's El Matador.
And finally, despite all efforts, there seems to be no killing the Irish whiskey and brine Pickleback. And people mutter that cocktails are getting too sophisticated!