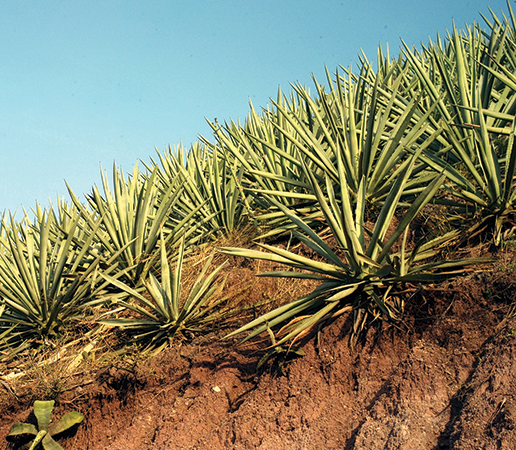 By Jack Robertiello
---
For lovers and sellers of agave alike, the question always comes down to this: is the copita half full, or half empty?
In sheer numeric terms, the answer is simple: it runneth over. Tequila sales in the US grew 7.7% last year, second only to Irish whiskey, and the agave spirit is now the fifth largest selling category, according to figures released by the Distilled Spirits Council. Tequila added 1.3 million new cases, with high-end (up 18.2%) and super premium (up 9.7%) the biggest beneficiaries.
Meanwhile, mezcal jumped to approximately 445,000 cases and $90 million in revenue, small compared to tequila's $3 billion but significant in terms of annual growth.
But while the cash registers are ringing, it's not all smiles south of the border, or in the U.S. for that matter. Prices for agave have skyrocketed, and while the swings of agricultural supply and demand are the norm for tequila, the combination of robust growth on an already significant base has added complexity to the issue.
Then there's the issue of monoculture, with field after field of blue Weber agave essentially clones, with little concerted effort to allay doomsday scenarios of plagues or pests devastating fields. Likewise, concerns that bedevil mezcal include fears of over-harvesting, environmental impact and shady dealings.
"This is the most severe agave shortage we have ever had," says respected tequilero and El Tesoro distiller Carlos Camarena. "In the past the shortages only lasted a couple of years and then we'd have another surplus. Right now we are in about the third year of shortages and I expect this to last at least another couple years before things balance out."
Bobby Heugel, bartender and owner of Anvil Bar & Refuge, among other operations, sounded the alarm a few years ago in a widely read story for Eater about the threat monoculture poses for tequila. He's still concerned: "But I do think that major companies are starting to take issues like the lack of biodiversity more seriously than they were five years ago and that's positive. Are they addressing all of the issues? Absolutely not, but at least we're seeing more dialogue and research around it."
Risky Business
"We have been seeing plants getting weaker and more susceptible to pests and diseases," says Camarena. "It is a big risk just like an earthquake in San Francisco—with agaves, everybody knows that someday we will have a major disease attacking the plants, we just don't know when."
Warmer winters have accelerated maturity, as have the use of pesticides and fertilizers, says Camarena. Compounding matters, he is concerned about the increasing practice of collecting mature agaves at five years instead of waiting until they are seven or eight: "To most of the industry this isn't a bad thing but we know in the long run this isn't good."
To most, what's in the glass is most important, but that, too, is an area of concern. "Because of globalization, the cyclical nature of growing and maturing agave, the industry no longer seems interested in producing tequila that taste like and showcase the unique flavor and characteristics of agave Tequilana [blue agave]," says Julio Bermejo, owner of Tommy's in San Francisco.
That includes the growing trend in big brands using diffusers, capable of highly efficient extraction of sugar from agave fibers through high-pressure water and acid instead of a tahona or roller mill.
The use of underage plants hasn't been good for the end result, says Camarena. "Try to make a banana pie with a green banana and it won't be very good. It will affect the quality of the tequila the same way when the agaves aren't mature."
As Bermejo says, this is a downward spiral, potentially. "So though it may be a blessing that global warming is maturing agave faster, many have lost patience to wait even even years and will harvest younger agave deficient in residual sugar but cheaper. The problem with this is people are wiping out younger agave needed in the future. The industry is just shooting itself in the foot."
"For some time the entire tequila industry was focused on selling things that were smooth, and meant for the American consumer," says Heugel but that is changing with numerous small companies using traditional methods of production. Even large brands see the value—Patrón's Roca Patrón employs a stone tahona to crush piñas, for example.
Awareness at the Bar
Some operators have started taking a stand about what they will sell, based on these and other concerns. At Las Perlas Mezcaleria in Austin, one of two agave-centric bars operated by 213 Hospitality, brands that are made using diffusers are avoided. "And we do what we can to find agave producers who are either attempting to alleviate the problems with monoculture or make it less impactful," says Bar Manager Drew Jerdan. He's still able to stock about 175 iterations deemed well made and ethically produced.
But now that mezcal producers can use those modern methods including diffusers, he'll have to pick and choose there as well. "People at the forefront of mezcal production know they need to have creative solutions in terms of enhancing efficiency of production without resorting to chemical or mechanical changes that word hurt the quality or sustainability."
Steve Olson has longed worked with mezcal Del Maguey and continues to now that it is part of Pernod Ricard. He sees an agave "Gold Rush mentality" taking hold in Oaxaca and other states where mezcal is produced. Take early harvesting:  "Just because we reach sugar ripeness doesn't mean that the flavors, complexities, structures and layers you need are in there." He recounts watching as a field adjacent to one owned by one of Del Maguey's growers was clear-harvested of five-year-old agaves. "That method of harvesting in Oaxaca rarely existed before," says Olson. "Traditionally fields were passed through and piñas harvested one by one, just as they are with wine grapes—only when the plants are ripe not only in sugar but in phenolics."
Since most producers buy agaves rather than growing their own, there's pressure on farmers to sell when the prices are high—Espadin agave prices recently reached 11 pesos, extraordinary compared to the recent past. "Many producers there are  working hard at sustainability, replanting and reforestation. But the demand for agave is such that you can't expect a poor dirt farmer to hold onto their agaves and wait when somebody who doesn't care about quality will step in and pay top dollar, right now," he says.
And now, mezcal lovers are wrangling over what constitutes "wild" agave and whether anything harvested in the wild is sustainable.  And forget about certifying how much if any tobala or tobaziche was used in the production of that new brand.
But if pop culture has anything to say about it, mezcal's growth is only beginning. Heugel tells of recently hearing musician Anderson Paak referencing mezcal in one of his songs. "Everytime I think that mezcal has reached its peak, it grows again. I'm blown away how this smoky spirit from Mexico with flavors that clearly aren't for everyone continues to surge in popularity."