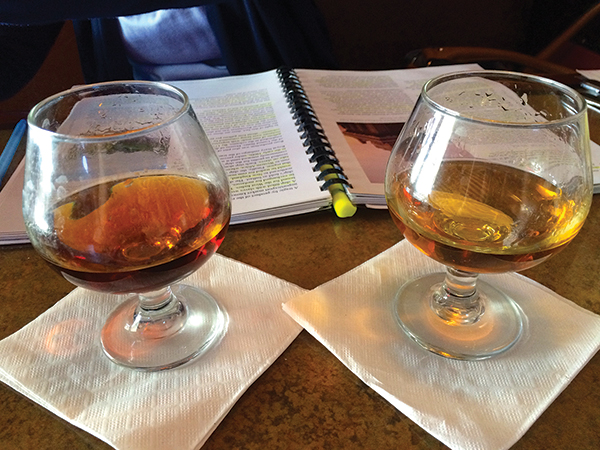 By Renée Allen
A bottle of red, a bottle of white … let's face it, wine is romantic. Wine has been the topic of dozens of love songs, the focal point of many a romantic dinner, and the icebreaker to numerous new relationships. Grape growing and the role played by terroir, the beauty of a vineyard vista, and visions of generations of vintners working their magic in wine cellars, plays a part in this romanticism. Add to this the winetasting experience itself, and you have the recipe for a real heartthrob.
Even before I began formally studying wine, I fell in love with it. Spirits never really stood a chance, other than a brief Sex in the City-inspired Cosmopolitan phase. Liquor was hardcore alcohol devoid of both romanticism and nuance, meant for those looking for a faster route to the finish line. Or so I thought. As it turns out, there is more to spirits than shots and shooters and, while wine may be undeniably romantic, spirits are downright sexy.
The promotion of spirits often involves edgy or original packaging and celebrity backing. Dan Aykroyd's Crystal Head Vodka with its striking skull bottle and Justin Timberlake's no-lime-needed Sauza 901 Tequila are only two examples of how companies are trying to stand out in a competitive and rapidly increasing sea of spirits. But, like wine, spirits are also about history, technique and even terroir, and the stories behind them are more likely to make me want to grab a bottle off the shelf than a lime costume-clad Timberlake. However, I was still unaware of all of this when I found myself agreeing to study for the Certified Specialist of Spirits (CSS) examination earlier this year with a former student of mine.
Like the Certified Specialist of Wine (CSW), the CSS is an internationally recognized certification developed by the Society of Wine Educators. The CSS examination tests one's knowledge of distillation and spirits production. While pursuit of this certification is appropriate for any spirits enthusiast, it should be a requisite for anyone in the industry, including mixologists, retailers, suppliers and distributors.
My former student, Marcia Passavant, was the Sales Information Director for the Connecticut distributor Slocum & Sons when she passed the CSW exam in 2013. For Passavant, the decision to pursue the CSS was an obvious choice. "Taking the CSS exam was the next logical step in further educating myself to better serve my suppliers," explained Passavant.
Although she already had a basic knowledge of the general spirit categories, Passavant wanted to delve deeper to learn what distinguishes one type of spirit from another, discovering the vast array of variables that contribute to the uniqueness of a spirit; even more, perhaps, than exist for wine.
While wine is made from grapes, spirits are produced from a myriad of base materials, including grapes, corn, wheat, agave, barley, potatoes and sugar cane, to name just a few. With a little practice, one can begin to distinguish a vodka made with wheat from one made with potatoes. Where and how these base materials are grown can have an impact on the final product's flavor profile.
For example, the blue agave grown in east central Jalisco, Mexico, creates tequilas with distinctive expressions from those produced from agave grown in the north central section of that region, due to the significant differences in terroir between these two areas. The method used to prepare the base ingredients for distillation can also be a source of distinction. One has only to compare the peatiness of a Scotch whisky to the leathery flavors of an Irish whiskey for an example.
Spirits are further distinguished during the production phases. Choices regarding distillation techniques, flavoring agents and, where appropriate, aging styles, all play a part in creating a unique product. The French Alpine elderflowers used to flavor St. Germain liqueur are highly perishable and begin to lose their aroma shortly after picking. Each spring, a group of approximately 50 harvesters head for the mountains on bicycles so that they can pick the elderflowers and quickly return with their precious cargo for processing, preserving their sweet perfume. That story was enough to send at least one devoted oenophile to the store to pick up a bottle of this delightful libation.
While sexy bottles and celebrities can certainly translate to increased sales, an understanding of what is inside the bottle and how it got there can result in even greater returns. Becoming an expert in spirits can be both personally rewarding and career enhancing. Since passing the CSS exam this year, Passavant has been promoted to Senior Brand Manager at Slocum & Sons. The one down side she cites to her newfound fascination with spirits? Too many spirits, not enough time. Not a bad problem to have.
Renée Allen is the Director of Education for the Connecticut-based Wine Institute of New England. She is a wine and spirits educator and writer, as well as a wine judge. She can be contacted at www.wineinstituteofnewengland.com.