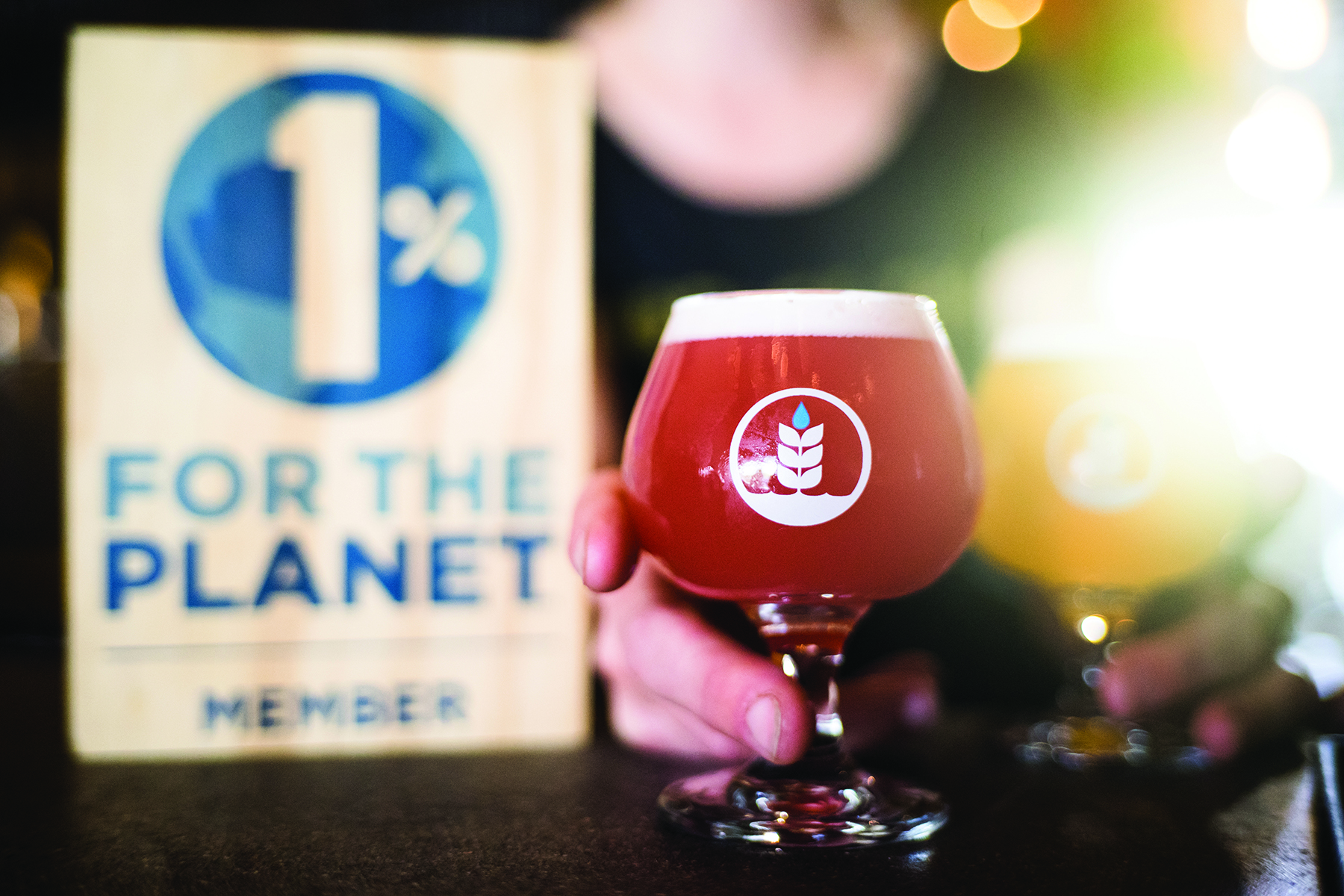 Nonprofit Partnerships Done Right
By Betsy Andrews
Stretching two miles long, large mesh gillnets are meant to target swordfish, but they entangle sea turtles, dolphins, sharks, and gray whales cut short in their migration up the Pacific coast. California was the last state to allow them. But in 2018, it announced a gillnet buyout program to transition sword fishers to sustainable gear. Then, in December 2022, legislation in the omnibus appropriations bill banned gillnets in all U.S. waters.
The buyout and ban were victories for Oceana and other nonprofits fighting to end gillnetting. Among them was an unlikely advocate: a spirits company. Founded in 2016 to protect the mammal after which it is named, California-based Gray Whale Gin was instrumental in the success of the anti-gillnet campaign. "Most people didn't know these nets were still used," says Ashley Blacow-Draeger, Oceana's Pacific policy and communications manager. "Gray Whale Gin produced a video that raised awareness and helped garner more than $1 million from donors to match state monies for the buyout. They directly gave funds to reduce whale entanglements. They also reached a different audience than we, as a conservation organization, might normally reach."
Gray Whale Gin is one of a growing number of drinks companies directing money and other resources to nonprofits in ways that go beyond a marketing campaign. Though companies across sectors have been accused of using environmental philanthropy to "greenwash" their own destructive practices, if partnerships are carried out correctly, they're a win-win for brands, nonprofits, and the planet. Beverage Media spoke to drinks pros about how to successfully find and partner with a nonprofit, and build an impactful, long term relationship.
PHILANTHROPY CAN'T REPLACE A SUSTAINABILITY STRATEGY
Firstly, any philanthropy efforts should be part of an integrated sustainability model. Jan Mokhtari, a former creative director, founded Gray Whale Gin with her husband Marsh Mokhtari, a food and travel television personality, in 2016.
"I spent 25 years working on ad campaigns for larger brands," says Jan. "I experienced brands saying they were committed to an initiative, but it was just giving money and walking away." Gray Whale Gin's partnership with Oceana, however, fits its broader mission. The brand uses sustainably foraged botanicals, only works with responsible farmers, and minimizes its plastic use.
Ioannis Ioannou, an associate professor of strategy and entrepreneurship at London Business School, has studied consumer attitudes toward greenwashing. "Of course, philanthropy can, in principle, enhance a company's brand, if implemented strategically. However, it can also backfire. Whether it does backfire or not is typically contingent on a company's actual behavior," he says.
Philanthropy can't make up for polluting or wasteful sourcing, production, or packaging—then it becomes a purely symbolic action, which is a primary form of greenwashing. "If you are cheating, you are greenwashing, no matter who you sponsor," says Ioannou. Yet, for companies that act with integrity, eco-philanthropy can help achieve green goals.
FIND AN AUTHENTIC CONNECTION WITH A CAUSE
"A successful partnership will be driven by the brand fully supporting their partner's charitable mission," says Jonathan Frank, the director of global corporate and celebrity partnerships at Oceana. "This will make for authentic communications and creates a strong foundation for building a long-term, mutually beneficial relationship."
David Babich, the CEO of New Zealand's Babich Wines, chose to partner with the international Surfrider Foundation, started by surfers to clean coastlines and oceans, as well as New Zealand's Sustainable Coastlines, for which Babich's 80-some staffers do beach cleanups in their local Marlborough. It makes sense not only because "growing grapes takes lots of water," as Babich says, but he also has a personal connection with water, as a surfer, kite foiler, and shoreside homeowner in Croatia. "We really believe in values alignment," he adds.
Both groups receive the winery's financial support as well as messaging on the company's social media and website.  "What doesn't work is aligning with a charity because it's fashionable, but it doesn't fit the brand," says Paul Mathew, the founder of the non-alcoholic aperitif brand Everleaf. A trained plant biologist, Mathew partners with his former employer, the U.K. conservation group Fauna and Flora International (FFI). "It helps that I worked at FFI and know where the money's going and that they do a good job," he says.
Similarly, beekeeper Claire Marin launched her honey-infused Pollinator Spirits with a mission in mind. "I've always wanted to have a socially conscious company," she says. "For me, pollinators and their importance is obvious." Up to three percent of her revenue goes to support pollinator-friendly organizations like Xeres Society for Invertebrate Conservation and Friends of the Earth, and that sets Pollinator apart from other small, craft spirits. "Authenticity, commitment to community, giving back, all these things bring us closer to certain brands," she says.
WORK WITH A MATCHMAKER TO FIND THE RIGHT NONPROFIT
How should a producer choose among the many groups working on a cause they care about? And how can they ensure transparency with the public in the process of the partnership? 1% for the Planet was founded in 2002 by Patagonia's Yvon Chouinard and Blue Ribbon Flies' Craig Matthews. Businesses pledge one percent of revenue to nonprofits and projects certified by the organization and then open their books to be audited.
Tyler and Rachel Eck, the founders of Dunites Wine Company, support groups like Santa Barbara's Environmental Defense Center through 1% for the Planet. "You pay a small, annual fee. They ask a bunch of questions and put you in touch with groups that fit your vision," says Tyler. "It's good for business, it's good for the planet, and it's not greenwashing. It's an actual commitment. I don't know why every business doesn't do this because it's a tax write-off, too."
With a roster of 5,500 businesses giving to over 5,000 partners worldwide, 1% for the Planet has facilitated $450 million in donations. Businesses can give through direct funding, in-kind donations, or volunteering, valued at $29.95 per person hour. Drinks brands make up nine percent of members. "We're seeing major growth in new members, including beverage companies," says Tatum Robinson, the communications manager. "Drinks companies are really engaged. We had a bunch come to our global summit last year. They sponsored happy hour, took speaker roles, and mentored other brands. They are super visible in our network."
EARMARK FUNDS AND ASK FOR DATA
Earmarking funds for specific projects makes giving more meaningful for producers and their consumers, particularly when partners can demonstrate results. Salcombe Distilling Company's owners met teaching sailing in the English harbor where their gin works is situated. So, in addition to its many other sustainability measures—returnable bottles, carbon-neutral shipping, plastic-free packaging—the brand supports the U.K.'s Marine Conservation Society.
"The MCS has too many initiatives for us to support," says Salcombe's founder Angus Lugsdin. "We picked one that makes the most sense to us: We have seagrass in Salcombe, so we work on seagrass. It stores ten times the carbon of tropical rainforests." The distillery helped fund a No Anchor Zone to save seagrass in the U.K.'s Portland harbor. "The MCS monitors the seagrass recovery, and initial findings are positive," says Lugsdin. "We're due a full report in March. When you're working with a charity, you want to know what impact you're having." Positive results help justify the expense to the brand.
GIFTING TIME AND RESOURCES HELPS TOO
Donating marketing resources, event space, or staff hours can be as valuable as writing checks—and these resources are available to smaller labels even where cash is scarce. Maine Beer Company hosts Maine's Center for Wildlife and its rehabilitated animals in its tasting room monthly to educate guests, as well as offering its staff paid volunteer time off. Pollinator Spirits hands out milkweed seed packets to increase monarch butterfly habitats, and its distillery tastings include a talk on pollinator- friendly activities and the importance of local beekeepers. Gray Whale Gin planted critically needed mangroves along with local fishermen in Baja's San Ignacio Bay, gray whales' breeding ground.
At California's Joshua Tree Distilling, environmental scientist-turned-spirits maker Paul Chakalian worked out an arrangement in which wholesale clients can use the distillery's partnership with Joshua Tree National Park Association (JTNPA) for sell-through. "If bars and restaurants match our donation with one from a cocktail made with our spirits, they can also use the JTNPA logo on their menu," he says.
THINK LONG-TERM
Where business engagement and nonprofit accountability are strong, partners can build ongoing relationships to deepen their shared impact. "Now that we have the gillnet ban, it doesn't stop there," says Marsh Mokhtari of their partnership with Oceana. "We talk about campaigns, what's next, what's critical. We direct where our money goes in the organization."
For Charles Bieler of Bandit Wines, which partners with charities like the climate action group Protect Our Winters, the payoff took some time. But 20 years after its founding, the company's nonprofit partnerships are more meaningful than ever to its audience—61 percent of U.S. consumers now rank sustainability as an important purchase criterion, according to the Global Sustainability Study 2021, especially among younger generations. "We are in a declining wine market with a smarter, younger consumer who wants more data about the winemaker's philosophy. 'How are you farming? What's your commitment to sustainability?'" says Bieler.
That's also increasingly true of the wholesale market. "For buyers and trade customers, there is an increasing number of people that will take into account the sustainability potential of a brand," says Lugsdin. Retail outlets have started highlighting eco-friendly brands in dedicated sections of brick-and-mortar and online stores. It's a way for a small producer to get more attention—to the benefit of the brand and their partner(s). "Ultimately if we sell more product, great; we're a commercial business," says Lugsdin. "But that means we can increase our donations."
BE REALISTIC ABOUT THE CHALLENGES
 It's not all a walk in the park. Brand representatives mention several challenges to maintaining ongoing partnerships, not the least of which is financial. Structuring its brewery as a "mission-driven for-profit," Wisconsin's Delta Beer Lab gave employees a living wage and revenue sharing, then funneled customers' tips to eco-partners like Wisconsin Conservation Voters. In four years, it has given $180,000 through the tip system and an additional one percent of revenue through 1% for the Planet.
"The downside is we've put thousands of dollars into environmental nonprofits in our first few years and haven't made a profit, so we have a smaller base for hiring decisions," says Piotrowski. "We might have afforded a full-time person sooner than we have." Smaller craft companies face harder choices and tradeoffs when partnering with nonprofits. "'Should I invest my resources in my own environmental practices, or should I sponsor nonprofits?' Resources may often be limited," explains Ioannou. "There is no blanket answer to this dilemma though."
It's also a real job to maintain a partnership, but not all companies have the capacity to hire a team member to handle that work. As Chakalian points out, just creating a relationship in the first place can be difficult.  He pitched the partnership to the JTNPA with projections for future sales. "If we really grow and are in Safeways in multiple states, this could be meaningful to you," he told them. "In the first year, our donation might be $1,000, and you are giving us way more value than we give you, but in five years, there could be a lot of money coming your way." JTNPA heard that and gave him a chance.  Chakalian makes quarterly donations. "The first check was $300, the next was $500, and the one after that was $800," he reports. "I'm just glad the trend I pitched is working."