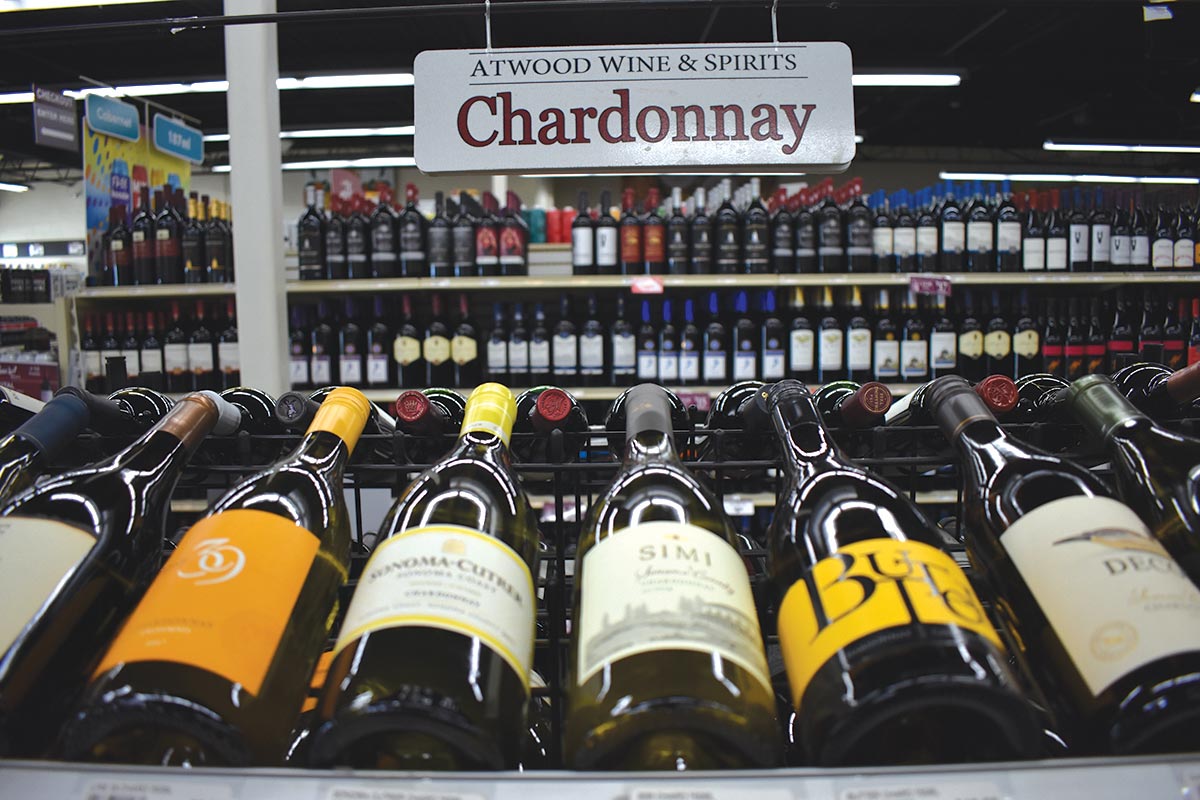 Atwood Wine & Spirits
426 Atwood Avenue
Cranston, RI
Square footage: 5,000
Years in operation: 5
By Sara Capozzi
Atwood Wine & Spirits, located in the Atwood section of Cranston, hosts its own early craft beer devotee, Manager Michael Duclos. A fan of craft beer since the '80s and '90s, Duclos, who moderates a popular local Facebook group called Rhode Island Craft Beer Community, serves as the store's craft beer expert. He consistently researches the latest beverage offerings to stay on top of trends so that customers continue to find what they seek or are introduced to new items on Atwood's shelves.
"Our goal is to try to satisfy every person that walks through the front door," Duclos said. "If they're looking for something special, we always do what we can to order it for them if it's available. Or, if it's not available, we'll give them an alternative that hopefully works out for them."
Customers looking for the selection and prices of a big-box store with the neighborhood feel of a mom-and-pop shop will find the best of both scenarios at Atwood Wine & Spirits. The 5,000-square-foot retail space offers a centralized location and plenty of off-street parking for customers.
Bargain shoppers will also find savings through the store's own house brands of wines and spirits through its Cheers Direct Program. Owned by Ron Bochner, the store is a client of the Wine & Spirits Retailers management group.
"The real advantage there is they're comparable to a lot of the nationally known products but they're at a much better price," said Duclos. "We're trying to offer an alternative to save a little money and keep the quality just as good and, in some cases, even better, than what's out there now."
Through the warmer months, customers have gravitated most toward craft and domestic beer, including Miller Lite, Bud Lite, Corona and Truly and White Claw spiked seltzers, along with pinot grigio. Year-round best sellers include Tito's Handmade Vodka, Italian wines and rosé, Duclos said. "Barefoot and yellow tail always sell very well because we like to price everything competitively," he said.
According to Duclos, Atwood Wine & Spirits has a "neighborhood clientele," with the majority of customers traveling from within a five-mile radius and who average in age 30 and over, with some patrons traveling a bit from nearby cities Johnston and Providence.
Atwood employs between 10 and 12 employees through most of the year, both full and part timers in a range of ages, whose expertise in beer, wine and spirits contribute to a positive customer experience. "I'm fortunate that I have a fantastic staff when it comes to taking care of customers, that everybody is on the same page and we all have the same motto about doing what it takes," Duclos said.
"We have a great customer base here. All of our customers are great people. The one advantage I think we have here … is there's a real neighborhood feel. It's almost like the old show "Cheers" – you know everyone that walks through the door, you greet everyone by name. Which is really, really nice."