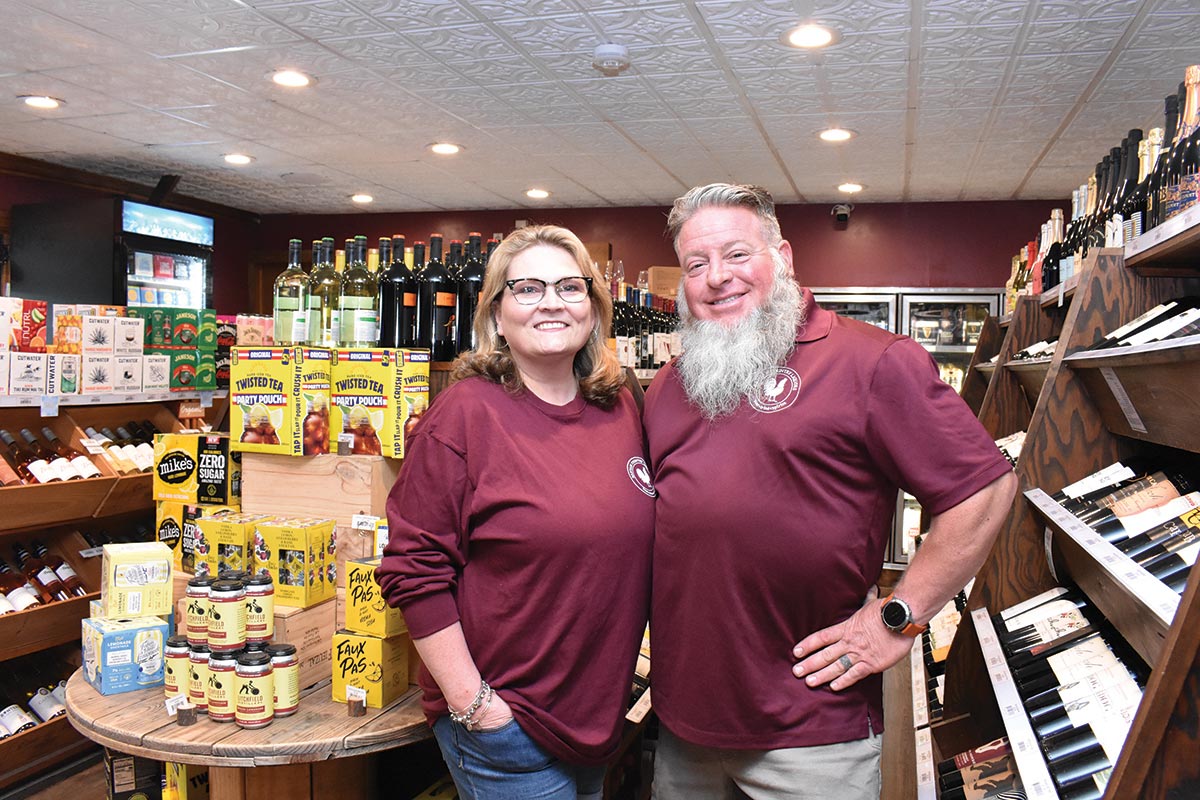 Bantam Country Liquors
919 Bantam Road
Bantam, CT
Square footage: 800 with storage
Years in operation: Almost 2 years
By Sara Capozzi
Longtime Bantam residents Suzanne and Paul Orsino Jr. decided to try their hand at package store ownership, purchasing Bantam Country Liquors in October 2021 after spending their respective careers in other industries. Suzanne has extensive sales and retail experience; Paul remains an electrician working in linework. The couple, who lives near the retail location, spent years frequenting the shop.
"We were longtime patrons and spent a lot of time on this side of the counter, so we decided to jump on that side of the counter," Paul said. "We thought it'd be a good investment and possibly a retirement opportunity for Suzanne and myself, so that was the idea. And we were trying to keep it local as much as possible. All of the former owners were relatively local, so we wanted to put a familiar face on the store."
The couple closed on the store's purchase on Oct. 1, 2021, but faced a delay while obtaining their liquor permit due to an error, waiting several weeks to open. They used the unplanned time to revamp the shop's interior, which, they say, needed renovation. Formerly a horse barn before being converted into a package store in 1970, the building had its fair share of quirks. Since buying the store, the Orsinos have replaced the floors, ceilings, lighting, counters, signage and coolers, installed an HVAC system and deployed a POS system.
The result was a bright, neatly organized shop that maintains its small-town feel. The Orsinos also changed the store's inventory, with some selections rotating to fit a nice variety into the shop's 500 square feet of floor space, bringing in more RTDs, wines, whiskeys and allocated bourbons.
Bantam Country Liquors offers items from an array of price points to cater to its diverse clientele, who are locals from town, people who reside in houses off of Bantam Lake and visitors to area campgrounds. They also carry a wide range of local craft beer and spirits, including those from nearby business Litchfield Distillery. Boxed wines and RTDs sell well, as they are popular for patrons heading out for camping and boating. Selections are neatly organized with minimal signage so as not to add clutter.
Word has caught on in town about the revitalized shop and its great selection, and its dedicated customer base continues to grow. "We've had quite a rebirth in business because people enjoyed the cleanliness, the organization, the personalities and the variety," Paul said, noting that the shop increased its gross sales by almost 50% in its first year.
Suzanne works there full time with the help of the store's part-time employees. Paul helps out in the afternoons, evenings and on weekends when his schedule allows. The couple knows many of the regulars from being active in town government and volunteer efforts, offering localized, friendly service to all who stop in.
Reflecting on the store's successful year-and-a-half run, Suzanne said, "I like that we kept it local and that I've learned a lot about the liquor industry, a lot about different spirits, a lot about the laws, about the back end of it. Being a consumer for so long, you just go in and make your purchase … There's a lot more to know. I like the customers we have; we have our regular customers in addition to new customers daily, which is so nice."