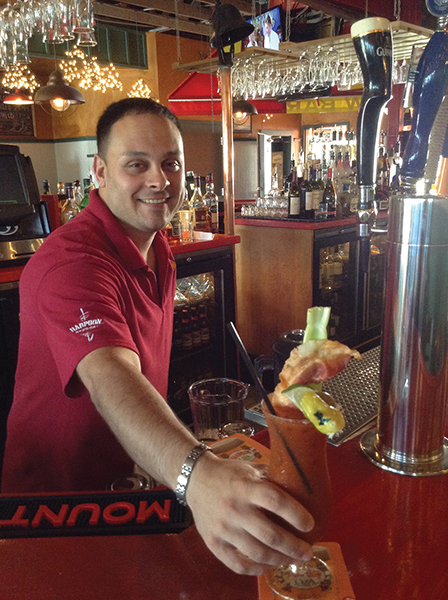 The Barking Crab Seafood & Bar, 151 Swinburne Row, Newport, RI
Newport's Barking Crab is an outpost of the iconic Boston Harbor restaurant of the same name. After the massive success of the first Barking Crab — which opened in 1994 on Boston's historic Fort Point Channel — a second was opened in 2008 in historic downtown Newport. Both serve up seafood and cocktails in vibrant digs with a raw bar and patio.
Bartender: Mark Piepowski
Drink Name: The Crabby Mary
Recipe: Prep a hurricane glass rim with bacon salt.
Combine 2 oz. Tito's Handmade Vodka and 6 oz. house Bloody Mary mix; pour over ice.
Slice open a pepperoncini and stuff with crab meat
Garnish with celery stalk, lime wedge, olive and crab-stuffed pepper
Finish with a fresh piece of crisp bacon
"Our Bloody Mary mix packs a punch with wasabi and Sriracha, but there's also a smoky salty smack from our spice mix and the fresh bacon. And we couldn't call it 'Crabby' without our crab-stuffed peppers, " said Beverage Manager Kirsten Malise.