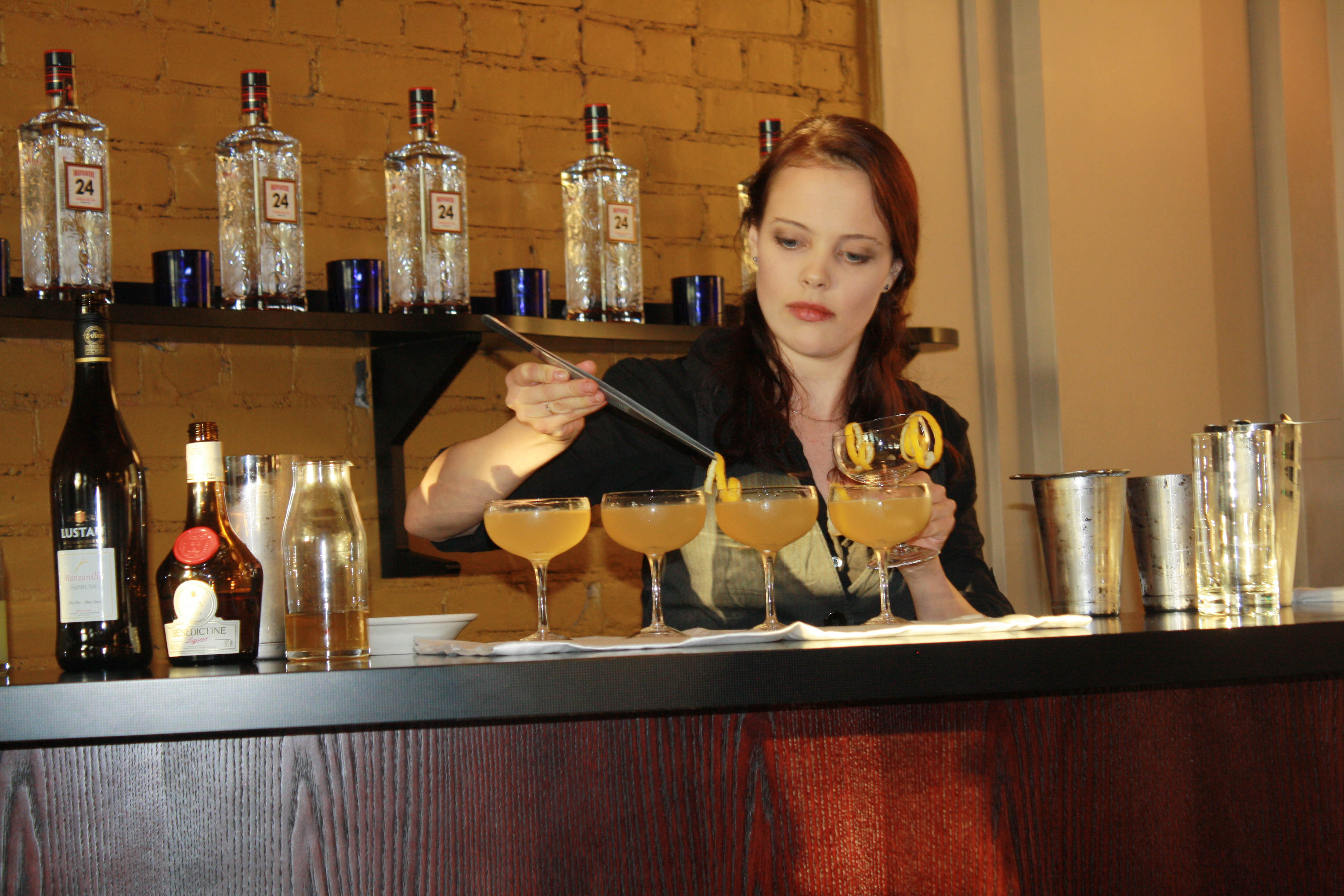 So, You Think You Can Dance? Act? And Invent Drinks?
By Tammy Torres, President and Founder, MartiniHunter.com
The Beefeater 24 National Cocktail Competition Northeast Regional Finals featured participants from Connecticut, Massachusetts, New York, Pennsylvania and Rhode Island. Meet Lindsay
Matteson, the 28 year-old winner of the 2013 Beefeater 24 National Cocktail Competition Northeast Regional Finals, on the evening of the competition at J. Christians in Wallingford, Conn.
The six contestants, Robert Hirst (Pittsburgh), Carl Summa (Connecticut), Mike Treffehn (Philadelphia), Schuyler Hunton (Boston), Lindsay Matteson (New York City) and Vito Lantz (Rhode Island), previously had won their respective state competitions and then advanced to the regionals. The Beefeater 24 competition was judged on International Bartenders Guild (IBA) and United States Bartenders Guild (USBG) standard technical guidelines, so all five contestants had to bring their A-game. With a seven-minute time limit, each bartender garnered points for originality/creativity, taste, aroma, presentation/garnish and technique.
A San Diego native, Lindsay moved to Portland, Ore. to attend Reed College where she studied Literature and Theater. Seven years later, she's in New York City and working at Amor y Amargo, a bitters bar, on East 6th Street in East Village. She's no stranger to competitions having placed second in the semi-finals of the Appleton Remixology Competition last summer. And winning the St. Germaine Holiday Cocktail competition in the winter of 2010.
Cocktail creativity is only one outlet for Lindsay's talents; she's been dancing the Argentine Tango for 10 years since she was 18 years old. Lindsay said, "The focus in the dance is on articulation of movement, specificity, and connection with your partner, all of which I feel aid me in bartending." Her other career is stage acting, which is why she moved to New York in the fall of 2011, in the first place. I decided to get to know Lindsay a bit by posing a few randomly obligatory questions. Her answers are anything but obligatory and may surprise you.
Tammy Torres: Who is your bartending "idol"?
Lindsay Matteson: Probably Sasha Petraske. His focus, in my opinion, is on specificity and simplicity behind the bar. I think this should be the goal in any profession; doing it as best as possible. His cocktails are simple, but have exact proportions, and specific garnishes. There's nothing superfluous or extraneous in his drinks; all the ingredients work together in balance to create a cocktail that's greater than the sum of its parts.
TT: What do you like most about bartending?
LM: Helping people have a good time; I love being the hostess. I know it sounds trite, but I love making my guests smile. And even better than that is giving them a cocktail that's better than their expectations. That smile of surprise is the best.
TT: What's your pet peeve or the one thing a customer does that drives you nuts?
LM: Guests who don't trust their bartender to make them a delicious drink. By that I mean drinkers who are stuck in their mold and aren't willing to branch out to a drink beyond their "usual." If you're at my bar, I hope you trust me to make you a delicious drink that you, specifically, will like. And if you don't, please trust that I'll keep trying until I get it right.
TT: What's your favorite cocktail?
LM: I have about 23. My first favorite cocktail was the French 75. These days I usually lean towards gin or whiskey cocktails. Really, any drink that is simple and shows off the ingredients; Negronis and Manhattans are two of my go-to drinks. For me, simplicity and thoughtfulness in the cocktail's creation is the most important thing.
TT: If you could make a cocktail for a historic figure, who would it be and what cocktail would you make?
LM: Again, I'm also an actor, so I would love to meet Shakespeare. I would make both of us Rye Old Fashioneds, then feed us shots and beers until he told me the secrets of the universe.
TT: What was your inspiration for your winning cocktail?
LM: Again, I like really simple cocktails that highlight their ingredients. I feel that the 'London Iris' is an accessible cocktail that shows Beefeater 24 Gin to its fullest. I wanted to bring out the aspects of Beefeater 24 that make it distinct from other gins, namely the grapefruit and teas. This isn't a gin cocktail; this is a Beefeater 24 cocktail.
You are absolutely correct, Lindsay, it is a Beefeater 24 cocktail. You can find Lindsay most nights at Amor y Amargo, 443 E 6th Street, New York, NY. You can read more about the competition and see more pictures at www.martinihunter.com/2013-beefeater-24. Good luck in Chicago and cheers to you!