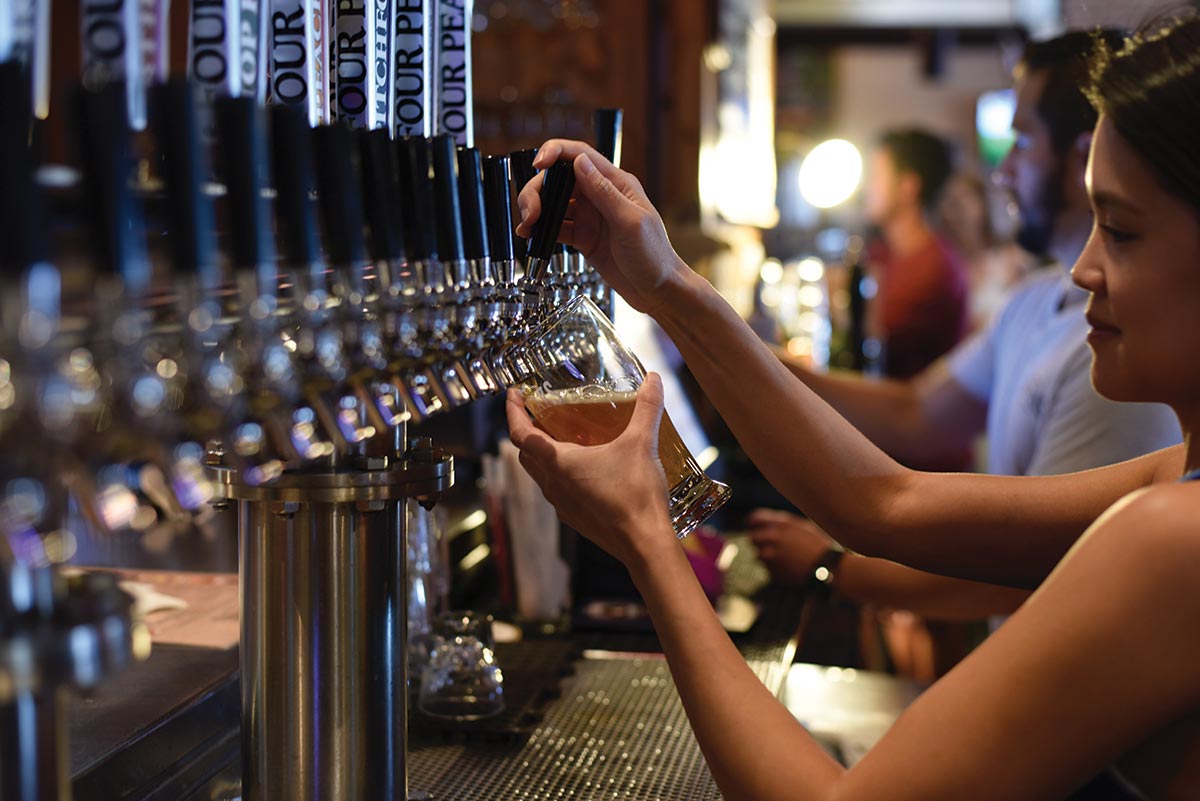 The Impact of the Craft Consumer
By Jack Kenny
Cool, hip, trendy. I'm sorry (not really), but I don't know the term for trendsetting that is in vogue today. Many craft beer drinkers do, no doubt. For some, being fashionable is a necessity, or else why exist? For others, eh. A brewer's logo on a T-shirt will suffice, along with a pint of fresh whatever-you're-pouring.
A good 15% of American beer drinkers consume craft brew. The rest are happy with commercial lagers. Beer consumption overall is down a bit, meaning challenges for small and large brewers alike. Craft brew profit has dipped, but it's still black ink.
Popular polls sample the consumption patterns of two groups: those who drink craft beer weekly and those who drink at least several times a year. Come on. If that were the case, we wouldn't have 7,000 small breweries in the USA. But that's what we have to go on. Last year, Nielsen said the weekly craft customer is between 21 and 34 years old and makes between $75,000 and $99,000 a year. Nice.
Beer consumers spend more money on craft beer every month than they do on their monthly cellphone bills, according to Chicago-based C+R Research. Men spend $66, women $50. It's more for millennials, those between 23 and 38. Those dollar amounts might sound low for our market; outside of New York and other big cities, we have some of the highest prices in the country.
Occasional and moderate craft beer drinkers certainly occupy a sizeable segment of the market, but two groups have shown themselves to have serious influence, and one of those is making life a bit hard on the brewers.
The first group comprises the steady, regular devotees of craft, those who drink it exclusively, who like to experiment with styles, but who are democratic in their tastes. In other words, not snobbish. Sometimes they can be hard to take when they get on a roll about flocculation and lautering tuns, but overall they are appreciative of the wide variety available. These are the folks who will take a long day trip to stand in line outdoors to get a case of a legendary beer for enjoyment and sharing and bragging rights. They are known at their local pubs and stores as regular customers. Proprietors keep their preferred brews on hand.
The other group is the one for whom craft beer is a frenzied trend. People in this group have been described as "tickers," folks who must show up at tastings and who must sample all the brand-new beers – and not last week's release, please – to check them off their list. Even if it's in a sippy cup.
Vinepair.com wrote about this crowd, and its burden on brewers, under a perfect headline: "Note to Craft Beer Fans: 'It's OK to Drink the Same Beer Twice.'"
Author Aaron Goldfarb wrote about a recent event in Brooklyn: "After paying the $100 admission fee – $300 for early-entry VIPs – many of the bearded men in attendance chose to spend a good portion of their afternoons in epically long queues awaiting 2-ounce pours … Meanwhile, the lines in front of IPA legends Hill Farmstead and The Alchemist were shorter than those at the help-yourself water coolers. Why? The geeks had already tried their beers before.
"Among today's most fervent craft beer fans there is an unyielding demand for new brews. Thus, breweries are releasing new beers at unprecedented speeds, catering to a consumer culture more interested in diversifying their Untappd portfolios than in necessarily drinking something great." (Untappd is a mobile app for rating beers.)
Feast on these numbers: BeerMenus, a website that tracks current availability at bars around the country, reports that in 2018 alone Evil Twin, a peripatetic brewer, added 108 new beers to its lineup; San Francisco's Barebottle added 138 new beers; Jackie O's in Ohio produced 137; and Other Half in Brooklyn rolled out 126. We're looking at 2.5 new beers a week for those small breweries. Craft pioneer Stone, based in San Diego, released 83 new beers. Do they want to do that? Would you?
What's it all about? Tickers with money. And what they call influence. Industry people worry about quality, about stylistic variety. Still, we are faced with the age-old question: Who is always right?
Jack Kenny has been writing The Beer Column for The Beverage Journal since 1995. Write to him: thebeercolumn@gmail.com