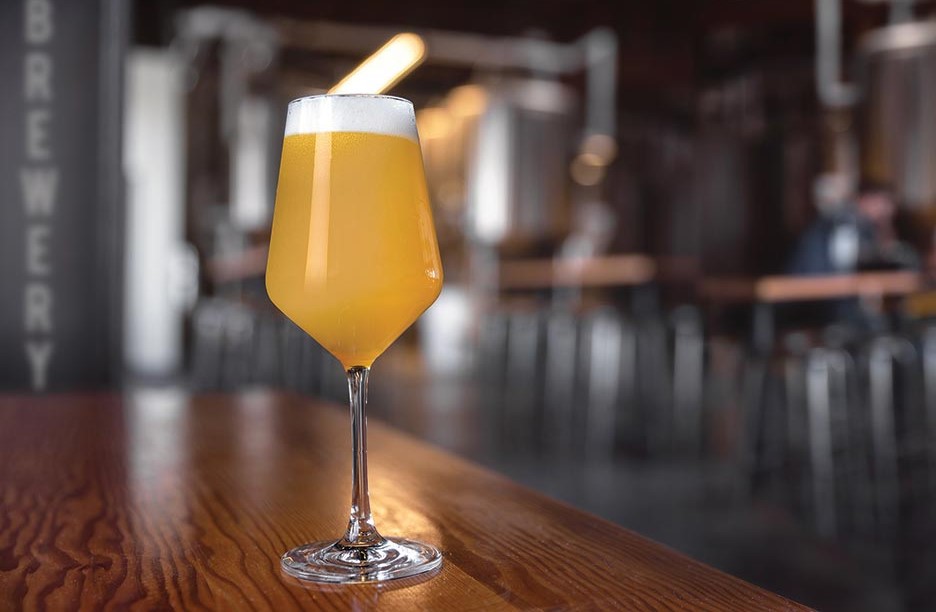 By Jack Kenny
Among the 7,000 breweries in the United States are brewmasters and owners pondering the beers of tomorrow. Not just the tomorrow of years to come, but the actual tomorrow, the next square on the wall calendar. And they know they can't wait and think about it tomorrow, as Miss Scarlett often said. New beers must appear on the menu now. These are the thinkers and innovators, the rest will follow.
India Pale Ale is wildly popular – I mean wildly – and has been for a decade or more. Today there are a several substyles in the American IPA category. And in five minutes or so when the latest one grows old, somebody had better produce a new version or the industry will collapse.
In November, we read about brut IPA. Now it's milkshake IPA. I'll be darned. This one developed a few years back and its devotees don't seem to be tiring of it. The style comes down from a couple of different ancestors and is worth looking into.
The first thing to know about a milkshake IPA is that it's made with the addition of lactose, a sugar found in milk and a near relative of glucose, maltose and sucrose (table sugar). Lactose offers only about 25% of sucrose's sweetness, and it can't be fermented – converted to alcohol and CO2 – by brewer's yeast. Why, then, put it into beer? Just to make it sweeter?
Yes, but that's not all. Lactose adds a creamy texture to beer, a slightly higher level of viscosity. Imagine the mouthfeel of, say, a milkshake. Not exactly, but use your imagination. Now add an extra fistful of hops and a bunch of fruit and you get a milkshake IPA. Simplistic, of course, but you get the picture.
The first well-known lactose ale was milk stout. That dark, mild beer originated in England and was introduced in 1910 by Mackeson. It was the latest offering in a decades-old competition among the makers of porter, stout and the paler ales of Britain (see paragraph one). Like today's alpha brewers, those English businessmen fought for market share by one-upping their competitors with style changes.
Lactose was, and is, a byproduct of cheesemaking, though today it's manufactured separately. A century ago Mackeson touted a pint of its new beer as containing "the energizing carbohydrates of ten ounces of dairy milk." That kind of health claim is taboo today, but most people know where lactose comes from, especially those who can't ingest it.
The first milkshake IPA emerged from Tired Hands Brewing Company in Ardmore, PA, in collaboration with Swedish brewer Omnipollo. The 7% ABV IPA was, and is, brewed with oats and lactose for smoothness and a great body, plus wheat flour. Green apples supplied pectin for further body intensity. After fermentation they added strawberry puree, vanilla, and Mosaic and Citra hops. The beer is not filtered, which preserves the cloudy appearance.
The remarkable new brew received a bad review from a respected beer critic shortly after its introduction. That act spread the word to a wild IPA audience – I mean wide – and put the beer and the brewery on a larger map. Since then it has produced 22 successful milkshake IPAs. Tired Hands is available only on tap at a small number of on-premise establishments in Pennsylvania, but that hasn't daunted the nation's thirsty road-trip gangs.
Brewers around the country jumped in. The term smoothie IPA has sometimes been used for a milkshake brew, though a few consider it a separate thing. Lactose is a requirement, but the fruit aspect of the beer offers a broad selection. Mangos, peaches and pineapple are common now. Raspberries and coconut have been used. Vanilla cream has been known to make it into the tank (cream in beer is tricky). The Booth brewery in Seoul, South Korea (you read that right), made one last year with blackberries, tart cherries and quinoa.
Connecticut and Rhode Island brewers have not been lax. In CT, Relic Brewing Co. in Plainville has The Bloomist Milkshake IPA; Fat Orange Cat Brew Co. in East Hampton (a seasonal brewery) offers Sweet Jane Pineapple Coconut; and Lock City Brewing Co. in Stamford brews Bugatti Spaceship. Westerly, RI's Grey Sail Brewing makes its Kegnog Vanilla milkshake as a holiday seasonal.
I like chocolate milkshakes. Haven't seen any of those around yet.
Jack Kenny has been writing The Beer Column for The Connecticut Beverage Journal since 1995. Write to him thebeercolumn@gmail.com.