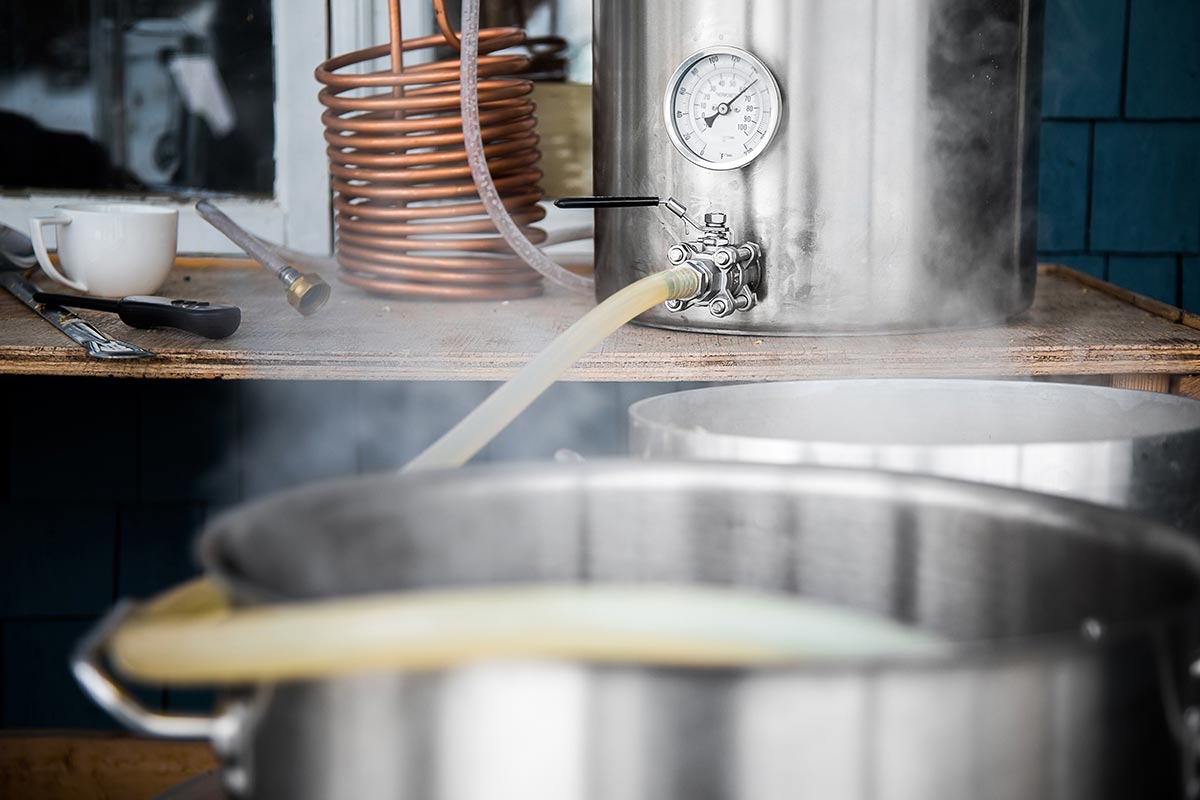 By Jack Kenny
"Like all brewers who were previously homebrewers, I dabbled in a lot of weird sh*t. But I think the weirdest beer I brewed was an imperial stout with Atomic Fireballs candy. I was hoping for a nice cinnamon-roast-sweet thing, but it ended up tasting exactly like beef jerky."
That is the confession of Mitch Ermatinger, Co-owner and Head of Fermentation at Speciation Artisan Ales in Michigan, as quoted in VinePair. Terrific inspiration, Mitch. A beef jerky beer doesn't sound all that bad, but it must have been quite a shock after nursing the longing for the sweet fire of a classic penny candy.
Sheep dung-smoked whale testicle beer. I wish I'd made that up, but no. Hvalur 2 was produced about five years ago in Iceland by Stedji Brewery. One reviewer who liked it said it tasted like coffee and not anything like sheep dung or whale testicles. (Disturbing, that.)
It tasted like coffee. So did Un, Kuro Kuno, brewed some years back by Sankt Gallen Brewery, which is not located in St. Gallen, Switzerland, but in Japan. Unlike other coffee stouts, which get their flavor from barley, this one used real, rare Black Ivory beans. The name translates roughly to "It Is Black" or "Sh*t Black." Why?
The coffee beans were fed to (brace yourselves) elephants, who processed them and (here it comes) returned them to daylight in a, shall we say, matrix. They were then plucked from the deposits, sanitized (certainly) and made into beer. It sold out in minutes. Of course it did.
Mangalitsa Pig Porter, from Right Brain Brewery, also in Michigan, was made in 2016 and also sold out in minutes. This product fits well in the category of meat beer. One would expect Right Brainers to brew it with pig heads. One would be right.
Our next beer is technically not a meat beer, but rather it is brewed from an outgrowth of a mammal's epidermis. Beard Beer, from Rogue, was a one-time effort that proved wildly successful. Upon examination, it was determined that the beard of Brewmaster John Maier (unshaven since 1978) carried a new strain of wild yeast, which was then harvested, put to good use and bottled. The American wild ale was not exotic, but in the words of one reviewer was "sweet and bready and kinda pineapple-y."
Big Ass Money Stout. Now there's a name for a huge beer. Made by gypsy brewer Evil Twin and Lervig Aktiebryggeri of Norway, it's an arrogant blend of frozen pizza and money. Norwegian currency. They won't say how much per can. "Beer Professor" Kevin Gibson says he couldn't taste the pizza, nor does he know what a Norway krone tastes like, but the stout is "16 ounces of some of the biggest, baddest beer you'll taste most days. Or years."
Pisner, by Nørrebro Bryghus in Denmark. Read the name again, carefully, and you might guess what it's about. In 2015, thousands of people attended the Roskilde Music Festival in Copenhagen. The brewer collected more than 10,000 gallons of the urine that was passed at the event and used it to fertilize its barley fields, instead of the customary manure. I know, I know. No. 2 is OK to use, but No. 1 crosses the line. But no p*ss was used in the making of the beer.
Julie Astrid Thomson, a Reuters reporter, said it tasted "nothing like urine at all." The brewer responded, "No. It tastes like beer."
Bonfyre of the Daiquiris – Against The Grain Brewery, Kentucky. Smoky malt, Belgian yeast, raw sugar, strawberries. For those who can't decide whether to have a beer or a cocktail.
Coconut Curry Hefeweizen – New Belgium Brewery, Colorado. Coconut and curry tones with a hint of banana from the hefe yeast. Spiced with cinnamon, coriander, fenugreek, ginger, kaffir lime and cayenne pepper. Pairs well with vindaloo.
Key Lime Pie – Shorts Brewing, Michigan (again). Fresh limes, milk sugar, graham crackers and marshmallow fluff. Sweet yet tart, the graham cracker sails through the olfactory complex to the back of the palate. This beer won a Gold Medal at the 2010 Great American Beer Festival.
It's late afternoon. Supper's not too far off. Maybe twice in my life have I had dessert before the main course, but right now a lightly chilled Key Lime Pie is softly calling.
Jack Kenny has been writing The Beer Column for The Connecticut Beverage Journal since 1995. Write to him: thebeercolumn@gmail.com.