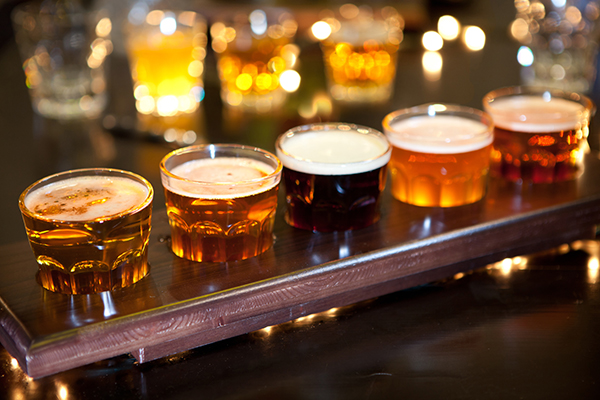 By Jack Kenny
In late June, the Brewers Association (BA) acted on an idea that has been talked about since the 1990s. The group created a logo, a craft beer seal, for some brewers to include on their labels and packaging. The seal designates a brewery as "small and independent." The word independent, says the BA, means that the brewers are not owned, wholly or in part, by large commercial beer companies.
Creation of the seal had two results: Many small brewers adopted it immediately, and big beer blasted it.
"In an effort to educate beer lovers about which beers are independently produced, the Brewers Association – the not-for-profit trade group dedicated to promoting and protecting America's small and independent craft brewers – launched a new seal touting independent craft brewers," said BA Director Paul Gatza. "Featuring an iconic beer bottle shape flipped upside down, the seal captures the spirit with which craft brewers have upended beer, while informing beer lovers they are choosing a beer from a brewery that is independently owned. These breweries run their businesses free of influence from other alcohol beverage companies which are not themselves craft brewers."
Any brewer, even a non-BA member, that meets the BA's craft beer definition may display the logo. The BA's definition says that annual production must be 6 million barrels of beer or fewer; that less than 25 percent of the craft brewery is owned or controlled (or equivalent economic interest) by an alcohol industry member that is not itself a craft brewer; and that the brewer that has a majority of its total beverage alcohol volume in beers whose flavors derive from traditional or innovative brewing ingredients and their fermentation (i.e., no flavored malt beverages). Brewers also must have a valid TTB Brewer's Notice and sign a license agreement.
An estimated 5,300 brewers fit the BA's craft beer definition.
Delaware's Dogfish Head and Colorado's Left Hand were among the first brewers to sign up. Hundreds more followed in days. Using up old packaging and printing new ones with the logo will take several weeks or months, but some crafty brewers have posted the image on their Facebook pages or in their front windows.
The founder of Allagash Brewing in Maine, Rob Tod, praised the independence of most small brewers. "When beer lovers buy independent craft beer, they are supporting American entrepreneurs and the risk takers who have long strived not just to be innovative and make truly great beer, but to also build culture and community in the process" he said in a statement.
It's no secret that the seal is a statement aimed at the growing practice by global commercial brewers, specifically at Anheuser-Busch, which has been acquiring U.S. craft brewers over the past several years. Through its division The High End, A-B responded in a video (https:vimeo.com/223773287) that pans the seal and questions its purpose and meaning to consumers. The speakers in the video are all from breweries belonging to The High End.
"To be independent would mean you don't put the logo on because you're indie," said David Buhler, cofounder of Elysian, a Seattle brewer acquired in 2015. "To be truly punk you don't use the logo – you do your own thing, and you follow your own rules," he said in the response.
"You guys are literally infighting – this is just a civil war," said Walt Dickinson, a Co-founder of Wicked Weed, purchased in May. "Meanwhile this armada of boats is coming across the Atlantic to crush us and we are shooting each other with, you know, muskets and slingshots. I was just hoping we could get back to just talking about beer, but I guess we're not there yet – but hopefully soon."
Jim Vorel of Pastemagazine.com posted a mixed reaction to the craft beer seal in a recent article: "The idea of an independent beer seal is nice in theory, but likely a bit muddier in practice. The BA's definitions of a craft brewery are getting more and more difficult on a yearly basis to concisely and cleanly apply toward the breweries in the market as they sell and consolidate."
Brewers who sell partial or entire stakes in their companies to private equity firms, however, can still meet the BA's craft beer definition and display the seal. "You can imagine how some breweries would look at this and be miffed," Vorel said.
Jack Kenny has been writing The Beer Column for The Connecticut Beverage Journal since 1995. Write to him: thebeercolumn@gmail.com