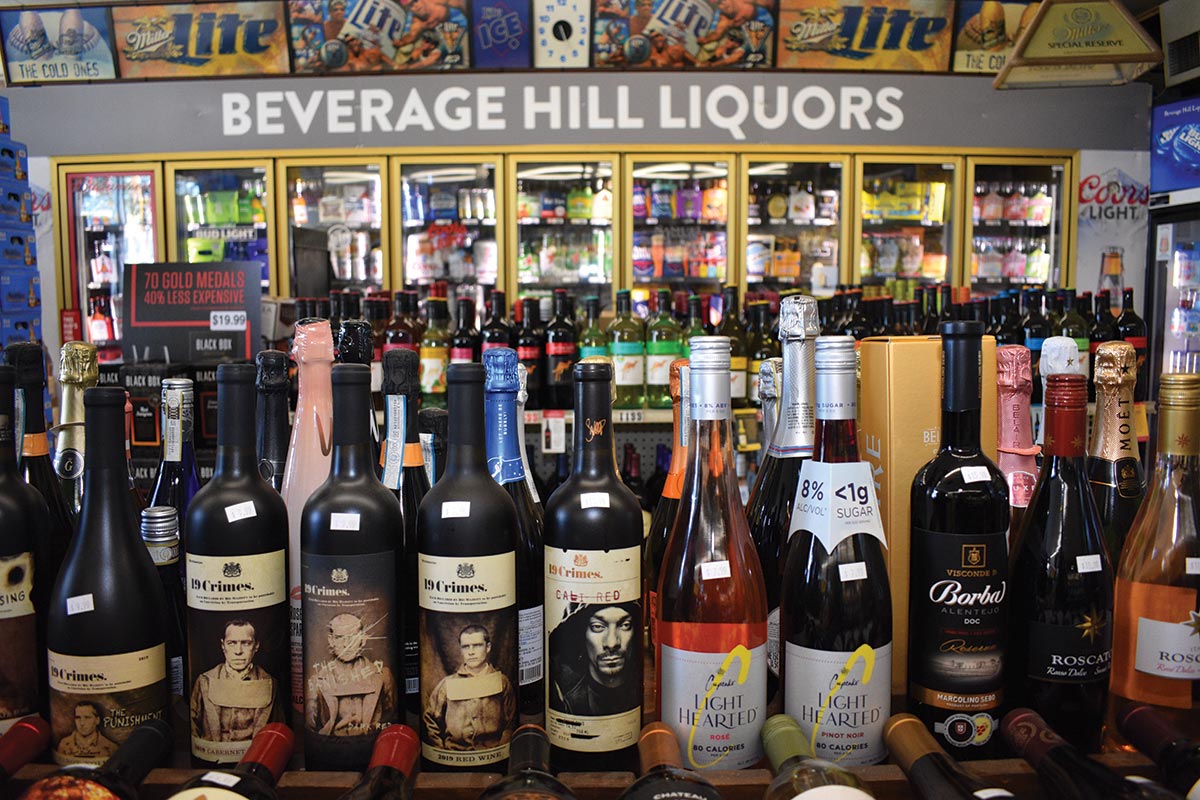 Beverage Hill Liquors
265 Beverage Hill Avenue
Pawtucket, RI
Square footage: 3,000
Years in operation: 24 years
By Sara Capozzi
Antonio Carreira isn't sure how Beverage Hill Avenue got its name, but it has leant the perfect moniker to his business, Beverage Hill Liquors. "In the past, I tried to find out, but I don't know the story of Beverage Hill," Carreira said. In any case, the apt name has been carried by the shop for as long as anyone in the neighborhood can remember.
Carreira and his brother-in-law, José Costa, bought the shop in 1997, and though they didn't have experience in the industry, they brought their shared experience in retail to the endeavor. Costa worked at a bakery and Carreira worked for an alarm system company. "We found out from a real estate agent friend of ours that he was selling [the store] and that's how we looked at it, and we said, 'Let's jump, let's go for it.' That's how we started and we've been here for 24 years."
There was a bit of a learning curve at first as they adapted to a new trade. "It was kind of strange because, even though I had been in retail and [Costa] was in retail also, that part of the equation was easy, it was just getting accustomed to the whole industry really," Carreira said. "Retail-wise was easy because we were doing that all along."
Through the decades, Carreira said he has witnessed many changes in the industry and consumer preferences, which have had an effect on Beverage Hill's sales. "When we first started, [sales] were 90% beer and now it's a bit different," he said. Now beer makes up about 60% of the shop's sales, with spirits and wine accounting for the remaining 40%.
Beverage Hill sells "a little bit of everything," with big-name beer brands, hard seltzer and Cognacs taking precedence with shoppers. Vodka is an in-demand spirit, along with Port, and Portuguese and Italian wines. The family-owned shop caters to locals who come from an array of cultural backgrounds, along with passersby of the busy thoroughfare.
Carreira said he and Costa prioritize keeping product displays fresh to keep customers engaged, along with a focus on customer service. "One of the things I try to tell the people that work here is being friendly, of course, is one important thing, and try to help [customers] out as much as possible," Carreira said. "If we think they're looking for something they can't find, we approach them … and try to help them select a bottle of wine or a beer, make a decision of what they want for a particular party or something. We help them take purchases outside; it's all part of being customer-friendly."
In all, the partnership between Carreira and Costa has proven successful, alongside each other and their three part-time employees, not to mention family members who occasionally step in to help out.
"I've been in retail for a long time and I enjoy doing it," Carreira said. "I do more customer service; the orders are done mostly through José. I'm more of a customer-service type of person. We try to divide [the work] between what he is better at and what I do best."