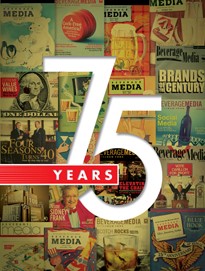 Beverage Media 75th Anniversary Historical Essay
Prohibition, Then Repeal: From Three Tiers, One Publication Emerges
The Roaring Twenties. Flappers shimmied and millions danced the Charleston. Meanwhile, thousands of illicit speakeasies poured a veritable flood of swell cocktails, cold beer and fizzy Champagne to thirsty imbibers as the Prohibition-era ban on beverage alcohol was widely ignored by otherwise law-abiding citizens. Indeed, soon after inception, the 18th Amendment to the U.S. Constitution was judged an epic national failure in social engineering. In reaction, a new political movement gathered force: Repeal. And with the 21st  Amendment's passage on December 5, 1933, Prohibition ended.
With wine, spirits and beer now legal, two brothers, Philip and Max Slone, both practicing lawyers, became adept specialists in handling licenses and other regulatory matters for a new generation of aspiring tavern and restaurant owners in New York.
Sensing a great need in the metropolitan New York marketplace for accurate news and insights relevant to licensees, the Slone brothers proudly launched in 1936 the first trade publication of its kind—Bar & Grill Journal—which evolved over the next 75 years into a unique network of 34 state-based beverage alcohol publications combined with a range of 21st-century communications services.
In noting the origin of the company, William Slone, chairman of Beverage Media Group Inc., explains, "After Repeal, the responsibility for all beverage alcohol production split into two critical areas. At the national level, federal authorities established a sweeping set of laws to regulate the production of wine, spirits and beer as well as adjudicate, if necessary, interstate commerce issues. But, at the same time, owing to the strong states' rights language of the 21st Amendment, responsibility for the distribution and sale of wine, spirits and beer was securely placed in the hands of state and local authorities.
These developments created the particular structure of our beverage alcohol industry we all work in today."  Jason Glasser, chief executive officer, adds: "Over our 75 years, the unique strength of Beverage Media comes from the fact that we have always mirrored the structure of the U.S. wine, spirits and beer trade. Taken together, our print, online media and host of other communications services are national in reach, but extremely local in addressing specific markets."
The Slone brothers' intimate association with all three tiers of the industry set the stage for a publication that grew with the beverage alcohol industry, connecting suppliers, distributors and licensees with timely trade news and information. In the following decade-by-decade review, we look back at some of the most notable highlights during 75 years of Beverage Media publishing history.
The 1930s: From Forbidden Fruit to Liquor-Fueled Capitalism
Prior to Prohibition, brewers, distillers and vintners comprised the fifth largest business grouping in the United States. One year after Repeal, in 1934, on a combined basis, the beverage alcohol and hospitality industries had been responsible for generating millions of new jobs in the depths of the Great Depression and funneling hundreds of millions of dollars in direct and indirect federal, state and local tax revenues to financially strapped government agencies. In fact, by the mid-1930s, one-third of all federal tax receipts were sourced from federal alcohol excise taxes alone.
Not surprisingly then, from 1933 to 1940 there was a frantic race to rebuild breweries and distillers and replant uprooted vineyard acreage in California and elsewhere. All this required huge capital investments. Restarting these businesses resulted in a financial tidal wave so encompassing that in 1933, Fortune—the new business magazine launched by visionary publisher Henry R. Luce, of Time magazine fame—devoted a cover story to the country's biggest distillers, brewers and vintners. Anheuser Busch, Brown-Forman, National Distillers, Pabst, Schenley, Schlitz and Seagram, among others, soared in value.
During the decade, American consumers faced shortages of aged whiskey and imported wines, so new categories—such as, younger-aged, blended whiskies like Rittenhouse Rye as opposed to more costly "un-cut," aged whiskies like Old Charter— filled the gap until distillers could catch up with demand. Meanwhile, post-Repeal, licensees were coping with complicated federal, state and local alcohol regulations.
It was the combination of these developments—regulatory, commercial and legislative—that telegraphed to the Slone brothers a clear publishing opportunity, one which they seized with passion.
With each issue, the magazine invited its readers—comprised of not only licensees, but also the distributors and suppliers who served them—to a spirited (pun intended) conversation about the news and trends of the day. The publication, besides its growing revenues from a steadily rising subscription base, also pulled in more pages of advertising from distillers, brewers and vintners, as well as allied industries, including a whole range of related products and services to assist new licensees in establishing themselves in their communities.
The 1940s : The Industry Responds to War
Cover after cover of Beverage Media during World War II showed strong, patriotic images in support of our troops. And in dozens of its articles, Phillip and Max Slone advised licensees about how to cope with wartime shortages. For example, grain sales to distillers and brewers were at first rationed, then severely reduced as part of the accelerating effort to redirect every available foodstuff or strategic material toward the war. Articles also covered how licensees could efficiently recycle glass bottles, cardboard containers and wood cases, even holiday wrapping paper.
In early 1940, the Slone brothers had changed their publication's name from Bar & Grill Journal to Beverage Media; the new title reflected their determination to widen editorial coverage to the entire beverage alcohol business. Following the war, Beverage Media addressed a variety of concerns affecting both licensees and veterans returning home.
And, as a sign of the publication's growing influence, in 1947 Beverage Media announced the launch of a separate Upstate New York edition for on- and off-premise licensees. Connecticut and Rhode Island followed, later to be run by the second- and third-generation of Phillip Slone's family, independent from the network. Shortly after expanding in New York, Phil and Max Slone called upon their brother Harry to head west—to New Jersey. Harry opened and oversaw the New Jersey Beverage Journal.
The 1950s: Post-War Growth and Affluence – When Whiskey and Beer Reigned Supreme
Although the decade began with the Korean War (1950-1953), overall the United States economy was poised for tremendous expansion in the '50s. Suburbs bloomed in former cornfields, factories operated at near capacity, unemployment dropped to record lows and pay packets grew year after year. Rising affluence drove consumers to enjoy some of the finer things in life, and the covers of Beverage Media in this decade amply illustrated the decade's most popular libations, enjoyed at summer picnics, around the Thanksgiving table and during the key year-end holidays.
With Dwight D. "Ike" Eisenhower in office as President (1953-1960), it was a peaceful period when larger-than-life personalities dominated the drinks business—giants such as August "Auggie" Busch of Anheuser- Busch, Lewis "Lew" Rosenstiel of Schenley Industries, Samuel "Mr. Sam" Bronfman of Seagram Distillers, John Martin of Heublein, and Ernest and Julio Gallo of E & J Gallo Winery, to name but a few. These men—perhaps emblematic of a "Mad Men" man's world—were genuine empire builders.
As advertisements in Beverage Media show, it also was an era when whiskey—especially American whiskies, blends and bourbon—dominated the market along with regional beer brands. Wine was not as widely appreciated as it would be in the decades to come; although the Gallo brothers and other Italian and ethnic wine producers were beginning to make inroads in the general market with generic varieties christened Hearty Burgundy and Mountain Chablis, their core business was still proprietary fortified wine brands like Thunderbird or Canandaigua's Richards Wild Irish Rose. These fortified and jug wine brands of the 1950s established a strong foundation for America's growing awareness of fine wines, a trend accelerated by noted wine importers and writers such as Frank Schoonmaker, Jr. and Alexis Lichine, as well as by pioneering New York City retailers like Sherry-Lehmann, Morrell's, and 67 Wine & Spirits, among others.
By the end of 1959, total U.S. spirits sales hit nearly 100 million 9-liter cases; wine sales reached nearly 70 million 9-liter cases; while beer sales reached approximately 87 million 31.5 gallon barrels.
The 1970s: America Discovers Table Wine, Light Beer and White Spirits
During the Nixon and Ford administrations, both U.S. and foreign-owned beer, wine and spirits companies continued to enjoy robust growth. And while there were some very early signs of consolidation—when one major drinks company gobbled up a smaller competitor—there was not a great deal of merger and acquisition activity yet at the supplier and distributor levels.
One of the most dramatic developments of this exciting decade was America's discovery of the pleasures of wine, exemplified by the "I'll-have-a-glass-of-white-wine-please" order at bars or restaurants. Significantly, this was the decade whensales of table wine (both generic and varietal wines) overtook fortified and dessert wine sales for the first time since Repeal.
In the beer realm, growing health concerns prompted consumers to migrate to low-calorie or light beers, while environmentally conscious consumers started to assert pressure on industry leaders to come up with better materials for recycling and earth-friendly production processes.
Keeping in tune with the times, Beverage Media coverage included debate over controversial Federal Excise Tax increases, trendy new cocktails and exclusive newsmaker interviews with wine, spirits and beer executives. Meanwhile, white spirits—vodka, gin and rum—rose in prominence as the foundation of popular if simple bar drinks, namely the Screwdriver, Gin & Tonic and Rum & Coke.
The 1970s, in retrospect, represented a brave new era for advertising. Spirits got edgy, with Early Times encouraging drinkers to "Make Yourself a Swinger" and a Sauza Tequilamodel promising "If you've got the salt, I've got the Sauza." Orson Welles became known to a new generation of Americans not so much for his films as for his TV ads touting Paul Masson, in which he intoned, "We will sell no wine before its time." (Ironically, Welles was dropped in the early 1980s when he admitted publicly that he actually did not drink Paul Masson wine.) And beer got funny, with a series of TV commercials featuring former professional athletes arguing over whether Miller Lite "tastes great" or is "less filling."
The 1980s:  Boomers, A New Generation of Wine Lovers, Cocktailians and Micro-Beer Lovers
As millions of prosperous baby-boomers reached legal drinking age, their arrival gave rise to a new generation of brands, with the skyrocketing rise of Absolut Vodka perhaps the most noteworthy example. Powered by simple yet evocative advertising, Absolut managed to separate its vodka, even though the product is technically tasteless and odorless. Then the brand shook up the category in an unprecedented way, introducing the first flavored vodka, Absolut Peppar, in 1986; the vodka flavor parade began, and continues to accelerate 25 years later.
During this go-go decade, both domestic and foreign suppliers initiated a sweeping series of mergers and acquisitions to drive costs down, increase economies of scale and improve their route to market. Notably, beginning in the mid-eighties, French businessman Bernard Arnault combined two iconic luxury companies, Louis Vuitton and Moët Hennessy, into one global giant—LVMH. In 1987, The Seagram Company, Ltd., controlled by the Bronfman family, engineered a then eye-popping $1.2 billion acquisition of Martell Cognac.
Meanwhile, scores of small, family-owned beverage alcohol wholesalers faced unrelenting pressure to either grow or succumb to buy-outs. As the costs of labor and transportation increased, and as the retail and hospitality tier experienced waves of consolidation of their own, less efficient wholesalers started to sell out to competitors or simply close their doors.
Over time, the strong got bigger and stronger. Surviving distributors strived to achieve statewide coverage, and soon the industry saw the rise of big, multi-state distributorships. For wine and spirits, Southern Wine & Spirits of America emerged as the second tier's leader, while other players including Glazer's, Charmer, NDC and Wirtz also built massive multistate operations. In the beer sector, Reyes Holding LLC and Ben E. Keith, among others, likewise built up strong multi-state wholesaling operations.
In wine, wine coolers cooled off at the end of decade as so-called "fighting varietals" began cropping up in California, led by Glen Ellen and Kendall-Jackson. In spirits, the decade saw a definite rise in status for bartenders—er, make that mixologists— evident in the 1988 release of the romantic drama Cocktail, starring Tom Cruise.
The 1990s: Boom Times for Wine, Luxury Brands and the Rise of the Internet
If there was one single "tipping point" in the 1990s, it came early on, with CBS's now-famous November 1991 60 Minutes broadcast exploring the so-called "French Paradox," which suggested that French men and women live longer lives and enjoy lower rates of heart disease despite their notoriously higher-fat diets and relatively little exercise. Why? Well, wine, and especially red wine, seemed to be part of the answer, according to doctors interviewed by Morley Safer in the news piece.
Faster than you can uncork a bottle, sales of wine, and particularly reds, shot up across retail shops, supermarkets and restaurants. It was good news for winemakers around the world, and in retrospect is credited with tilting the American palate from white wines toward red, and for launching the decade-long rise in popularity of Merlot. Meanwhile, in the same year, after an epic lobbying battle, the U.S. government increased the federal excise tax (FET) on beverage alcohol, putting pressure on the overall sales of beer, wine and spirits. The decade also saw a marked rise of anti-alcohol campaigns.
During this decade, the company continued to serve the needs of the local licensee via its still growing list of state publications. Working closely together, Bill Slone, Jason Glasser, former IBM executive Michael Roth and now third-generation family member Jody Slone undertook a host of initiatives to enhance the capabilities of the company, including: improving communications among its publications and, simultaneously, launching new editorial and marketing products driven by the latest technologies. According to Roth, "Our growing suite of services introduced in the late 1990s enabled us to communicate with our subscribers both in print and online." Meanwhile, in the pages of Beverage Media, editors tracked the highly profitable growth of premium, super-premium and luxury wine and spirits brands, while also tracking the growth of new Internet-related sales channels and the challenges, and opportunities, they offered.
Consolidation
And, of course, consolidation continued at all three tiers of the industry. Allied Domecq was formed via a 1994 merger between Allied Lyons of the UK and Pedro Domecq of Spain, only to be itself auctioned off to Pernod Ricard in 2005, which then spun off a number of brands to Fortune Brands (Beam) and Diageo, the latter company the result of a dramatic 1997 merger of two British giants in the global drinks business, Guinness and Grand Metropolitan.
The decade/century ended anticlimactically, with a feared Millennium-induced shortage of Champagne—much like the threat of the so-called Y2K computer bug—never materializing.
The 2000s: Industry Acceleration as Everyone Gets Online
Amidst all the Millennial excitement, the Internet boom ushered in a complex new sales channel: online ordering. The powerful, ever-widening reach of this new technology intensified industry debate, primarily in the wine sector, over direct-to-consumer shipments that bypassed both distributors and licensees.
The issue reached the U.S. Supreme Court, which in 2005 ruled (on a 5-4 vote) that states must give out-of-state wineries the same legal treatment accorded to instate wines. In what became known as the "Granholm" decision, the Justices ruled that, in this situation, the Federal Interstate Commerce law trumped the 21st Amendment, and that regulations in Michigan and New York were discriminatory. Far from being definitive, however, the ruling essentially pushed the responsibility of resolving direct-shipping issues back to individual states, setting off new legal battles in this ongoing and divisive issue.
As the decade started, "drinking less and drinking better" was wine's catch phrase; but indeed Americans were drinking more wine every year—with rising consumption embracing everything from cult Cabs to Two-Buck Chuck. In spirits, absinthe returned (legally); bourbon experienced a small-batch-fueled renaissance; and vodka flavors went wild, both in an explosion of branded varieties and the rise of bar-made infusions. Tequila showed off its premium side as Patron became the first $40+ tequila to hit the million-case mark.
Consolidation Continues
At the global level, mergers activity in the drinks business also continued, seemingly unabated. Seagram was sold to a French conglomerate, Vivendi, in 2000, which in turn, auctioned off such iconic brands as Mumm, Perrier-Jouët and Martell to Pernod Ricard, among others. In 2002, SAB, a South African brewing conglomerate, acquired Miller Brewing, from Philip Morris, creating SABMiller. In that same year, Grupo Campari of Italy acquired a controlling interest in Skyy Spirits, eventually gaining majority control in 2005. In 2004, Bacardi paid a reported $2 billion to acquire Grey Goose from Sidney Frank, while in the same year Constellation Brands bought Robert Mondavi Corp. for $1 billion.
Next, Molson, Canada's leading brewer, merged with Coors in 2005, which in turn merged with SABMiller, in 2007, to create MillerCoors. Then, in the biggest drinks deal of the decade, Anheuser-Busch was acquired by In-Bev, a Brazilian-based worldwide brewing giant, for a mind-boggling $52 billion.
A Look Forward
Against this backdrop of boom and bust marketplace turbulence, Beverage Media Group shifted its focus to becoming a technology company as much as it was a publishing company. By creating an online exchange, Beverage Media was now able to support suppliers, wholesalers and retailers with an e-commerce system that would increase operational efficiency for buyers and sellers. The company also launched into the business of hosting and designing websites for retailers to sell wine, spirits and beer efficiently to consumers.
Reflecting on the evolution of the company his father and uncle founded in 1936, Bill Slone recalls talking to his father one day about the railroad companies that were once a dominant factor in the nation's economy. On hearing his son's account, Max asked, "Why don't they dominate any longer?" After Bill hesitated, Max said, "They thought they were in the railway business, but they weren't. They were in the transportation business." Laughing today, Slone says his father's insight is still true; he applies it to Beverage Media, noting, "We have to keep in mind we are not in the printing or web business, we are in communications!" Summing up, Slone says, "We have a unique position here at Beverage Media, because we really touch all three tiers of the industry, and we have an opportunity to connect everyone in this great business; it's in our DNA and we take on this role with great passion."