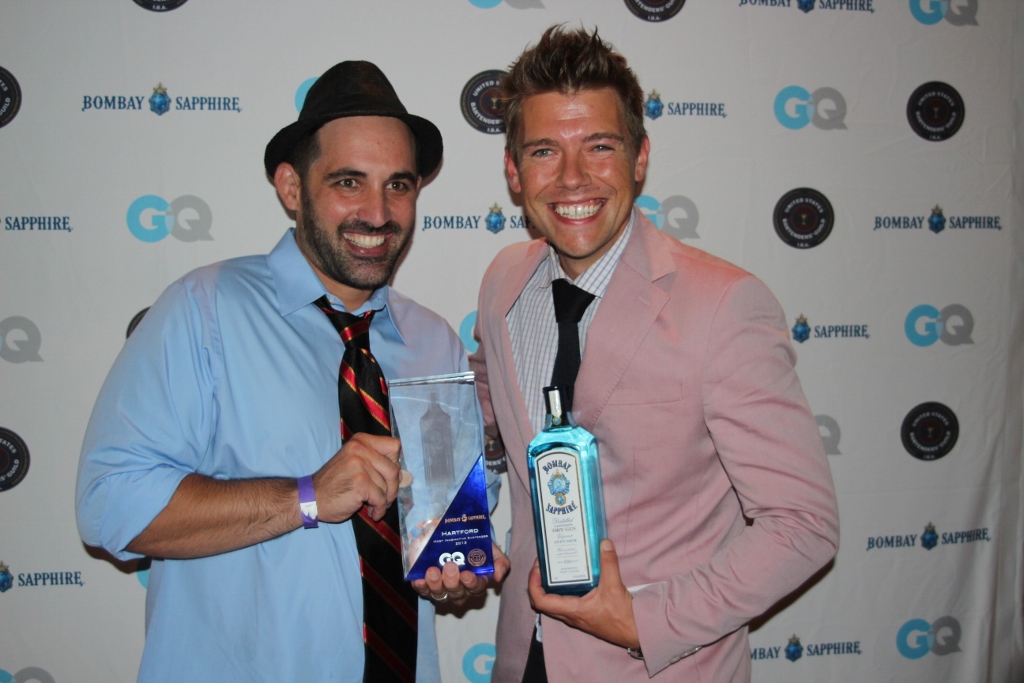 Bombay Sapphire GQ Magazine USBG Most Imaginative Bartender Connecticut Names Winner
Winner: Carl Summa
The fifth annual Bombay Sapphire GQ USBG Most Imaginative Bartender Program's Connecticut competition was held at Stonebridge Restaurant in Milford on July 28, 2013. Bombay Sapphire, GQ Magazine and the United States Bartenders Guild (USBG) present the program to "celebrate of the art of bartending and the creative process" giving center stage to one national winner. Each state hosts a competition where its winner  goes to compete to the finals in Las Vegas.
Nine recipes were selected from thirty presented, and seven bartenders competed. The top three placements were Carl Summa, in first place, Dimitrios Zahariadis in second place and Anthony DeSerio in third place, all of whom are United States Bartenders Guild Connecticut chapter officers or members. As the winner, Carl Summa heads to the finals.
Winning Drink: FABolous
Recipe:
1.5 oz gin
1 oz fig and almond syrup
.5 oz fresh lemon juice
.5 oz egg white
Rim the glass with reduced balsamic vinegar. Grate roasted almonds on top of the cocktail.
Summa said, "I named it FABolous because of the Fig, Almond and Balsamic flavors," creating an acronym. Judges were Bombay Sapphire Brand Ambassador and Master Mixologist Gary Hayward, Pamela Wiznitzer of the USBGNY and bar manager of acclaimed Dead Rabbit in Manhattan, award-winning mixologist John Henderson of USBG-MA  and Tavern Road in Boston, with Kevin Glah, state manager for Bacardi, serving as blind-tasting judge, voting on strictly taste and balance of cocktail.