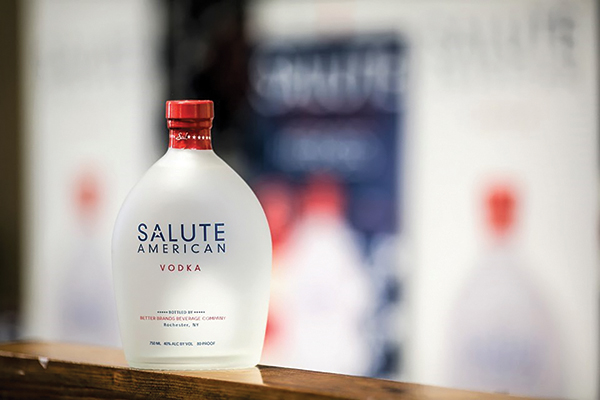 Brescome Barton hosted the Salute American Vodka team, featuring NFL Super Bowl Champion and Media Personality Tony Siragusa and Lieutenant General (Retired) Ray Palumbo as part of the brand's national launch, on April 21. Salute American Vodka partners with retailers and nonprofits, such as Work Vessels for Veterans, a national organization based in Connecticut that helps veterans transition to civilian life by awarding scholarships, and supplying laptops, transportation vehicles, job opportunities and more.
The 80-proof vodka is USA Certified™, made with corn and wheat grains grown in the heartland, distilled four times for a thicker pour and smooth, clean, odorless taste. The vodka is bottled and distilled in Rochester, N.Y. and owned by Handcrafted Brands of Branford. The wholesaler launch was followed by two additional state events, a luncheon honoring local veterans at Sliders Bar & Grill in Wallingford and a public celebration at Anna Liffey's Irish Pub & Grill in New Haven. The first dollar of every bottle sold goes directly to organizations that assist veterans in their transition from military to civilian life. The company said its "partnership with Brescome Barton, Inc. will bring Salute American Vodka from more than 90 locations already sold, to nearly every retailer across the state."
Photos By Michael Leung.