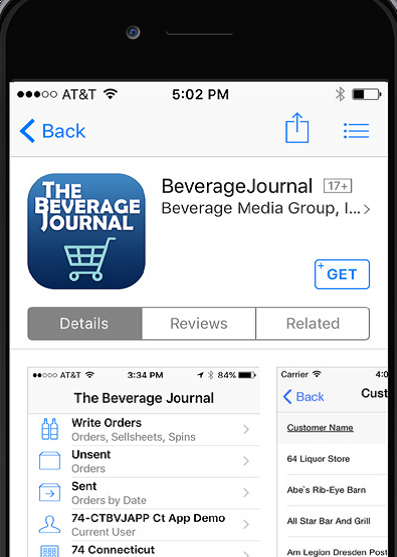 Ordering on the Run: Using The Beverage Journal App in Connecticut
By Ian Griffith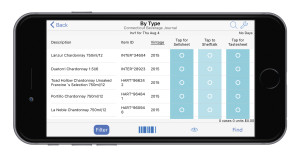 In recent weeks The Beverage Journal has launched a new iOS app for trade buyers and sales reps who need to locate and price products on the move. You can scan a bottle to quickly research pricing, or replenish your stocks from a view of previously ordered items. Sales reps can use the app to sell by building sell sheets, shelf-talkers and taste-sheets. Buyers place orders directly with their distributors, while reps build point-of-sale materials, all with a few taps.
For the past year, The Beverage Journal has bee working with our colleagues at Beverage Media and Inventiv to build deeper integrations between our products. The initial beneficiaries of this effort were sales teams using the Pocket Advantage sales force automation app. Now we are rolling out an app that restaurants, bars and stores can use to search products and place orders online.
While thousands of retailers and restaurants already place their orders online through our trade-only website, the iOS app adds convenience for buyers who live on their iPhone. Placing an order on the app is the same as doing it on our website. A retailers's order history from the website is available in a special filtered view on the Beverage Journal app. All orders place through the app are conversely visible on the website.
More Useful Than Ever
For sales reps that have been building sell-sheets on our trade-only website, the app includes sell sheets along with some fun new tools. "Tap for Shelf Talker" helps you build shelf talkers for your products using ratings and store pricing.
"Tap for Taste Sheet" helps you build a placeholder for a tasting with labels for each wine. For reps familiar with Pocket Advantage, the new app takes the same features and expands them to the whole marketplace.
The best argument to use an app is when the native features of the phone or tablet can add benefits beyond what's possible on a website. On the one hand, the app will reduce frustration by storing all the product listings in the market on your phone or iPad. It frees you from the hassle of waiting for pages to load while on a spotty network.
On the other hand, your smart device's natural advantage of having a camera becomes even more useful with the app, allowing merchants to scan a bar code on a bottle to place an order, build a sell sheet or create a shelf talker. It brings information about trade pricing and reordering to the floor of your restaurant or store.
We have been given a glimpse into a future, when we'll be able to superimpose relevant information on top of reality using a device that is already in our hands. Maybe with a future version of the Beverage Journal app we'll be able to superimpose the wholesaler, pricing, and critical ratings of wines as you pass your phone's camera across the shelf. For now, a bar code scan will get you to the same information.
The new Beverage Journal app is available from the App Store for iPhone, iPad, and iPod touch or any iOS device.
The app is available at no extra cost for active, licensed Connecticut Beverage Journal subscribers. Contact Brian Slone for download information, password, or to subscribe 203-288-3375 ext. 100 or via email at brian@thebeveragejournal.com. How-to-use videos are available with your password.