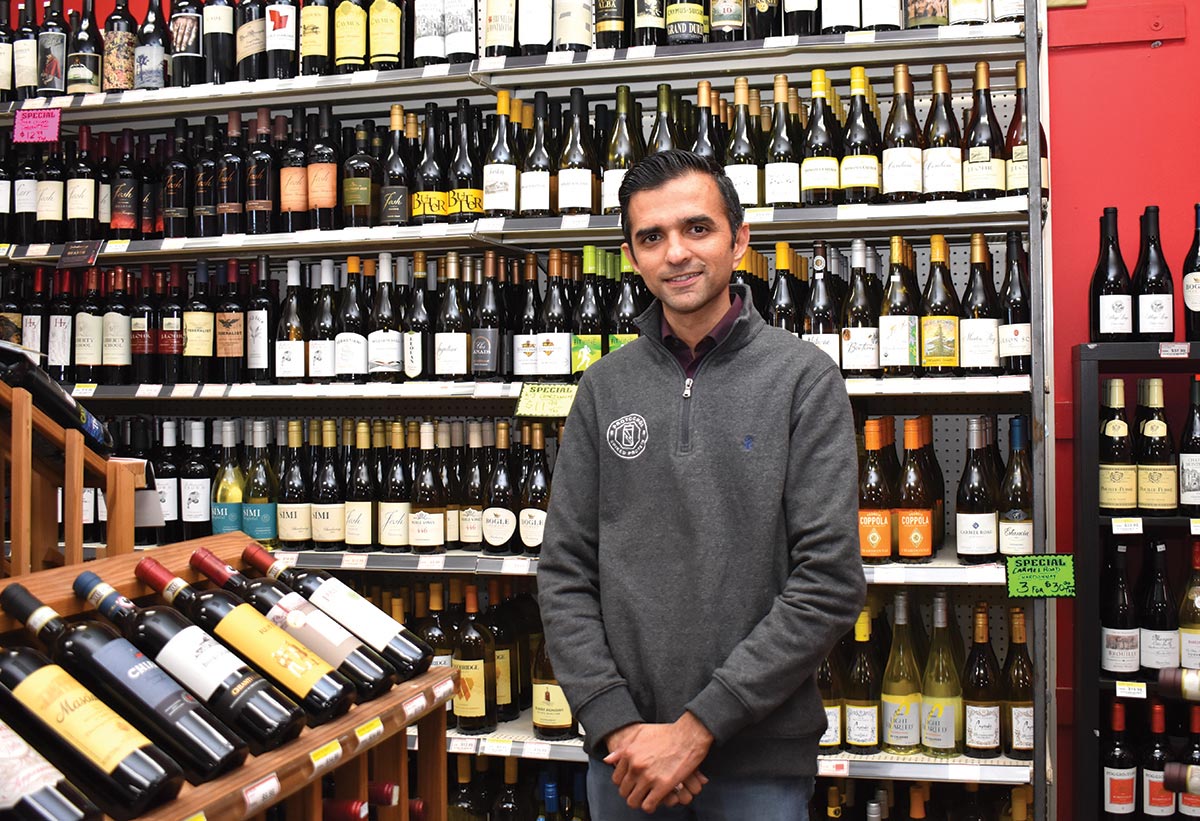 Campus Wine & Spirits
28-B Fenn Road
Newington, CT
Square footage: 1,875
Years in operation: 2 years
By Sara Capozzi
Conveniently located in Newington's Fenn Road Plaza, the independently owned Campus Wine & Spirits will be celebrating two years in business this July. Proprietors and husband-and-wife team Vinesh and Hemangi Patel run the store day to day in their first foray into the package store industry.
Vinesh Patel has spent most of his career in retail, running his own gas station and convenience store, and was interested in a career change. Several of his friends and family members own their own beer, wine and spirits shops in other states, which led him to consider a similar path. And while the journey to package store ownership took about a year, with luck and the right timing, he said, it became a reality.
Patel said he happened upon this location by chance, when he was driving to Chick-fil-A with a friend and their GPS took them through Newington's Fenn Road. He had been scouting locations in the area and noticed that the Fenn Road Plaza, which contains a Stop & Shop and a Starbucks, didn't have a package store. He called the town of Newington, checked zoning regulations and then, luckily, upon calling Liquor Control, there was one permit left. Together with his wife, he set out to open the store.
"Slowly, everything started falling into place," Patel said. "It was quite an experience, dealing with the town and how things work with Liquor Control. I had no knowledge about the liquor industry because the rules and regulations are different than they are if you own another type of business … I learned quite a bit in the yearlong process."
The store has been a daily learning experience, according to Patel. He said he's grateful that his friends and family, who work in the industry in other states, have been able to help him along the way. He's gained knowledge on many different products through salespeople while building up the inventory around customer requests.
"I like talking to customers about how their day is going and interacting with them," Patel said. "It's always good to talk to the people and that helps me to learn more. And learning is a process that I believe never ends." He also likes learning about different bourbons and Scotches as he continues to round out the store's own spirits selection.
Patel said about 40% of the shop's sales are in wine, with the remainder evenly split between the beer and seltzer category and spirits. Customer preferences in wine tend to fluctuate with the seasons. Other popular items include seltzers, craft beer and ready-to-drink cocktails. In spirits, shoppers regularly seek out tequilas and whiskey.
While the store is named Campus Wine & Spirits, Patel said that he rarely sees students from nearby Central Connecticut State University. Instead, a lot of foot traffic is gained from the shop's location in the plaza next to Stop & Shop. Patel said business continues to grow as locals from Newington and nearby West Hartford enjoy supporting local, independently owned establishments. Since opening, Patel said, "the town has been helping a lot, especially Newington. They like to shop small."