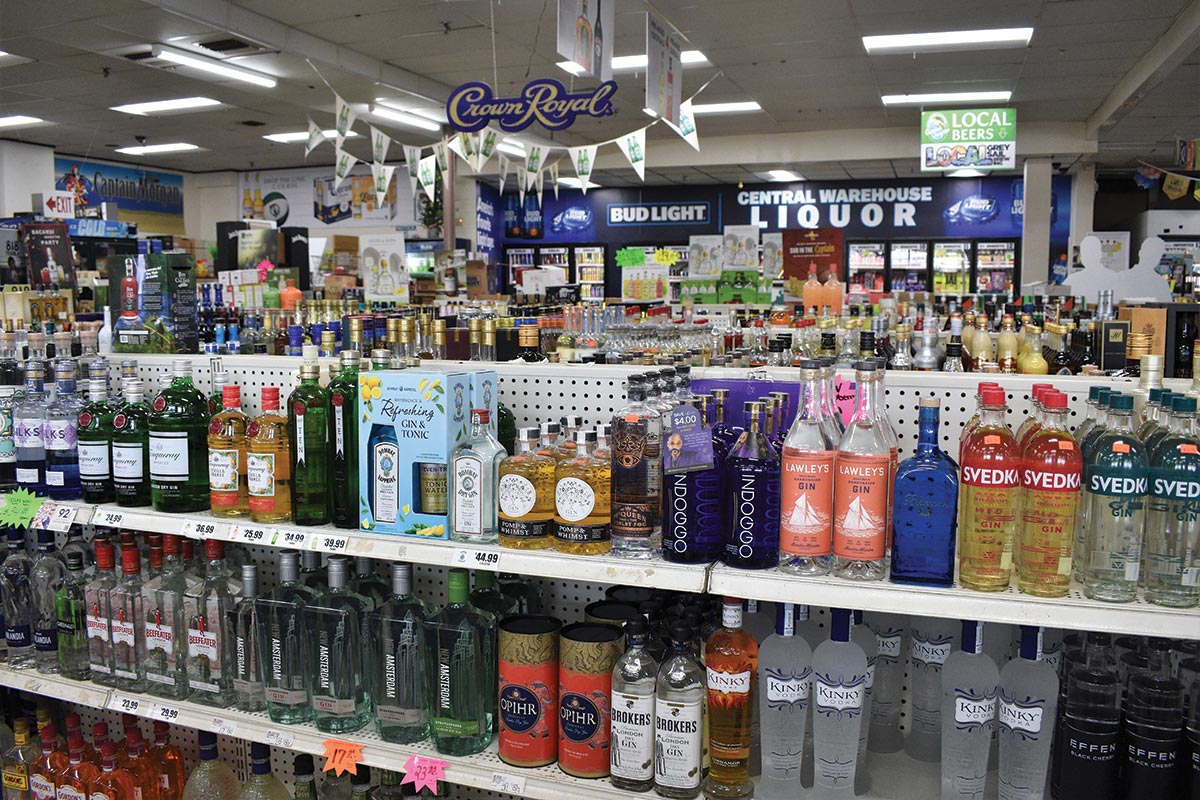 Central Warehouse Liquor
1060 Broad Street
Central Falls, RI
Square footage: 10,000
Years in operation: 10
By Sara Capozzi
Celebrating its 10-year anniversary this past September, Central Warehouse Liquor continues to bring its wide variety of beer, wine and spirits selections to the Central Falls community and beyond. Managed day to day by Peter Patel and co-owned by cousins Tony Patel and Paresh Patel, the family-owned establishment has continued to grow in its past decade of business.
Peter Patel brings more than 15 years of experience to his current role as manager. He began his career working at another shop owned by the Patels, Royal Liquor in nearby Fall River, Massachusetts. When Paresh and Tony bought Central Warehouse Liquor in 2012, Peter was brought in to lead their latest venture. Offering shoppers an easily accessible location on Broad Street, the 10,000-square-foot store lives up to its name with a plentiful stock of beer, wine and spirits, all sold at competitive prices. Simply stated? "Business has been good," he said.
Central Warehouse Liquor attributes 40% to 45% of its sales to liquor, 20% to wine and the remainder to beer, according to Patel. Among spirits, tequilas and Scotches are the most in-demand, he said. Big brand-name beer is "king" at the shop. Brands such as Corona, Modelo and Heineken sell well, which he keeps plentifully stocked and cold in the store's 12-door cooler. The shop offers select craft beer brands, including local favorites from Grey Sail Brewing and Whalers Brewing Company.
Ready-to-drink cocktails — including selections from Bacardi, Jameson and Jack Daniel's — continue to grow in market share, along with seltzers. Central Warehouse Liquor offers an array of wines set to appeal across its customer base in a variety of price points and styles, offering bargain selections along with fine, higher-end bottles. Regions from around the world are represented, along with an extensive Port wine selection.
Patel stays connected with the shop's clientele, keeps them up to date on sales and promotes new products every week through the store's Facebook account. Customers hail mostly from the neighborhood, with more guests stopping in from surrounding towns and nearby Massachusetts from time to time.
The three-person team at Central Warehouse Liquor prioritizes making the shopping experience fun and easy for the customer, as well as keeping the store neat and well organized so that they can find what they're looking for quickly.
Patel credits the family's decade of success with Central Warehouse Liquor to strong relationships with their clientele, which stem from their commitment to superior customer service. Patel said his philosophy is to "treat them the best and like family." That attention to providing a positive shopping experience keeps regulars coming back.