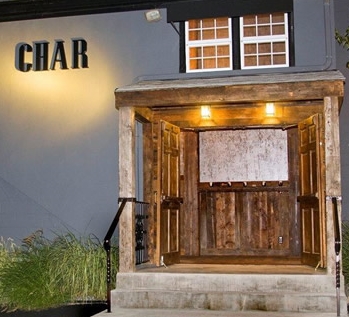 CHAR Restaurant, 2 Water St., Greenwich, Conn.
Char is a contemporary American-style restaurant offering seasonal menus and locally sourced meats, produce and cheese. The restaurant offers a rustic feel and is built with reclaimed wood; the walls are former floor joists from Brooklyn, the flooring is white oak from Alabama, the cabinets are and bar are from antique pine and red oak respectively.
Co-owner/Bar manager: Agron Rugova
Drink Name: The CHAR
Recipe:
Muddle three blackberries
Add 1/2 oz. simple syrup
3/4 oz. fresh lemon juice
1 ¾ oz. Rebel Yell Reserve Bourbon
Add ice, shake all together and strain into a rocks glass with fresh ice.
Garnish with a blackberry.
The house drink reflects the rustic-meets-chic theme, said Rugova. "It's kind of like the restaurant—Old bourbon meets new, fresh lemon juice and blackberries," he said. "Definitely a nice little acidic touch, but the simple syrup and blackberries balance it. Then you get a nice kick from the bourbon."