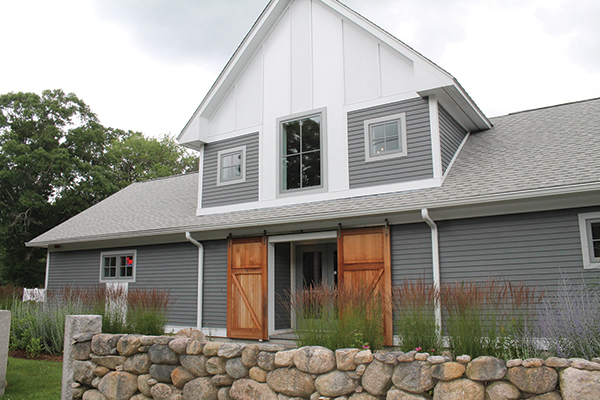 Charlestown Wine and Spirits 
4625 Old Post Road
Charlestown, RI
Square footage: 5,070
Years in operation: 5 (in current location)
By Savannah Mul
Jane Gross received a call from her brother 10 years ago, when she was living in Germany with her husband, Christoph, and their two children, asking her if they would consider moving back to help with the family business, Charlestown Wine and Spirits, operational since 1979. Her first answer was "no."
After more consideration, Jane knew her parents needed help, and she missed her family. They decided to return back home and never looked back. When they arrived in the Ocean State, Jane, Christoph and her brother, Jonathan Maldon, decided to build a new structure to replace the small and outdated building. Five years ago, the three of them opened the new location just down the street from where it once stood.
"Besides happiness," she said, "the new building allowed for more products and more visibility in the store. We were able to bring in all the things we wanted to have. [The building] gave us this freedom to create and reflect how we wanted the store to look … in the community. It's a labor of love."
The building features a heating and cooling system using geothermal energy. Due to their sustainable and energy-efficient efforts, the business received an Energy Star from the federal government, which is proudly displayed on the doors of the building.
The original storefront of Charlestown Wine and Spirits is still present in photos hanging on the walls in the store to reflect the family's history in the business.
Gross staffs about seven employees in the busy summer months to keep up with demand and scales it back to around five employees for the remainder of the year. Justin Hutchins, the wine manager at Charlestown Wine and Spirits, said when it comes to selecting wines to stock, "we find things that everyone can be happy with."
Hutchins said the relationships they build with the "wine-centric distributors" have helped build up their selection of global wines from family-operated farms. "People can find wines here that you can't find anywhere else in South County," he said.
"Justin has a wonderful ability to select different wines for us and for our customers to try something new," Gross said. Charlestown Wine and Spirits also stocks cheese and olives, along with other small snacks. She said she chooses these items based on how well they pair with wine. "Everything in that selection is meant to go with wine," she laughed.