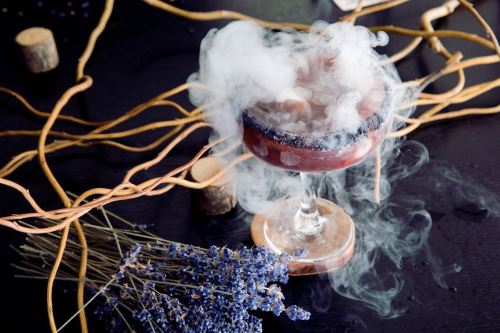 The run-up to Halloween offers a perfect opportunity for retailers and bar managers to inspire sales and create supernatural sips for their adult consumers. A few ideas  to showcase sprints are offered in advance, scaring up tastes and sales.
Sailor Jerry Candy Apple
2 parts Sailor Jerry Spiced Rum
8 parts warm (real) apple cider
Stir ingredients. Garnish with Cinnamon stick.
Serve in desired tempered after dinner glassware.
Pumpkin Ginger Shandy
1½ parts Toasted Walnut-Infused Drambuie
½ part Monkey Shoulder Scotch
¼ part Lemon Juice
¼ tsp Fresh Ginger
4-5 parts Pumpkin Ale
Garnish with Skewered Candied Ginger. Serve in long glass.
Toasted Walnut-Infused Drambuie: Toast nuts over medium heat until browned and you can easily smell toasted aroma. For every 1 part of Drambuie add 1/2 part of Toasted nuts. Let infuse in airtight container for 24 hours. Strain and reserve for use.
Dark & Stormy (Cocktail)
4 oz. Gin
2 oz. Pomegranate Juice
1 Lemon
2 oz Simple Syrup
Colored Raw Cane Sugar
Combine gin, pomegranate juice and simple syrup in a large shaker, then add lemon juice. Shake in iced cocktail shaker for at least 30 seconds, then carefully pour the combined liquids into colored sugar-rimmed glasses in equal portions. For an added "stormy" effect, add a small cube of dry ice to each glass. Recipe courtesy of Let's Eat Sonoma.
Ghostly Brew
Q Ginger Beer
3 mint leaves, muddled
1 ½ part Bluecoat Gin
¾ part lime juice
½ part ginger syrup
Shaken and strained over ice. Top with Q Drinks Ginger Beer.
Bat's Blood Martini
1 ½ oz. Skyy Pineapple Infusion
½ oz. Canton Ginger Liqueur
1 ½ oz. Pineapple Juice
1 ½ oz. Pomegranate Juice
Shake all ingredients with ice and strain into a cocktail glass. Garnish with pineapple clip. Recipe courtesy of Southern Glazer's.
The Pennywise 
1 oz KAS Krupnikas Buckwheat Honey
1 oz of Campari
2 oz blood orange juice
Club soda
Shake KAS, Campari, blood orange juice on ice and strain into glass with ice. Top with club soda and garnish with blood orange wheel.