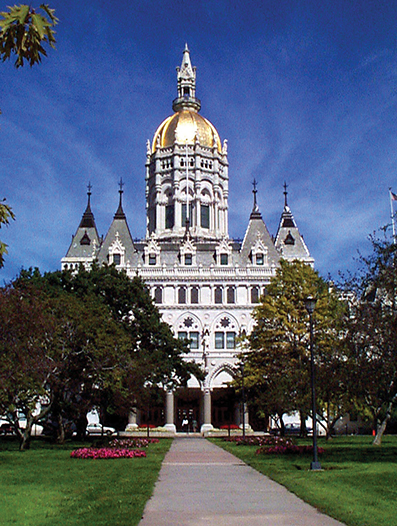 Proposed Budget Would Affect Package Stores in Major Ways
By Lauren Daley
Connecticut Gov. Dannel P. Malloy proposed his state budget to the General Assembly in February, and if it goes into effect July 1 for the new fiscal year, it will affect the state's package stores in three major ways:
It would allow package store owners to set their own prices all the way down to actual wholesale cost.
It would extend store hours to allow retail sale of beer, wine and spirits until 10 p.m., rather than the current 9 p.m. Sunday hours would extend to 8 p.m., rather than the current 5 p.m.
It would increase the number of stores a single operator can own from three to six.
Malloy presented his proposed budget to the General Assembly on Feb. 18 for the fiscal biennium that begins July 1, but he chose to announce his liquor-related proposals a few days prior, on WPLR-FM's Chaz and AJ radio show. "I made a run at changing liquor laws a few years ago, and …for the first time, we're selling alcohol on Sundays, making it far more convenient for folks. But it's time to take it to the next level and that is to try and do something about pricing," Malloy announced on the radio show.
Malloy's latest proposals come three years after he tried to overhaul state alcohol laws. While the industry opposed many of Malloy's plans then, the legislature agreed to allow retail sales on Sundays and certain holidays. Malloy's administration maintains that longer package store hours and cheaper alcohol prices will mean greater sales and increased tax revenue for the state, while bringing lower prices to consumers who would purchase more.
But the Connecticut Package Stores Association (CPSA) said small retailers lost money due to Sunday sales for a few reasons: they had extra expenses from keeping the stores open for an extra day; that many consumers bought their beer at food stores; that six days' worth of business simply spread to seven and that consumers in border towns still crossed state lines because Rhode Island and Massachusetts have no sales tax on alcohol and their excise taxes are cheaper than Connecticut's.
"Taxes are the real issue here," the CPSA said in a statement. "Connecticut's prices are very competitive with our neighboring states before sales tax and excise tax is added on. And (Massachusetts, Rhode Island and New Hampshire) have no sales tax on alcohol and lower excise taxes. Secondly, the CPSA continued, "permit limits are there to prevent big box chains from putting local businesses out of business. Increasing the amount does nothing for the consumer and will destroy the vast selection of product they currently have available. Adding an extra hour of alcohol sales does nothing for revenue and merely transfers even more beer sales, since Sunday sales, from package stores to grocery stores."
The CPSA said that if Malloy's proposals go into effect, including pricing policy changes, an estimated 600 package stores — more than half of that state's 1,100 package stores — would go out of business, as would some wholesalers. They said the proposal "only benefits out-of-state big-box chain stores….There was a study… done in 2012 on minimum pricing that did not find that repealing minimum pricing would lead to cheaper prices or that prices are inflated as a result," the CPSA said.
That 2012 study was conducted by Malloy's CompetitiveAlcoholic Liquor Pricing Task Force. Economist
Stanley McMillen was a member of that Task Force. He told The Beverage Journal recently that it's "hard to say" how Malloy's new proposals might affect small stores, but that lowering the prices of alcohol will not necessarily lead to more sales.
"First, the population in Connecticut is rather stable…So alcohol consumption around the state is probably very stable, meaning not changing a lot. Second, the demand for alcoholic beverages is rather inelastic, meaning people are unresponsive to price changes. So if the price of wine or beer or spirits goes down by 10 percent, sales don't necessarily go up by 10 percent," explained McMillen, who teaches at Trinity College and Connecticut College.
"There have been a lot of studies across the country that have asked, 'How do people respond to price changes in wine, spirits and beer?' And the demand tends to be relatively unresponsive to price changes. Because people tend to consume x amount of alcohol per year; if prices goes down, they don't necessarily increase their alcohol consumption," he said.
"Also, if stores feel they need to raise their prices, they usually don't see much more of a profit. There are so many substitutes…You can get wine at Trader Joe's for a few bucks, or you can pay $100 a bottle, easily. So if prices go up, people just buy cheaper beer or wine."
McMillen also said it was "very hard to say how this would affect small stores… It's possible that some stores would go out of business, but I think that's an extreme position… One good thing about a mom-and-pop, they're probably more convenient to the neighborhood, and they get to know their customer. It's hard to put a price on that."
Gary Rose, a political science professor at Sacred Heart University in Fairfield, said Malloy's new proposals "would have an adverse impact on the business operations of small package stores…Small business owners will have to hire more staff in order to accommodate the longer hours which will be costly in terms of wages and utility bills, or perhaps let their staff go and work longer hours themselves in the interest of keeping their stores profitable."
Rose said it may also destroy some small family-operated package stores: "I suspect that family members would be less inclined to follow in their parents' footsteps, thus impacting the tradition of family-owned and inter-generational businesses," he said.
Rose said Malloy has "once again has revealed himself to be less than supportive of small business enterprises…. He likely favors large corporate-owned grocery stores becoming a dominant force within the contest of the beverage business. I might be out on a limb here, but it wouldn't surprise me if during his second term, he introduces a proposal to have state-owned package stores for the purpose of generating more revenue and closing deficits," he said.
The CPSA supported this similar sentiment when it stated: "Let's not forget that once competition is gone, and product selection and variety have been​ decimated and the permit increase occurs, big box retailers would be able, under the Governor's proposal, to raise prices to any level."
Senate Minority Leader Pro Tem Kevin Witkos, R-Canton, is not convinced lowering price controls will help stores or consumers. "Our concern is the big-box stores will put the small stores out of business, and once the small stores are gone, they'll jack prices," he said. "We've been down this road before. It's not a road we wish to travel on. We think it would be harmful to small package stores. We don't want to be in the business of putting people out of business," said Witkos.
"If we want to do something on the prices, well, let's reduce the taxes. Rhode Island, Massachusetts, New York, New Hampshire — none have sales tax on alcohol, and they all have cheaper excise tax," said Witkos. "So right off the bat, people are saving 6.35 percent by buying out-of-state. I just hope the governor looks at our tax structure, not the alcohol-pricing structure. That's been working great since Prohibition time. We don't need to fix it."
Vocal proponents of Malloy's proposal, Total Wine & More, currently operate over 100 superstores across 15 states including Connecticut. Edward Cooper, a spokesman for Total Wine & More, based in Maryland, did not immediately respond to requests as of press time.
Much work lies ahead at the state Capitol with respect to preserving the tradition of small package stores in Connecticut. A concerted and well-organized lobbying effort will be needed to prevent the further degradation of mom-and-pop stores, which, I should add, have been one of the important building blocks of Connecticut's economy," said Rose.
A hearing is scheduled for Monday, March 9 in Room 2E, Legislative Office Building, Hartford beginning at 11:00 am.
Lauren Daley is a freelance writer. Contact her at ldaley33@gmail.com