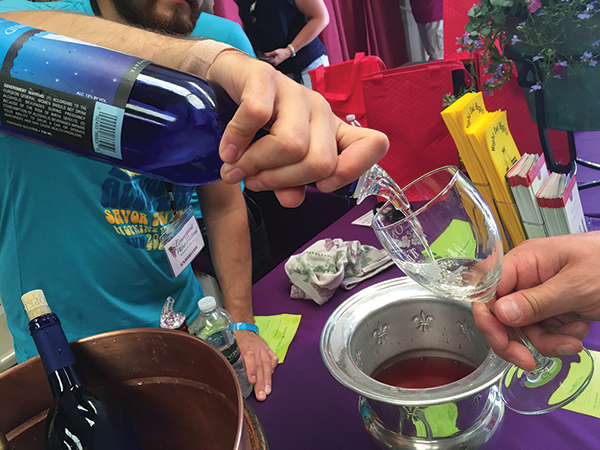 Annual event showcases local products
By Savannah Mul
The Connecticut Wine Festival, presented annually by the Connecticut Wine Trail, was held at the Goshen Fairgrounds on July 25 and 26. The two-day gathering offered the 4,500 visitors a way to taste and learn about locally-produced wine and viticulture. For the 12 winery exhibitors, it is an opportunity to expand business and gear up for the fall selling season with a new fan base.
Mark Langford, business manager for DiGrazia Vineyards in Brookfield, said during the festival he gives out a piece of paper with a list of their wines on one side and a list of package stores around Connecticut that carry DiGrazia wines on the other side. "It helps jump our fall package store sales," Langford said. "We get new customers to try our wines and that's what makes this event fantastic." At the festival, customers purchased DiGrazia's Williams Sonnet, a white wine blushed with raspberry, and Wild Blue Too, an apple wine with blueberry.
Priam Vineyards owner Gary Crump said he arrived two days earlier to prepare for the festival weekend. He sets up his tables at the same location in the first tent every year — in the shape of an "L" to cater to as many prospective customers as he can. Between four and five people managed the wine tasting while Crump ran the cash register, allowing him the opportunity to speak with customers, build relationships and entice them to visit the vineyard in Colchester. "We focus the business on the winery tasting room, we designed it that way from day one and customers keep coming back."
Additional vineyards participating included Bishop's Orchard Winery in Guilford, Hopkins Vineyard in New Preston, Jonathan Edwards in North Stonington, Jones Family Winery in Shelton, Miranda Vineyards in Goshen, Paradise Hills Vineyards in Wallingford, Sharpe Hill Vineyard in Pomfret, Sunset Meadow Vineyards in Goshen, Taylor Brooke Winery in Woodstock and White Silo Farm & Winery in Sherman.
As vendors continued to pour wine samples for eager guests, Renee B. Allen, Founder and Director of the Wine Institute of New England hosted a wine seminar on Saturday for guests to learn tasting tips. "I'm volatizing the esters," she said to the crowd, and further explained that it is the act of swirling wine in a glass to get the full aromas out of the wine.
Allen walked the crowd through a wine tasting of Pinot Gris by Johnathan Edwards, Dry Riesling by Sharpe Hill, Westwind, a semi-sweet white wine, by Hopkins Vineyard, Twisted Red by Sunset Meadow and Fleur Rouge by Sharpe Hill. Laureen Guerriero, Chief Grape Officer of WineTimeCT, provided the wine tasting seminar on Sunday afternoon.
Festival Manager Sherrie Palmer said business at wineries tends to pick up after the festival because guests then want to further explore the 33 state wineries in the 2015 Passport to Connecticut Farm Wineries program. The Connecticut Wine Festival is a crowning "stamp" in the booklet.
As the annual festival enables local wine producers to showcase their products to hundreds of gathered guests, so now can farmers' markets. Local wine producers can, under new Connecticut state law, apply for a permit to sell bottles at farmers' markets as a vendor, enabling greater consumer reach.