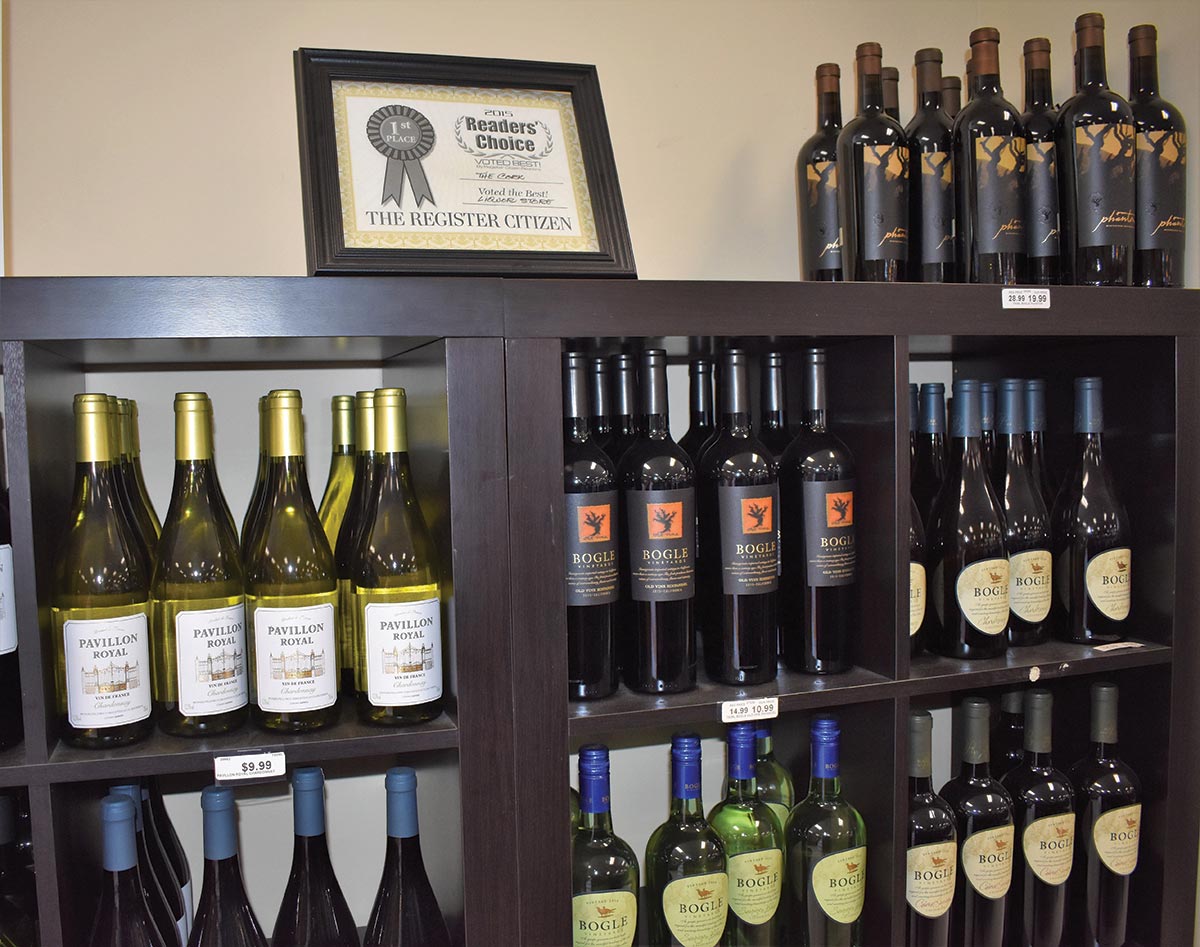 The Cork Fine Wine & Spirits
1597 East Main Street
Torrington, CT
Square footage: 6,000
Years in operation: 13 under current ownership
By Sara Capozzi
Over the past 13 years, The Cork Fine Wine & Spirits has grown into a popular destination in the northwest corner. According to owner Sarah Gersky, the key is placing an emphasis on customer service and product knowledge while creating an "open, welcoming" atmosphere for shoppers.
"We like to have a fun vibe, like you look forward to walking in my door," Gersky said. "We're happy to chat with you – or not – and make it so it's really welcoming … that's important to me. I try to put myself in the customer's shoes … you don't want to be ignored, you don't want to be hovered over. It's a balance."
With the help of nine full- and part-time employees, including Store Manager Morgan Blount, Gersky said she makes sure there is always at least one staff member on the floor who can help with customer queries.
"Our motto here is to service the customer. We greet them when they come in. We find out how much they want to spend. We do not want to oversell or upsell. If they only want to spend $7 or $8 on a bottle of wine, we can make that happen. If they want to spend $57 on a bottle of wine, we can make that happen. I don't want someone walking out thinking 'I just spent four or five more dollars on a bottle of wine than I wanted to,' because they may be reticent to come back. But if they go home and they drink that bottle of wine and it's delicious, or they give it as a present and everyone raves about it, I've got a customer."
Carrying a little over 4,000 SKUs, The Cork Fine Wine & Spirits is known as one of the largest beer, wine and spirits stores in Litchfield County, and has a reputation for carrying harder-to-find items. According to Gersky, the store has gained a following with craft beer enthusiasts in the area due to its variety. "We've got such a huge offering in the craft market," she said. "[Customers] know we always have new, fun, exciting craft beers."
The Cork utilizes social media to connect with followers and keep them informed on what's in stock. The store also has its own app, available at the App Store, where customers can search the store's entire inventory and see what's available, which, Gersky said, is helpful for products such as craft beer, where supply is always changing.
Gersky recently expanded the store's shelving to accommodate a rapidly growing bourbon inventory, one of the most extensive selections of bourbon in the area, she said. Other popular local customer picks include rosés and Tito's Handmade Vodka.
The Cork hosts in-store tastings each Friday and Saturday evening, enabling customers a "try before they buy" opportunity of new or featured brands. Special orders are always an option and staff picks help customers know they can rely on curated selections at different price points.
"The goal is to make sure I have something for everybody in the store," Gersky said. "If you want a bottle of wine, or you want a spirit, or you want a beer, we have something that would make you happy."