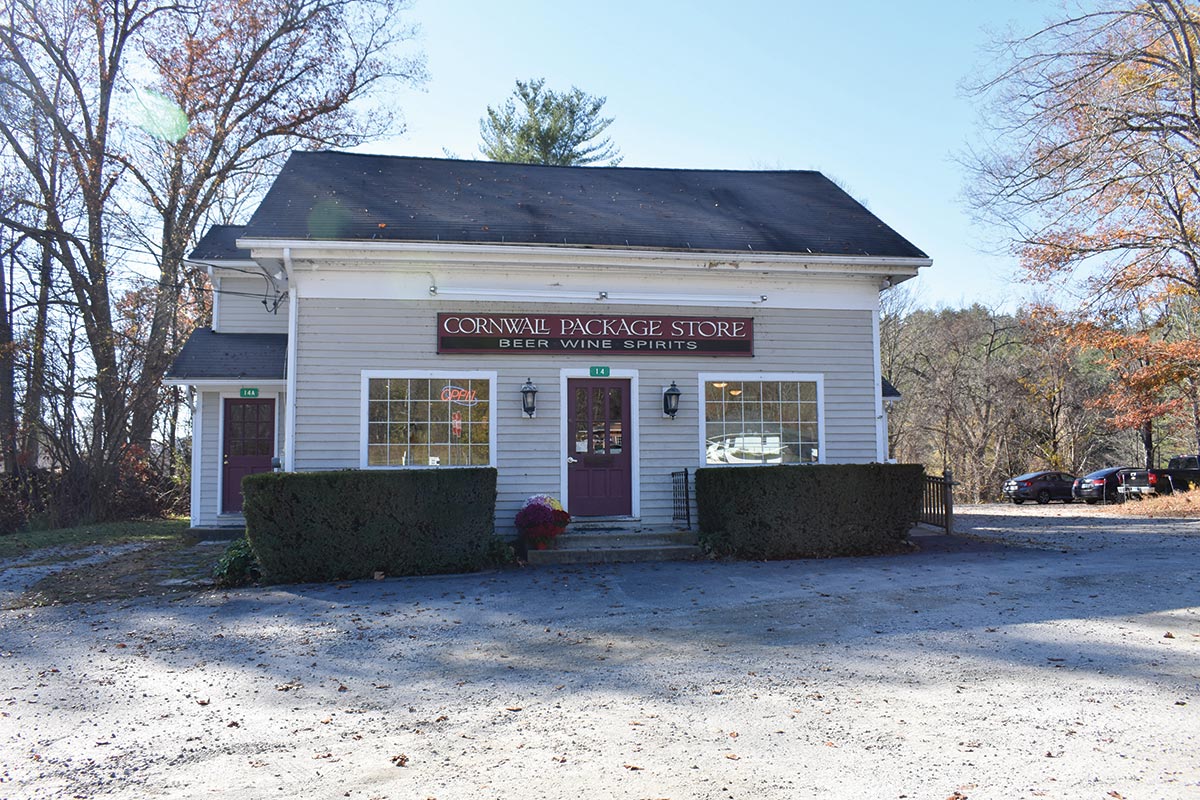 Cornwall Package Store
14 Kent Road South
Cornwall Bridge, CT
Square footage: 3,000
Years in operation: 84; 42 years under current ownership
Nestled in the picturesque Litchfield County enclave of Cornwall Bridge, Cornwall Package Store is a destination stop in the Northwest Corner. Proprietor Richard Bramley has owned the historic shop since 1980, a longtime local who has served the many intriguing passers-through and regulars with the same welcoming ethos.
"I think this store is at a fascinating location," Bramley said. "We're at two major crossroads [routes 7 and 4] … It's not a typical package store. There's a lot of recreators and travelers that make it fascinating. It's sort of a unique area." Its proximity to the Appalachian Trail, Mohawk Mountain and several state parks for adventurers, canoers, campers and more brings in a steady stream of visitors.
Cornwall Package Store has functioned as a convenience store through the years and is a vital meeting place for town regulars. "There are many small towns in Connecticut and most of them have a wine shop of some sort," Bramley said. "It's an important aspect to hometown living like your post office, gas station, general store … It's symbiotic. The small stores give to the communities; the communities give to the small stores. I also think that with small stores, because there's a large number of us and we're diverse, we offer a number of choices."
And it is choice that is the store's showcase. Customers will find a unique collection of wines, the store's top-selling category. Most of the bottles the store brings in are first tasted by Bramley and Manager Crystal Tillmann, who has worked at the shop for 20 years and brings her background at upscale restaurants as an assistant to sommeliers to the fore.
The pair uses its encyclopedic knowledge to make recommendations and introduce brands, with a goal to offer great value at a variety of price points. "One of our mottos is 'We taste a lot of indifferent, overpriced wine so that you, the consumer, don't have to,'" Bramley said. "We try and have a selection of wine for every pocketbook."
Popular with local shoppers is creating at-home cocktails—fine spirits, liqueurs, bitters and bar mixers await. In beer, it is local craft selections that are favored, with many brands using the hops and barley from local farms. Bramley explained that, in the 1980s, the store was known for its "99 brands of beer on the wall," advertised with a sign out front. "That was at a time when it was hard to come up with 99 brands and we made a real effort to search for suppliers to come up with it," Bramley said. "Now, you can find 99 breweries in Connecticut alone."
The store has served as a stopping-off point for hikers along the Appalachian Trail, who make the 2,200-mile trek from Georgia to Maine. Bramley has kept a hiker's log for decades, where people can sign in and leave messages for fellow hikers—especially convenient from when there were no cellphones. A longstanding tradition is offering hikers a complimentary brew. "Anyone who walks all the way from Georgia deserves a free beer," he said. Appreciative guests have sent Bramley postcards from their journeys, displayed on a bulletin board at the front of the shop.
Cornwall Package is not just a store, but a place to greet friends new and old. The friendly small-town feel of the area, combined with the constant influx of travelers, makes the day-to-day interesting for Tillmann, Bramley and for his daughter, Andrea, who also works at the shop.
"It's a very wonderful, friendly community and so I've gotten to know my customers pretty well," said Tillmann. "Through all the time I've been here, we've always gotten along like family. We all have camaraderie with each other … and our clientele is like family too."