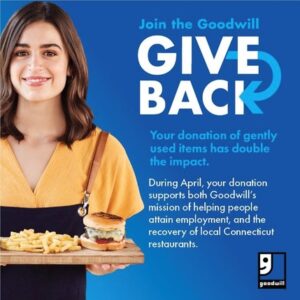 From Staff Reports
The Connecticut Restaurant Association (CRA) announced a new fundraising partnership in April with Goodwill of Western and Northern Connecticut. Through the "Goodwill Give Back" initiative, for every 5,000 donation instances to Goodwill of Western and Northern Connecticut's 28 locations throughout the month of April, Goodwill will donate $1,000 to the Connecticut Restaurant Relief Fund which provides financial assistance to restaurants dealing with economic hardship due to the COVID-19 pandemic. Eligible venues receive one-time $5,000 grants which can be used for cover operating costs including rent, payroll, purchasing PPE, expanding outdoor dining capacity, and other expenses.
The first round of recipients, totaling 92 eligible venues across the state, were awarded grants in mid-March. More than 700 eligible businesses applied to receive grants. The Connecticut Restaurant Relief Fund, created through the CRA's 501(c)(3) Connecticut Hospitality Educational Foundation (CHEF),  kicked off with a $500,000 donation from delivery service provider DoorDash in January.
Since then, businesses and individuals have continued to contribute including the Edgemer Foundation, the Goodwill of Western and Northern Connecticut, Mike Silvestri and the Goggins Challenge and Pullman & Comley.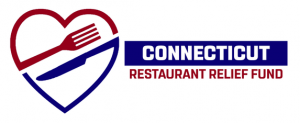 Donations are tax deductible and can be made through CRA's secure PayPal site, or for check payments, through Make a Pledge. For large corporate donations, contact Jennifer Conkling-Schmitz at conkling@ctrestaurant.org. See more information about the Connecticut Restaurant Relief Fund here.