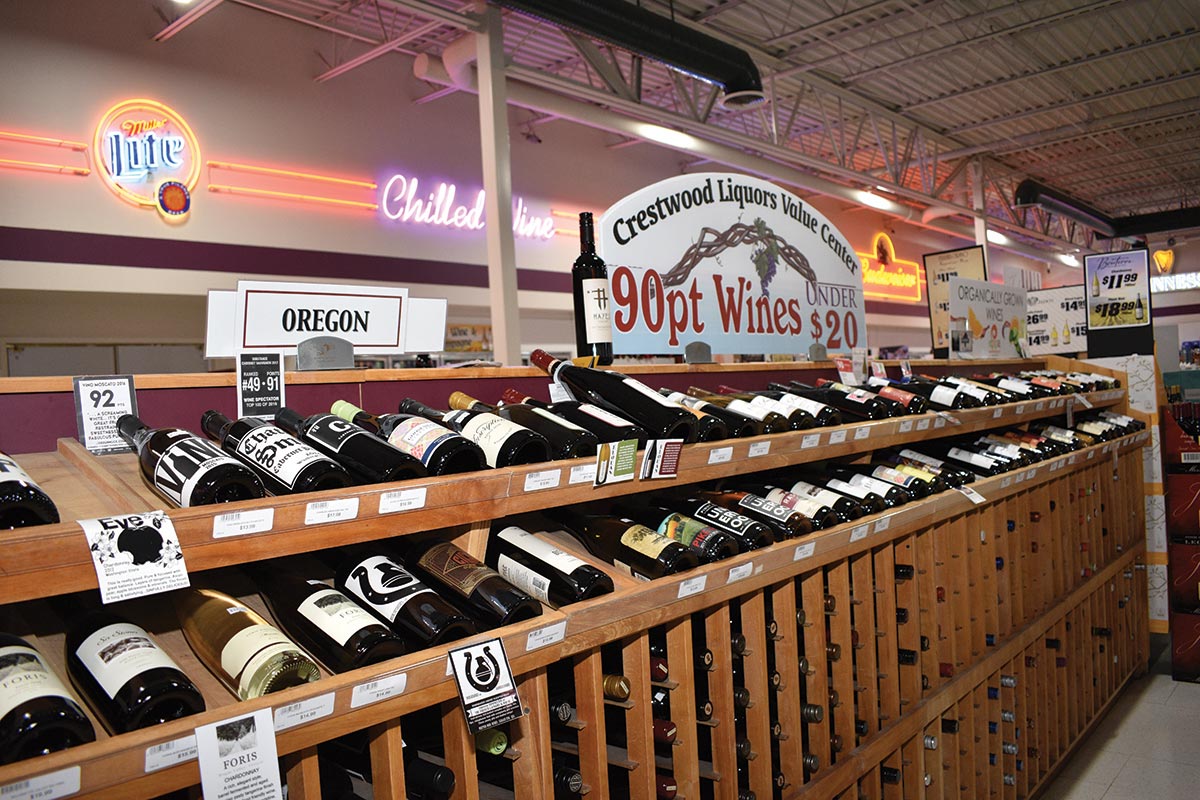 Crestwood Wine & Spirits
725 Tiogue Avenue
Coventry, RI
Square footage: 11,000
Years in operation: 23 years under current ownership
By Sara Capozzi
Family-owned since its inception in the 1940s, Crestwood Wine & Spirits has created a legacy of friendly and authentic customer service, forthright pricing and bountiful selections in the town of Coventry.
Originally founded by local business owner Joe Capaldi in 1948 in a 1,000-square-foot space, Crestwood changed hands to the Clift family in 1997. In 2003, the Clifts moved the store into its current 11,000-square-foot location, amply stocked among wide aisles, high ceilings and plenty of room to shop.
Crestwood is home to approximately 19,000 SKUs, according to General Manager Michael Clift, who has managed the shop since 1987. "We pride ourselves on our bourbon selection, our craft beers, and our fine wines and specialty liqueurs," Clift said. As temperatures continue to cool, customers are seeking out "brown goods," especially bourbon, as well as red wines, Oktoberfest and pumpkin beers, cider and moonshine.
The store is also known for its wine selection, curated by Store Manager and Wine Manager David Barbato. "We carry all the top national brands," Barbato said. Many customers gravitate toward popular labels, including Josh Cellars, Apothic Wine, J. Lohr and Kendall-Jackson.
According to Barbato, Moscatos are increasingly in demand with local customers, as sales of rosés taper off during the cooler months. "We do have some finer wines that we special order for people who are looking for something particular. If they go out to a restaurant and the restaurant has an obscure wine list, sometimes it's hard for people to find it and we'll get it for them."
Barbato also sees increased popularity in the ready-to-drink format like much of the beverage-buying world, with Jose Cuervo RTD Margaritas a strong seller in the past warmer months and hard seltzers and sangria popular items year-round.
With the holiday season underway, Crestwood Wine & Spirits is gearing up with its offerings of winter gift sets and gift baskets, which are displayed on the store's holiday table. Custom gift baskets are available year-round.
The store also keeps its customers loyal by offering rare, allocated bourbons and tequilas among higher-end or limited-edition items. "We have a great customer base," Clift said. "It's because we treat everybody with respect and try to be courteous and cordial. All our cashiers are all very good people. A lot of them are some of our customer's [grown] children. It's a good environment."
Crestwood's strong commitment to service has kept its sales strong through the years. "'Super service' is our motto," Barbato said. "We both believe in it, helping to carry packages out for people and doing all the right things. I think a lot of times that's why we get so many of our regulars that stick with us because we cater to their needs."