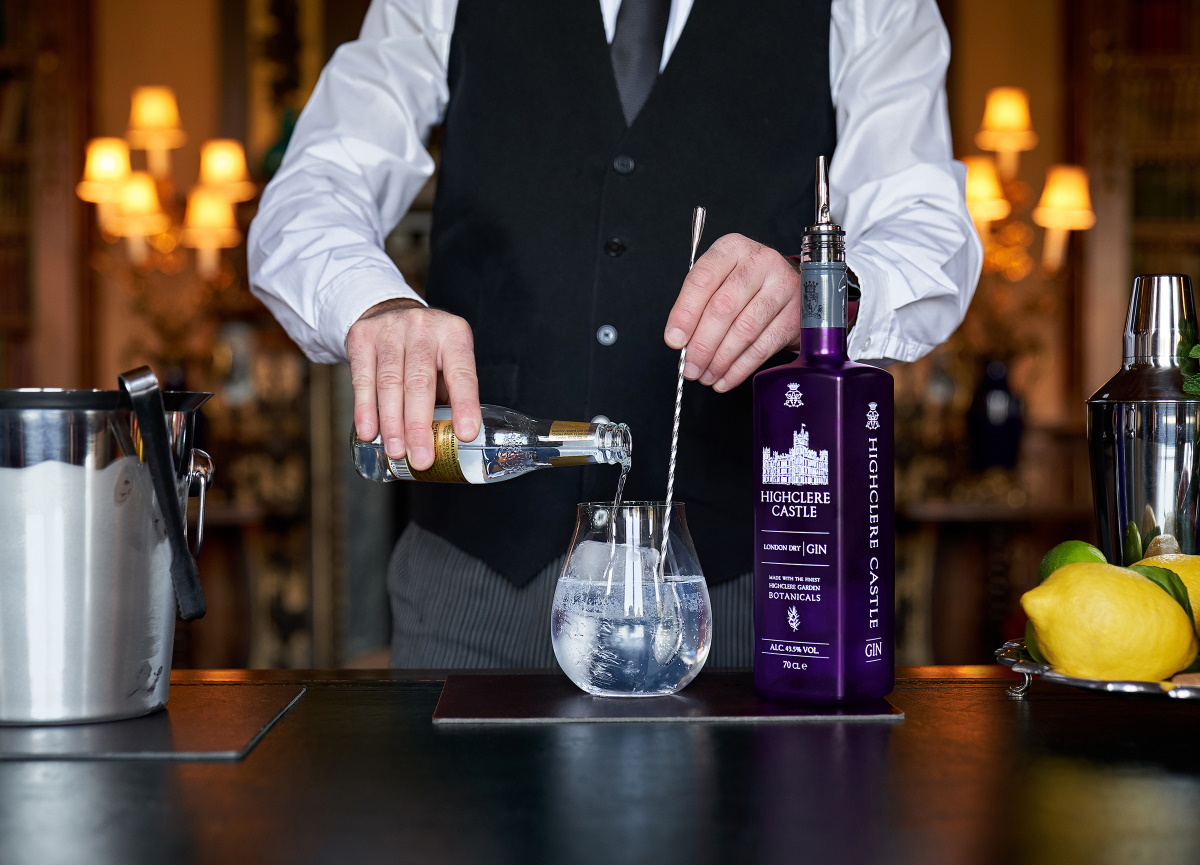 Highclere Castle, Star of 'Downton Abbey,' Launches Official Gin
Connecticut's Adam von Gootkin Helms International Spirits Project
By Lauren Daley
Connecticut entrepreneur Adam von Gootkin, known to many locally as co-founder of Connecticut-based Onyx Moonshine, has a royal new project. The Essex, Connecticut, resident has teamed up with Lord and Lady Carnarvon, the 8th Earl and Countess of Carnarvon, to create and launch Highclere Castle Spirits.
Highclere Castle is the face of the PBS hit "Downton Abbey." Highclere Castle Spirits will roll out its super-premium London dry gin, Highclere Castle Gin, inspired by the rich history and essence of life at Highclere, in many U.S. states – including Connecticut and Rhode Island – this summer.
"Highclere Castle has been renowned for its entertaining and house parties with gin cocktails [featured] through the years," said Lady Carnarvon in a statement. "We, therefore, felt with the ever-rising interest in gin, the family's heritage and indeed the Carnarvon's love of the spirit, it was a natural step to make a gin from Highclere provenance."
While it rose to international fame as the main filming location for the period drama "Downton Abbey," the castle in Hampshire, England, has been the country seat of the Earl of Carnarvon since 1679.
The gin was created to celebrate Highclere's historic 5,000-acre estate and sources botanicals from the castle's herb gardens – originally planted in the ninth century by the Bishops of Winchester – and estate-grown oats.
We caught up with von Gooktin, Co-founder and CEO of Highclere Castle Spirits, to talk castle history, gin and more.
The Beverage Journal: How did you get involved with the Highclere brand?
Adam von Gootkin: You know, it was really funny. With Onyx, and that incredible journey and success regionally in New England, I'd been looking for a couple of years for what the next spirit project was going to be. I'd been looking for something that had that magic, that connection to the land like Onyx had, which by the way we are relaunching in 2020. Something rooted in authenticity and pedigree. I'd been keeping an eye out around the world for an opportunity for a brand we could create which I felt checked those boxes.
My wife got me into the show "Downton Abbey." And I got kind of addicted to it. As I was watching – this was about three or four years ago – there was a PBS special on afterward about Highclere Castle. It was all about the estate. The PBS special had extensive interviews with Lord and Lady Carnarvon, on the rich and unique history of Highclere … I reached out via email, and two weeks later, my wife and I were with Lord and Lady Carnarvon at the castle, and we were dreaming up the future of a Highclere Castle spirit.
TBJ: What was it like going to the castle for the first time?
It was a moment you never forget in your life. It's such a magical place. And they're protecting the history, tradition and heritage so well, the quality of everything – it's a shock moment. When you first arrive, and come up the multi-mile-long drive to the estate and Highclere Castle starts to crest over the hill just like in the show, you're in awe. You're in awe of the size. You're in awe of the beauty. In awe of the fact you can stand in the middle of this park land, and as far as you can see in any direction is the Highclere estate.
TBJ: And were you surprised at how fast they got back to you initially and were receptive to this idea?
Yes, I was. You know, the thing about life is you lose 100% of the shots you don't take. But when I had the first call with Lord and Lady Carnarvon, and then sat with them at Highclere with my wife, it was a discussion among families – it wasn't a business deal. It was about: Do we share the same vision? Do we have the same appreciation of history? Is this something we can really celebrate and bring to life together? And it was very quickly that we decided that we could. Lord and Lady Carnarvon are my founding partners. This is a true partnership. And they've been involved with the whole process.
TBJ: What are they like in person?
Some of the sweetest, most down-to-earth, hardworking people that I've ever met. It's funny; Lady Carnarvon calls this a love affair between America and Britain. And it really is. We're really like one big family. They have a real appreciation for the amount of hard work and investment that goes into a project like this. They get it.
TBJ: But first, you started with cigars.
That was interesting. As we were working on the business plan – we spent a year planning a gin recipe, designing the bottle, working with distributors – I was at Highclere having a cigar with Lord Carnarvon and he was telling me about the cigar history at Highclere, how Winston Churchill was a frequent visitor on the weekend and he'd smoke his cigars in the library, and how the tradition at Highclere has always been that, after dinner, gentleman have a cigar.
I have a Connecticut friend, Nick Melillo, he's a world-renowned cigar blender; he has access to very rare and special cigars. While we were developing plans for the gin, I thought it would be fun to develop a cigar brand. I asked Nick if he'd partner with us to develop a cigar and we based that cigar on receipts we found from old cigars from the 1910s and '20s that the 5th and 6th Earls of Carnarvon imported for weekend parties. So, he developed a cigar based on that; we launched that a year and a half ago. We did it because it complements spirits well.
TBJ: Your intention all along was spirits, though. And why gin?
Gin has been a part of entertainment at Highclere for a long time. Highclere has always been known for throwing some of the best house parties in all of England. They've hosted – and still host – royalty, statesmen, politicians, celebrities, authors, artists. Highclere has a reputation for hosting the best parties, and gin has always been a big part of that.
I was at the castle yesterday morning and Lady Carnarvon was in the archives. She found a booklet of gin cocktail recipes that date back to the 1920s. All handwritten in beautiful ink script by the butler of a former era. They're unique gin cocktails, so we'll scan them and use all those for our restaurants around the world, so they can make the cocktails. So that's why gin. Gin is quintessential English.
This is a London Dry Gin. We use botanicals from the estate; juniper has been growing wild on the estate since the ancient Roman times. We're using oranges from the orangery on the estate. The other thing we did that's unique: Highclere is renowned for its high-quality oats, which feed Thoroughbred racehorses. We incorporated the oats into the recipe, and it added this creamy smoothness. It's so ridiculously smooth and creamy because of these oats.
Developing the recipe took us about a year. And we worked with the oldest gin distillery in England, directly above an ancient water source. The whole thing has come full circle with history, heritage, entertainment.
TBJ: How would you describe the taste?
We wanted to keep it somewhat traditional. On the nose, instead of getting hit with a ton of juniper, it's got a subtle floral nose. The aftertaste leaves this sweet citrus back note from these tiny little oranges they grow in the orangery. The middle flavor is juniper, cardamom and some other flavors we include in there as well.
It's so smooth, in fact, people are saying they enjoy it straight on the rocks with an orange twist. And we call that Highclere Castle Gin, "the Noble way." And I don't know about you, but I've never had a gin I could drink straight.
TBJ: This is Highclere Castle Spirit's debut. Do you have a next spirit lined up?
We're focused completely on the gin right now. We launched in the U.K. last month, and we're now focused on the U.S. and the Caribbean in July and August.
TBJ: Anything you want readers of The Beverage Journal to know?
The other fun part of the story is cocktails. There are [historic recipes] on the website that the butler still makes. From the standpoint of a retailer or bar manager, this is a brand that does not come around very often. This is a brand that will still be here in 100 years. This is not about some clever marketing launch. It's about telling the story of the legacy of Highclere Castle, and allowing people to bring a piece of that story to their home.
Interview has been edited and condensed. Highclere Castle Gin is distributed in Connecticut by Allan S. Goodman and Mancini Beverage – Northeast Beverage of CT. In Rhode Island, it is distributed by Mancini Beverage- Rhode Island Distributing.