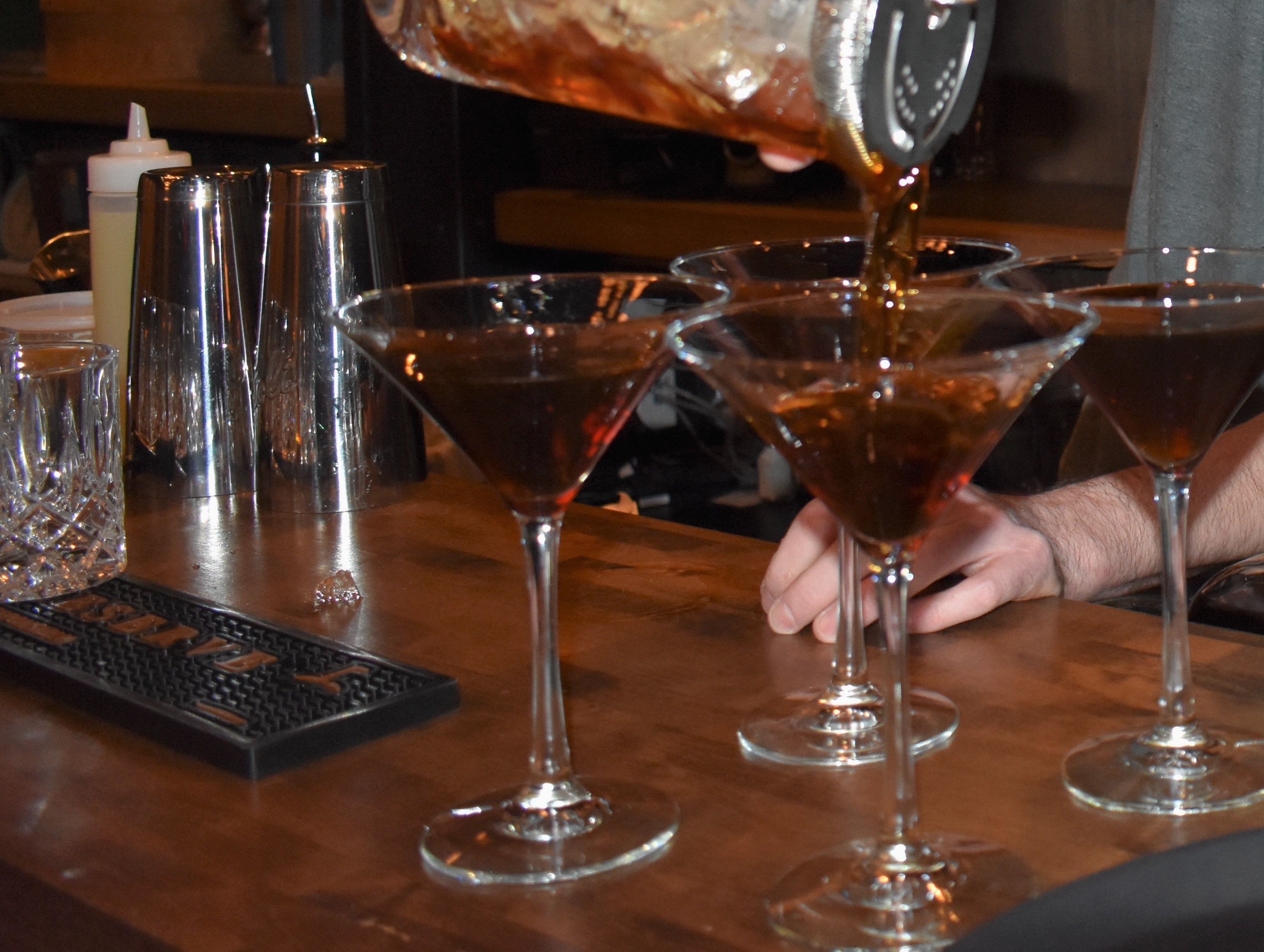 By Sara Capozzi
With a new year under way, it's a good time to explore what's in store for the beverage industry. Will craft beer and rosé continue to dominate the local markets? Will greater numbers of health-conscious consumers continue to influence cocktail culture? We asked a handful of local experts to weigh in on which beverage trends they project will be popular, and which may lose ground in 2019. Here are their predictions.
Focus on Education
Dave Rudman, USA Business Development Director of The Wine & Spirit Education Trust (WSET) based in Hartford, who predicted a significant growth last year in wine and spirits education, did in fact see a growth of 21% in WSET candidates.
"What we will see this year is a sharp uptick in awareness around spirits education and certification," Rudman said. "WSET is launching our Level 3 Award in Spirits, which will be the most academically rigorous certification for spirits in the market. I predict that studying spirits with WSET will be recognized as an excellent avenue to career advancement and global recognition."
A number of sampled bartenders and bar managers also state an increased emphasis on education through suppliers and associations.
Conrad Meurice, District Beverage Director, Bear's Restaurant Group, predicts "much more involvement from our industry leaders in ensuring the service industry members are educated about the products available, events, seminars and educational opportunities. We have also established a second chapter of the United States Bartenders' Guild (USBG) Connecticut, a Hartford chapter, to expand the network of service industry members into the northern region of the state. This chapter will also boost the support of the new and upcoming restaurants, bars and bartenders in our area."
MeKayla Roy, Bartender at Zohara Mediterranean Kitchen and 2018 Connecticut Restaurant Association Bartender of the Year, also sees increased focus on education within the bartending community in the coming year. "With the development of more local USBG chapters and with brands increasing their education budgets, opportunity is everywhere," she said.
Jerome Daigneault, Bartender at the Marlborough Tavern, also believes education will remain important in 2019. "With everyone from my five-year-old niece to my 80-plus grandmother having smartphones, education is extremely important," he said. "Know your product. If you're a tequila bar, get your CRT and know history, types and higher-end brands of tequila."
He continued, "In the end, it all comes down to training and education. As staff, we have the best training programs in front of us. We have access to veteran staff, USBG-sponsored training seminars and the internet. Just make sure your entire bar staff pulls from the same page with internet cocktails … consistency is key."
New Grapes, New Regions
Renee Allen, Founder and Director of the Wine Institute of New England, says Millennials will continue to influence wine and spirits trends in 2019. "Their thirst for knowledge will continue to grow, bolstering the current trend of dragging appellations such as Savoie and grapes such as susumaniello out of obscurity and into the mainstream," she said.
Allen also predicts we'll see more eye-catching packaging, wine in canned formats and that sake will see increased popularity. "Clean, refreshing, versatile, relatively low in alcohol – watch for sake to start showing up on more wine menus as sommeliers think outside the [wine] box for fun and food-friendly pairings."
Supporting Local Beer, Businesses and Beyond
Carroll J. Hughes, Executive Director of the Connecticut Package Store Association (CPSA), predicts the continued popularity and growth of breweries in Connecticut in 2019. According to Hughes, Connecticut breweries have been obtaining licenses in the past 15 months "at a galloping pace," a rate of two per week. It's no secret that customers enjoy their local breweries, which Hughes said are "becoming community centers" and municipalities are enthusiastic about their continued growth as well.
"People at the local level want to do everything in the municipal government they can to foster the development of these and increase their activity in their locations," he said. "The package stores are glad to have the diversity of product." The influx of breweries and distilleries in the state has led to increased support of small businesses, since many partner with local farms and other businesses to incorporate fresh ingredients into their products. And, customers enjoy supporting Connecticut products when they shop, he said.
"People like package stores more when we have Connecticut sections … and public officials love the continuity and excitement of having Connecticut products on shelves," said Hughes.
Quality Products, Batched Cocktails, Classics with a Twist
Khalid Williams, Bar Manager at Max Amore in Glastonbury and Brand Ambassador for Bloomfield-based Waypoint Spirits, predicts, "Doing the simple things consistently well while still having a suggestion of high style will be the standard that we are measured by going forward.
"The Manhattan and Old Fashioned, when to shake and stir, the Whiskey Tree, Tiki culture – these things have become ubiquitous," Williams said. "Complicated drinks that defy the laws of physics and push chemistry to its limits had their day and have a place; but the mean has settled to a place where the guest wants translatable quality and exemplary service."
Anthony DeSerio, Account Consultant, Diageo Reserve, expects to see agave-based spirits continue to climb in popularity. "Mezcal will continue to grow as more consumers are falling back in love with their old college foe tequila, also on the rise, and are interested in meeting its family."
DeSerio sees the demand for low-ABV cocktails and spirits continue to increase "as more and more consumers look to healthier lifestyles." He also predicts more bartenders will move their most popular cocktails to a draft system.
Meurice also sees a rise in batched craft cocktails, helping deliver cocktail innovation more quickly to the customer. "I believe that the craft cocktail scene, with multi-ingredient and fresh ingredient cocktails, is still very alive but the desire to wait for them has declined," he said. "I know many a people who come for the experience but I feel the overall demand and desire is for quality and quantity, versus waiting just for the quality."
Meurice expects the trend of classic cocktails with modern twists to continue, too. "I have seen some amazing, innovative ways of jazzing up a classic Negroni with infusing the bitter component with multiple flavors or fat-washing the base spirit … This ties into people's desire to maintain complexity but assuring simplicity in the execution … [with batching] they are quicker and easier to execute."
Recipe Redux, Farm-Fresh Ingredients, Special Guests
Christine Marie Short of Zaragoza Restaurant in New Milford has noticed increased interest in "bringing drinks back to the roots. I don't mean keeping classic cocktails classic, or sticking to proportions that are familiar to a recipe book," she said, "but more so … leaning toward what tastes good, and back to the roots of family recipes, inventive ideas that our grandmothers used to make, like wines from roses or dandelion leaves, or incorporating sun tea, or fresh herbs grown in the garden."
Al Greenwood, Owner of Oak Haven Table & Bar and Bull & Swine New Haven Barbecue, anticipates a variety of cocktail trends for 2019, including "the movement of farm-fresh ingredients in cocktails." He, too, predicts that cocktails will get "back to the basics" and "away from the obscure."
The recent popularity of "guest bartenders around the state" and "more themed pop-ups" will also continue to gain momentum in 2019, Greenwood said.
Low ABV, Zero Waste, Healthy Choices
Greenwood also forecasts that the trend of low ABV drinks will continue to gain popularity Dan Shekman, General Manager of Oak Haven Table & Bar, also predicts the continued rise of low-ABV and zero-ABV cocktails, along with more interest in "zero waste, using our ingredients the same way a chef uses all parts of produce and meats," he said. "For example, we will use the rinds from citrus that we squeeze for juice and make syrups, shrubs and tinctures to use the citrus without any waste."
"I hope anti-waste continues to be a trend into next year as much as it was this year," Roy said. "Nixing plastic straws was huge, but only a small step toward where we could be."
Allen also anticipates that the emphasis on health and environmental sustainability will continue, leading to the increasing popularity of mocktails, lower-ABV wines, cocktails made with superfood ingredients and vegan wines. "Wine on tap, kicking around for the past 30 years, is poised to shine in 2019, offering a by-the-glass option with a considerably kinder carbon footprint," she said.
Well-Being Remains a Priority
With bar professionals working as hard as they do, another carryover from 2018 trends remains on the forefront: well-being within the industry. Roy said she sees "more bartenders being aware of their own personal well-being and mental health. We take a brutal beating behind the stick and it's important we acknowledge and work on ourselves just as much as we cater to others. In our industry, it can be 'shamed' upon to take time off, when in fact we deserve it probably the most."