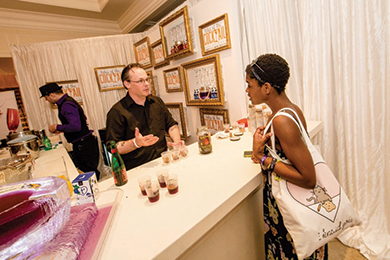 By Anthony DeSerio
Tales of the Cocktail (TOTC) in New Orleans, Louisiana, was held on July 19-21, 2015 and is the ultimate industry event in the world. Anyone with a hand in the spirits industry, from brands, brand ambassadors, bartenders, writers and cocktail enthusiasts from around the globe, descended on the French Quarter of
New Orleans.
And what a time we had! Six days of spirited events, including seminars on both mint and how the human brain reacts to the sensory output of a cocktail, tasting rooms, competitions, and yes, a party or two. Of course, there was the obligatory imbibing around the city and visiting the bars and restaurants where the most iconic of cocktails originated. It's all for a great cause, benefitting the New Orleans Culinary and Cultural Preservation Society.
And our friends from Connecticut, the USBG CT, bar owners and salespeople were also in attendance – supporting brands, competing in contests and working tasting rooms. This year was the busiest TOTC I have ever attended, and with 200 events going on at different times, it was difficult, but still fun, to meet and greet everyone. Through calls, texts and social media "Where are you?" was constantly on our phones. Respectably, we all were somewhere cool learning, networking, supporting and, of course, tasting. So where were we?
Anthony DeSerio is a member of the United States Bartenders' Guild Connecticut Chapter and has been tending to the bar for 18-plus years. He is also promoting the Roca Patrón line as an ambassador-at-large and holds multiple spirit certifications and awards.