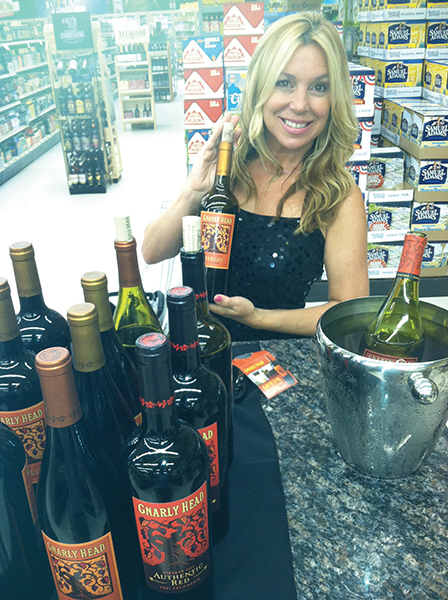 In-store sales increase with sampling
By Lauren Daley
When a supplier launches a new product, consumer sampling gets brand buzz going. Where the customer first gets the chance is often at the point of sale, both on-premise and off. When a package store owner wants to showcase and move a product, creating a fun and friendly vibe at an in-store tasting can yield instant bottle sales. And that is why promotional companies continue to be an expanding sector of the beverage industry.
Promotional companies such as Vine Ventures in New Haven — a full-service promotional and marketing events company that provides brand ambassadors — help create sales for both distributors and store owners as an immediate effect. They also help create loyal and informed consumers in the long run, through product tastings led by trained, knowledgeable and personable brand ambassadors.
Nicole Frechette, who founded Vine Ventures in 2010, calls her team of 125 employees "brand ambassadors" as opposed to "sales models" because they "represent the product as an ambassador; we convey a relationship and an understanding of the origins, message and story of the brands
we pour." Vine Ventures also provides suppliers with valuable event recaps — survey data, consumer reactions, photos and facts. As a result today, she leads a team who work events all over Connecticut, and has recently expanded to New Jersey.
Vine Ventures Brand Ambassador Donna Taylor, whose family has owned package stores in Connecticut for 40 years, said ambassadorship is a fun and lucrative opportunity. Taylor, who works at Addison Wine & Spirits in Glastonbury, said having knowledge of the way package stores work is key to her success as an ambassador.
"If you're friendly; if you're secure and knowledgeable in the field, you can be an ambassador," said Taylor, who trains new ambassadors. "With my retail background, I understand completely what the package store owners need. I tell [ambassadors] to talk about the recipe, the origin of the product, to be friendly, and to know the suppliers' specific needs." To benefit the supplier, an ambassador "has to sell the product, but it's just as important to capture what the public is saying and bring it back to the supplier," Taylor said. "They're the reason we're here."
Taylor helps train and educate other ambassadors on Connecticut industry rules and regulations. "We also spot check often — in case any one of our team members needs a reminder, I'll keep them on their toes," she said. Liquor "laws are drastically different from state to state, which is why it's so important that Vine Ventures was created in Connecticut," Taylor continued.
She said Vine Ventures has their own account agreement form that they bring to each new event. "Every time we enter an account we bring with us an account agreement form that states the information about the event that we're about to conduct [and] references the laws and the sections of the state mandate that apply…Our policies are constantly being updated — training is constantly being updated based on new state laws. Both the brand ambassador and the account owner or managing power sign the document thereby confirming that we both know the rules and are going to follow them during the event. It's like an extra layer of a support system for us both," Taylor said.
Frechette added,"My team acts as the eyes and ears on the ground all over the state where the reps cannot possibly be all the time. Our consistency helps [venues] remember our staff. We also find that when we staff the same brand ambassadors consistently in accounts, consumers enjoy seeing a familiar, friendly face and they actually build a level of trust with the brand ambassador and are more willing to try and discuss additional products being offered."
According to a 2009 study, in-store sampling not only has dramatic sales impact on the day of the sampling event, but also increases sales of established products and line extensions, as well as new products, for at least 20 weeks following the event. Conducted by independent research firm Knowledge Networks-PDI and commissioned by PromoWorks, the independent study used frequent shopper data to follow consumer behavior of more than 16 million households long after the day of the sampling event to test the impact on sales. Among other findings, the study found:
Sampled items showed an average of 475 percent cumulative sales lift on the day of event.
In-store sampling drives additional repeat purchases for the brand franchise over a 20-week period.
The sampling was found to have a significant impact for the parent brand of the sampled products, with a 107 percent average sales lift on the day of event and 21 percent average sales lift after a 20 week period.
Frechette said Vine Ventures acts "as a second string of support for the brand marketing strategies, and of course, promote brand awareness and buying power." She continued, "We act as an arm of the suppliers through our educating and engaging of the consumer." Promotional companies benefit stores by creating sales and engaging the store's customers. "We know how much pride and work goes into the store owners' shops and businesses," she said. "We become a part of their reputation with our events, and we are aware of that at all times. Our events are intended to support and add to the store."