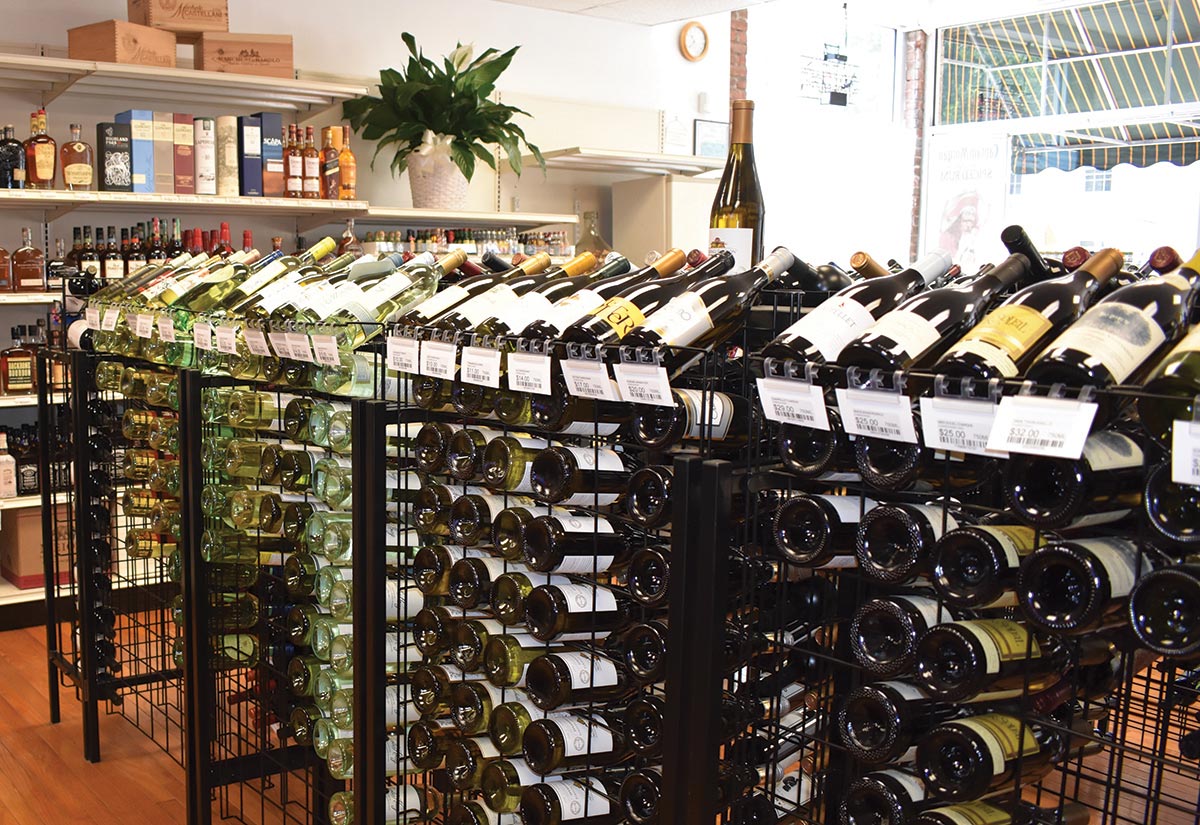 Dragonfly Wine & Spirits
382 Center Street
Wallingford, CT
Square footage: 2,500
Years in operation: 3 months
By Sara Capozzi
Dragonfly Wine & Spirits Owner Brenda Robideau was already well acquainted with her new store's space when she took ownership. That same location on Center Street is where she got her start in the retail liquor business, first working and then managing, a previous iteration, for a combined total of more than 12 years. Due to her history with the store, purchasing it was "a natural progression," Robideau said, now three months in as proprietor.
"I think I was ready … and I knew that [the previous owner] was ready to retire, so I approached them and said, 'Can I buy this place?' And they were happy about it. It worked out beautifully."
Robideau changed the name of the store and got to work renovating its interior and refreshing its inventory. "One of the things that I knew was I had to establish my own identity if I was going to take over, so we do still have a great Italian presence and it's something I'm going to gradually increase but for now it was about bringing in different product and exploring different regions," Robideau said.
Previously specializing in Italian wines, Robideau expanded Dragonfly's selection to include California Cabernets and selections from Spain, Argentina and France, along with rosés from all over, which she said continue to grow in popularity with customers.  Red blends and prosecco are other in-demand items, and she has added to the shop's variety of craft beer, along with spiked seltzers and bourbon brands.
"We kind of walk two lines at this store," she said. "On the one hand, we have a lot of stuff that's just for the convenience of the neighborhood, for the average person that's pulling up and in need of something in a hurry. On the other hand, there's a lot of [options] that maybe people don't know about, especially in the wines. And that part of it is sort of boutique-y and it's very much a hand sell."
Dragonfly's customer base ranges from neighborhood regulars to those who frequent the store on Fridays to try new items during its weekly hosted tastings. And those just visiting the area happen to be among the set of shoppers looking for a bottle for one of the area's several BYOB restaurants, for which "you want to make sure you have things that are really accessible."
"We have two types of customers," Robideau said. "You have the ones that are very loyal to their brands … and then you have the groups … who are looking for new beers or wines and are not necessarily loyal to a brand."
Freshly operating as Dragonfly, expanding the selections and offering an engaging tasting atmosphere attracts the area's mix of regulars and new faces while setting it apart from its past. "This is a unique place," Robideau said. "It's not your average liquor store. I think people walk in and they say, "Wow this is different.'"