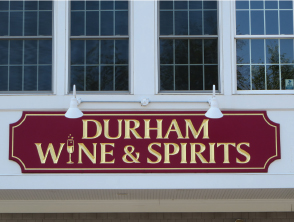 Durham Wine & Spirits
6D Main Street, Durham, CT
Square footage of store: 3,500
Years in operation: 7
A store with "wine not" as its slogan is bound to have upbeat owners, but opening Durham Wine & Spirits seven years ago was a huge leap of faith for Linda and John Mone (pronounced Mo-Nay, like the painter). Perseverance, hard work and dedication to customer service have made Durham Wine & Spirits a popular shopping venue in the largely rural town of Durham.
"We aim to be a full-service store with a great variety of beverages – as well as competitive prices," said Linda. "We've also made an extra effort to get to know all of our customers by name." In keeping with the store's name, more than half the store's sales floor is devoted to wine.
Bottles range in price from $8.99 to $49.99 in each category. "The recession made people extremely value-conscious in their wine purchases," noted Linda. "Our biggest sellers are everyday wines in the $10 to $12 price category. But we do have a good selection of reserve wines as well."
A wide and spacious cooler in the back houses the store's beer collection. Customers are invited to go inside these walk-in coolers to pick their own cases of beer – and the range includes domestic standards, higher-end imports, and the ever-growing number of craft brews that have come to dominate consumers' tastes.
Occasionally, it helps to use a marketing promotion or two to get people to stop and browse. On one recent weekend, the store hosted the Belgian Shock Top car – an eye-grabbing orange VW beetle featuring a "Mohawk" on top.
The store is on a shortcut between Hartford and the shoreline, so it attracts plenty of commuters. During the summer, weekenders stop on their way to or from the shoreline – and many become regulars.
Becoming established wasn't easy. In 2007, John Mone learned his employer was closing its doors. "So, before our destinies were decided for us, we decided to create our own," said Linda, who previously worked as a dental technician.
Somewhat fortuitously, a friend purchased the property on which the store now sits, razing a much smaller spirits shop in the process. At his suggestion, the Mones had him build the new store building and Durham Wine & Spirits opened in 2007.
Durham Wine & Spirits sponsors a women's softball team dubbed "The Lushest Ladies." With a devoted fan base, the Ladies have had been unbeaten thus far this year.
"In addition, Facebook has worked very well for us," Linda said. "We use it to announce new products, special offers, and tastings." Inside the store, signs announce when a particular brew or vintage will be the subject of a product tasting.
The store maintains a wish list for customers who want to obtain something new or unusual. Doing so can be a challenge with products that are intentionally produced in small quantities, but Durham Wine usually manages to acquire a case or two. "It's a great feeling to know that customers are saying, 'this is really hard to find, but I got it at Durham Wine & Spirits,'" she said.