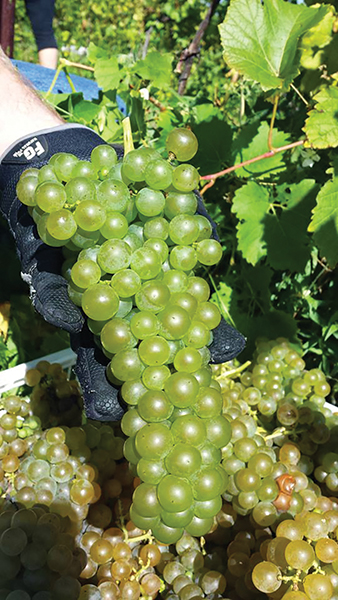 By Renée Allen
"We grow Cabernet Franc in New England?" It wasn't the first time I had heard this question. It wasn't even the first time I had heard it from someone employed in the wine industry. But in this particular instance, the bottle was right there on the shelf, albeit a very low one, in the store in which the inquisitor worked. I began to wax eloquent about the wines of Connecticut and our surrounding states. I bent down for a bottle of Cayuga and held it up to the store clerk who had been joined by several interested shoppers. "This is a very popular wine in our state. Most of our wineries produce a version of it," I declared. "Cayuga? What grape is that made with?" asked one of the onlookers.
There are many unknowns and misconceptions when it comes to winegrowing in the Northeast. Some people are confused about which of the "international" grapes, such greats as Cabernet Sauvignon and Chardonnay, we grow in this region, while others are unfamiliar with the lesser-known of these grapes. Add to the mix grapes from different species that virtually nobody has heard of, and grapes that are a combination of different species, and the list quickly becomes overwhelming. You would be hard pressed to find a wine professional or enthusiast unfamiliar with grapes such as Sauvignon Blanc or Merlot.
Yet there are a multitude of grapes that thrive in our northeastern climate whose names are rarely, if ever, uttered, even by those who have had occasion to enjoy them. To understand why the grapes grown in New England are not identical to the lineups found in such regions as France, Italy, or even California, one need look no farther than our climate and its effect on winegrowing.
Our region has a short growing season, with a danger of frost on either end of it, potentially very harsh winters, and high summer humidity, all factors that contribute to challenging viticultural conditions. In spite of all the confusion about wine grapes, New England is actually a rich winegrowing region that offers the wine enthusiast many options. Here is a quick primer on wine grapes, along with a list of what locally-grown grapes you are most likely to find in your wine glass in Connecticut and surrounding states.
Vitis Vinifera
This species of grapevine originated between Europe and Asia, and it is the one most widely used for commercial winemaking. It produces the great wine grapes that have come to be grown the world over, eg. Cabernet Sauvignon, Chardonnay, Pinot Noir. It also produces many quality grapes that are less well known in this country because they grow best in their native lands, grapes such as Grüner Veltliner from Austria or Albariño in Spain, or because they are considered minor grapes used mostly for blending in those regions. Several of the best-known vinifera varieties are grown in this region, but many others require longer ripening and warmer overall temperatures than Mother Nature allows for here; Cabernet Sauvignon is considered challenging to grow here for this reason. Some of the more successful plantings of Vitis vinifera grapes are those that come from colder regions similar to that of New England.
Local Pours: Cabernet Franc, Merlot, Chardonnay, Pinot Gris, Pinot Noir, Riesling, Lemberger from Austria, and the German grape Dornfelder.
Vitis Labrusca, et al.
North America has its own native vines, the most common of which is Vitis labrusca, the vine responsible for the Concord grape. While most of our native grapes are considered better suited for table grapes, juice and jelly, there are several winemakers on the East Coast who are making very palatable wines from them. Local Pours: Niagra, Concord.
Hybrids
Since the mid-1800s, numerous hybrids have been created from various combinations of the above species for several reasons, including better cold hardiness and stronger resistance to certain pests and diseases. Although these are the varieties whose names will be least familiar to wine enthusiasts, hybrids have enjoyed some of the greatest success of the grapes planted on this coast.
Local Pours: Cayuga, St. Croix, Chambourcin, Frontenac, Vidal Blanc, Seyval Blanc, Traminette, Vignoles.
The above list is not meant to be exhaustive, and local growers often experiment with varieties from all of these groups, adding new grapes to their lineups where warranted and, at times, retiring others. However, familiarity with these varieties will provide you with a leg up on New England wines, whether you're sipping, shopping, or selling.
Renée Allen is the Director of Education for the Connecticut-based Wine Institute of New England. She is a wine and spirits educator and writer, as well as a wine judge. She can be contacted at www.wineinstituteofnewengland.com.