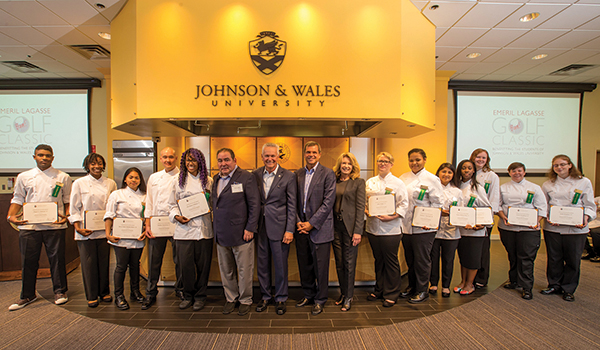 The 14th Annual Emeril Lagasse Golf Classic was held on September 18-20 at the Newport Country Club and the Wannamoisett Country Club, where representatives from the hospitality, food service and culinary industries raised more than $400,000 to benefit the Johnson and Wales University (JWU) College of Culinary Arts.
Over the years, Emeril Lagasse, JWU Class of 1978, has helped raise nearly $6 million to contribute to his alma mater. Participating sponsors included Goslings Rum, Keel Vodka, Narragansett Beer, FIJI Water, Jacquart Champagne and many others. During the golf classic, 12 Johnson and Wales students from four of its campuses were recognized for the Emeril Lagaesse Scholarship.
Of the 12 students, Genoa Donaldson, Emily Rondeau and Caroline Snyder, from the Providence Campus Class of 2017 were awarded the scholarships. Guests enjoyed cuisine and beverages prepared by Johnson and Wales students and faculty, with "Oktoberfest" and "Sustainable Rhode Island" themes.