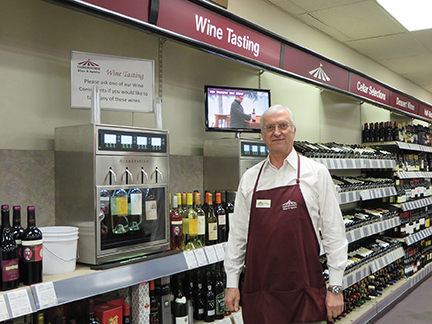 Fairgrounds Wine and Spirits
19 Sugar Hollow Road
Danbury, CT
Square footage: 13,000
Years in operation: 24 (8 under current ownership)
Plenty of people dream of opening their own businesses, but few take that leap of faith. Among those who do, still fewer survive longer than two or three years in operation. Paul Moeller is one of the exceptions.
He, along with his son Peter, are in their eighth year of owning Danbury's Fairgrounds Wine and Spirits. Later this year or next, they will open their second Connecticut store in the coastal town of Fairfield.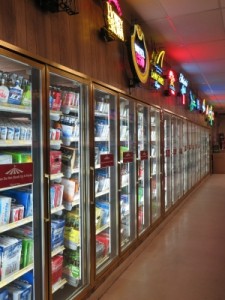 Moeller strives for competitive pricing, the right selection and attentive personal service. "Before we purchased it, the store was owned and run by absentee owners who didn't pay much attention to service," said Moeller. "Although the store was profitable, the owners accomplished that by charging the highest prices in the area."
Moeller immediately hired new staff, all with industry knowledge and most of whom now work there full time; the store's team averages 18-20 people. He slashed prices and expanded the store's advertising budget, beefing up its print advertising and running cable TV and radio spots for the first time. Several years ago Fairgrounds launched an online channel, GreatCorks.com.
Wine now accounts for more than half of the store's shelf space. "Wine has grown tremendously in popularity over the past decade," said Moeller. "Within the past few years there has also been a huge increase in vodka consumption — and we now carry more than 370 brands of vodka as a result. We're beginning to see much the same happen with brown spirits such as bourbon, rye and scotch."
Pricing, advertising, size and product selection attracts new customers, while the attentive customer service keep people coming back. The store's location doesn't hurt, either. It's adjacent to the mammoth Danbury Mall, which draws more customers from neighboring New York than it does among fellow Nutmeggers. Weary mall shoppers often stumble onto Fairgrounds Wine and Spirits by accident.
"Our New York customers are always pleasantly surprised by our prices," says Moeller. Last September, Whole Foods Market opened a store nearby, increasing the number of spillover customers yet again. "We've adjusted our product mix to more closely appeal to Whole Foods customers, offering more organic beers and wines," Moeller said.
A Napa Technology wine tasting station was one of the store's largest equipment investments. "We always have 10 bottles of wine open for customers to sample," said Moeller. "The Napa Tech system lets them serve themselves."
Additionally, the store hosts themed wine tastings each weekend, and beer and liquor sampling on Fridays. The Moellers run tasting events in area nightclubs and bars as well. People who sign up for the store's Cheers Club receive email blasts notifying them of sales, store events and special offers tied to their purchase history.
"At the end of the day, it's all about treating customers well and making our store a great place to shop," Moeller said.