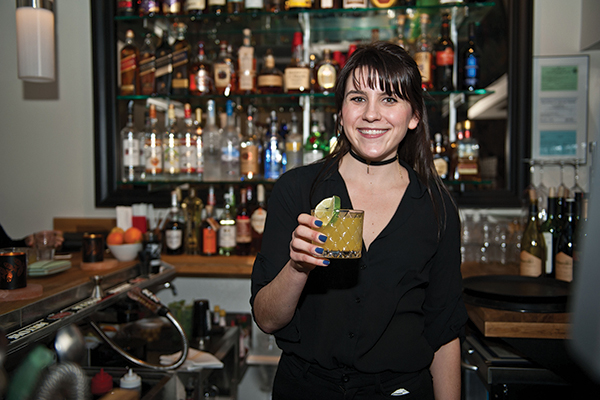 India Restaurant  & Bar
54 Memorial Road
West Hartford, CT
Recently opened in downtown West Hartford, India Restaurant & Bar creates traditional Indian cuisine with a farm-to-table dining approach. Creative cocktails, made with fresh ingredients and Indian spices, as well as diverse wine and beer selections, accompany the classic dishes.
Bartender: Lauren Crosen
Cocktail: Faithfully Ginger
Recipe: Build in a shaker with ice:
1.5 oz. St. George Gin
1 oz. St-Germain Liqueur
.5 oz. lime juice
.5 oz. ginger juice
Pinch of turmeric
Lime slice garnish
Fill the cocktail shaker with ice, add St. George Gin, St-Germain, lime juice, ginger juice and a pinch of turmeric. Shake until chilled and pour into chilled martini glass. Garnish with a lime.
"Our Faithfully Ginger is an award-winning cocktail and is always so popular amongst our patrons. Even when entertaining at home, I always begin service with this incredible drink. Composed of gin, elderflower liqueur, fresh lime juice, ginger and turmeric, its flavoring is smooth and so versatile that it pairs well with any dish," said Chef Prasad Chirnomula, India Restaurant & Bar.