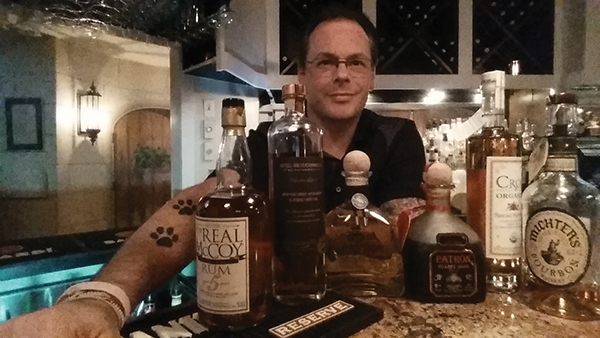 A Top Five List
By Anthony DeSerio 
Over the past year, I have had the pleasure of creating, educating, judging competitions, traveling to the highlands of Mexico and, of course, a stopover in New Orleans for Tales of the Cocktail. Through it all, I have seen, tasted and been exposed to many intricate spirits and cocktails that are absolutely amazing. Most of the cocktails were incredibly technical to make.
This inspired me to go back to the basics: simple cocktails that anyone can make at home (as well as behind any bar) using what most of us already have on our back bars or have affordable, easy access to, should we decide to entertain at home.
It seems like it was just a few weeks ago that I was invited to write about winter warming spirits (see The Connecticut Beverage Journal, January issue 2014). But I was inspired by a small Facebook post about fall flavors, which lit the fire to think about my favorite five fall cocktails. Here now, on the first day of fall, I write this piece.
The leaves outside are changing and the chill is beginning on moonlight nights. The smell of wood burning stoves and fire pits fill the air along with the onset of aromatic spice filled homes as the holidays fast approach. It is now time for entertaining, time for fire lit nights, and time for easy fun cocktails flavored for fall.
1. The Mischief Night Martini
A variation of the Black Russian/White Russian only this recipe calls for Patron XO Café Cocoa, heavy cream, and either a store bought pumpkin liquor or a homemade pumpkin syrup.*
2 oz. Patron XO Café Cocoa
1 oz. cream
1.5 oz. Spiced Pumpkin Liquor or Pumpkin Syrup*in a cocktail glass
Combine. Shake and strain over ice. Top with whipped cream and a dash of cinnamon.
*1 and 1/2 cups water; 3/4 cup light or dark brown sugar; 1 cup granulated sugar; 2 teaspoons ground cinnamon; 1/2 teaspoon ground ginger; 1/2 teaspoon ground cloves; 1/2 teaspoon ground nutmeg; 1/4 cup pumpkin puree; 1 and 1/2 tablespoons vanilla extract.
Method:
Make a simple syrup with warm water and sugars.
In a sauce pan on low heat whisk in cinnamon, ginger, cloves, nutmeg, and pumpkin puree. Simmer for 8 minutes, stirring occasionally.
Remove from the heat and strain through a mesh strainer lined with cheese cloth.
Allow the syrup to cool to room temperature before stirring in the vanilla extract and transfer it to in an airtight container.
2. American Pie
This cocktail is full of fall spices and is a simple twist on a whiskey sour, mostly known as spirit (whiskey), sweet (simple syrup), sour (lemon) and an egg white for velvety texture and a nice thick foam on top. For this fall version, I use a high-quality bourbon for the sweetness and vanilla notes, for my sweetener, St. George Spiced Pear Liquor, and we can keep the lemon and egg as is. Together, these combine to what reminds me of apple pie even though we are working with pear.
1 ½ oz. Michter's US1 Bourbon
½ oz. St. George Spiced Pear Liquor
¾ oz. lemon juice
½ oz. simple syrup
1 egg white
Method:
Combine ingredients in a mixing glass or shaker, add ice, shake and strain into a chilled double old-fashioned or rocks glass with a cinnamon sugar rim.
3. Trick or Treacle
Inspiration for this comes from a few of my mentors: UK's influential Bartender Dick Bradsell, Gary (Gaz) Regan, cocktail author, and imbiber extraordinaire Charlotte Voisey of William Grant & Sons. Having access to fresh pressed apple cider this time of year is beyond wonderful. Also, the option to heat things up makes me love the versatility of my Trick or Treacle cocktail, which can be served hot or cold.
1 ½ oz. Sailor Jerry Spiced Rum (the 98 proof and natural spices really make this one shine)
½ oz. Earl Grey simple syrup*
½ oz. fresh lemon juice
Approx. 3oz local apple cider
Method:
Cold: Combine all ingredients in a mixing glass and shake with ice. Strain into a rocks glass and garnish with an apple wedge.
Hot: Build in a heated Irish coffee mug: syrup, lemon and rum. Stir together then top with hot apple cider and garnish
with fresh whipped cream and a cinnamon sugar sprinkle
*Earl Grey Syrup: is a 2:1 ratio of one part local honey to two parts hot water. Place one part honey in a heat resistant container, add 3-4 earl grey tea bags (remove strings) top with the hot water, stir until it melts the honey and let the tea steep to room temperature. Transfer to a storage safe container and
keep refrigerated.
4. The Cornucopia
Inspired by coffee houses everywhere: why not a Pumpkin Coffee Martini? All we need to do is change a little recipe known as the Espresso Martini. Vodka, espresso, Kahlua; a new modern classic we will be making for years to come. This time of year, I like to use Crop Organic Spiced Pumpkin Vodka. Give it a chance to shine through the drink by adding fresh brewed coffee in lieu of
dark espresso.
1 ½ oz. Crop organic Spiced Pumpkin Liquor
1 oz. Kahlua
1 oz. fresh brewed coffee
1/2 oz. Guinness Drought (or any Stout/Porter on hand)
Method:
In a mixing glass, combine all ingredients. Add ice and shake until nice and cold. The hot coffee will weaken the drink as it melts your ice down, so a little Guinness will add some body back to your drink and create a nice crème on top. Strain into a chilled martini glass and garnish with a dusting of nutmeg and three coffee beans.
5. The Rumhattan
A more elegant cocktail before and/or after dinner, completing my top-five challenge assignment, a newly-designed, twist on a classic: The Rumhattan. I use a high-quality rum, such as multiple award-winning and locally-imported Real McCoy 12yr Barbados Rum. I also remove the sweet vermouth and substitute it with ruby port to give a nice rum raisin flavor. Change up the necessary bitters too, by using black walnut bitters from Fee Brothers. I use a 2:1 ratio and love how the vanilla, raisin, spice and walnut all shine through on this one.
Method:
In a mixing glass, combine 2 parts Real McCoy 12yr Rum with 1 part Taylor Ruby Port, 3-4 dashes Fee Brothers black walnut bitters. Add ice and STIR (never shake your Manhattans) until your glass has a nice frost on it. Strain into a chilled cocktail glass of your choice and garnish with a local fresh cherry (stone removed if possible).
I'll add one more: I can't let this season pass by without mentioning Roca Patrón Anejo. Just over a little ice or neat. The baked agave is reminiscent of sweet potato/pumpkin and spices along with the bourbon barrel aging soaks up great vanilla and toasty smoke.
These top five, plus one, cocktails, are all relatively simple to make either at home, or in your bar or restaurant. I hope you enjoy one or all of them, are inspired by them and hopefully come up with a few of your own. The inspiration is out there and the knowledge is out there. Plus, any USBG bartender in the state will be happy to enlighten you further. Be sure to grab some great local ciders, pumpkins and apples from our many orchards throughout the state.
I encourage you to go out and responsibly enjoy and serve these recipes (or your own variation) this holiday season. Cheers!
Anthony DeSerio, president of the United States Bartenders Guild Connecticut Chapter, has been tending to the bar for 18-plus years. When not promoting the Roca Patrón line as an ambassador-at-large, he can be found behind the bar at Splash in Guilford. DeSerio holds multiple spirit certifications and awards.