By Jonathan Feiler 
On Thursday, October 16, 2014, Wine Spectator held their annual Critics Choice Grand Tasting at The Marriot Marquis in New York City. The tasting comprised of 250 wineries from around the world, who presented one wine each that scored at least a 90 points from magazine's rating system. This tasting presents a unique opportunity for both wine professionals and the casual wine drinker to rub shoulders, and taste the best wines the world has to offer.
As a wine professional, I have the opportunity to go to many wine tastings throughout the year, yet I had few opportunities to attend an event that has top winery owners and wine makers all in one place. For me it is all about the relationships that are forged at these events. Sure, I love tasting the wine, but its people and stories that sell wine. I was about to meet some great people and listen/create some great stories. Here is my story.
I have been to many tastings through the years, alone and with colleagues, but I have never been to a wine tasting with my wife. My wife is not a wine professional, but she is a wine enthusiast, or should I say, guilty by association, and to be able to see wine through her eyes (and taste buds) at this event was invaluable.
As soon as we walked into the tasting, we found ourselves standing in front of Sassicaia's booth. As our glasses were filled and we were given the particulars on the wine, my wife smelled and tasted the wine. The look on her face was priceless! It was the look that says "what is this and where has it been all my life?!"
At that moment I knew that this was not going to be like other tastings. I was about to taste wines and share an experience with someone that has never been to a professional wine tasting before. I was about to get a true review of these wines, none of which were going to be laced with traditional wine jargon or compare one vintage to another, and which were purely based on the moment.
The next stop was with Kathleen Heitz and her 1997 Heitz Martha's Vineyard Cabernet.  We exchanged information with the hopes of doing a dinner together in the future. Once, we walked away, we started discussing the wine and my wife referred to the earthiness of the wine and that she felt that it had less fruit than the Sassicaia, we discussed the differences in vintages and how age changes a wine, and that if they were similar vintages the fruit could possibly be equal.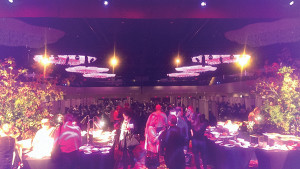 We moved on to taste a line up of Bordeaux wines; including Smith Haut Lafite and Chateau Mouton Rothschild, which were the stand outs. We discussed how the wines differ from each other and balance of wine, age ability, climate and terrior. We discussed the wine in plain English and got back to the basics of wine. It was extremely refreshing to talk about the wine the way we did, it reminded me of when I first discovered wine.
We met the Ambassador to Livio Felluga.  I have always been a fan of Felluga, however they are not currently represented on my wine list. This was the perfect opportunity to re-taste and make a connection. We learned how the Terre Alte wine was made and why it was unique; the wine is comprised of Pinot Bianco and Sauvignon that are fermented at controlled temperatures in stainless steel tanks, where they matured for about ten months, they are then added with Friulano that is fermented separately and aged in small casks of French oak.
We finished up the evening tasting more amazing wines from Italy, Spain, South Africa and Germany. By the end of the tasting, we were exhausted but excited to have tried the best wines in the world and met many of the top wine makers and winery owners.
Now that I am back in Rhode Island, I reflect on what I learned and tasted. The Wine Spectator Grand Tasting was an experience I recommend everyone go to. It will open your eyes to new wines and give you the ability to network with wine professionals and will hopefully create a life long relationship. I have since purchased the Terre Alte, and many other wines I had the opportunity to taste. I have rekindled relationships that had stalled and made many new ones with plans to collaborate in the future.
However, my true take away from the night is that tasting wine with someone who is just starting to learn about wine can be an invaluable experience. I recommend taking one of your enthusiastic servers or bartenders to the next tasting with you; I think it will be a learning experience for the both of you.
Jonathan Feiler is the director of wine education and head sommelier at the awardwinning resort, Ocean House, in Watch Hill, where he oversees the wine and beverage program for the entire resort. Follow him on Twitter @OHSommelier or on Facebook @OH Sommelier.